Time and again several courts have insisted on the rule of adopting Shared Parenting, even if couples are battling for divorce.
The Madras High Court in its recent order directed a woman to treat her husband with respect, whenever he visits her home to meet their child. Justice Krishnan Ramasamy even went to the extent of telling the woman to treat her husband with the Indian principle of "Athidi Devo Bhava" [Guest is God] and avoid differences when it comes to maintaining relationship with the children.
Shared Parenting | Bickering Among Couples Affects Kids Tremendously & Unhappy Childhood Is Dangerous: Former Calcutta High Court Judge
Case:
The Madras High Court was dealing with a petition submitted by an estranged husband for joint custody and shared parenting of their 10-year-old daughter. The court had permitted the father to meet his child on Fridays and Saturdays between 6 and 8 p.m. The estranged couple lives in one of the upscale projects at Chennai,  however, in two separate towers.
The father had contended that though he had visitation right on every alternate days between 6pm and 8pm, the mother was now planning to take the child to Delhi and settle there. The mother appeared and submitted that she had no such intention and in turn requested a modification to the earlier order to the effect that the father be given visitation rights on Friday and Saturday at the residence of the mother.
READ ORDER | Karnataka High Court Upholds Shared Parenting Order By Family Court; Lays Down Guidelines For Non-Custodial Parents
Madras High Court
Justice Ramaswamy was very particular about the well being of the child and thus noted that poisoning a child's mind by one parent against the other is child abuse in itself.
According to Justice Ramasamy, children do not naturally feel hatred; rather, it is a taught emotion. Therefore, turning a child's mind against their other parent will be considered "child abuse." He added,
Every child has a right to and a need for an unthreatened and loving relationship with both parents.
Humanity First
The Judge even remarked that while a couple may not be required to treat each other with love while they are separated, humanity demands that they be kind in front of their children. He had seen numerous instances of non-cooperation and ill-treatment of a spouse whenever they visited the child in the custody of the other spouse pursuant to court orders.
Introduce Concept Of Shared Parenting At Initial Stages In Marriage Disputes: Punjab HC To Govt
Justice Ramasamy expressed,
Taking into account the best interests of the children, courts generally permit parents to visit their children while they are in the custody of the other parents. Unfortunately, the parent who has custody of the child disregards court orders and ends up mistreating the parent who is visiting and start fighting in front of the children.
The Judge directed the respondent/wife to treat her ex-husband with basic respect when he comes home to meet his daughter. The Judge concluded,
The spouse shall treat other spouse, though not as wife/husband due personal indifferences, but at least treat him/her as a guest by paying more attention than wife/husband since in our customs and practice, a guest is treated as "Athidi Devo Bhava (Guest is God)" and show kindness and empathy towards the guest who is none other than the parent of the child and respect him/her in front of the child.
The Judge also added,
The respondent/wife is directed to show hospitality by providing snacks and dinner etc., and have the same with her child and create a healthy atmosphere so that the child should feel happy and enjoy the moments.
READ ORDER | Treat Estranged Husband As "Athidi Devo Bhava" When He Visits Home To Meet Daughter: Madras HC To Custodial Mother

Justice Krishnan Ramasamy:"Children don't naturally feel hatred; it's a taught emotion"#ParentalAlienation #SharedParentinghttps://t.co/9USEA88btz

— Voice For Men India (@voiceformenind) July 22, 2022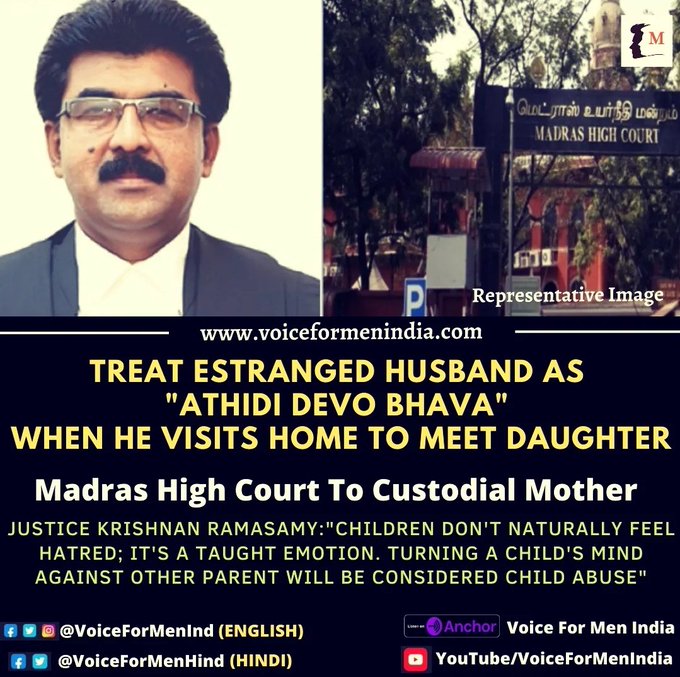 WATCH:
MP Anubhav Mohanty Speaks About Shared Parenting In Divorce Cases
Join our Facebook Group or follow us on social media by clicking on the icons below
Donate to Voice For Men India
Blogging about Equal Rights for Men or writing about Gender Biased Laws is often looked upon as controversial, as many 'perceive' it Anti-Women. Due to this grey area - where we demand Equality in the true sense for all genders - most brands distance themselves from advertising on a portal like ours.
We, therefore, look forward to your support as donors who understand our work and are willing to partner in this endeavour to spread this cause. Do support our work to counter one sided gender biased narratives in the media.
To make an instant donation, click on the "Donate Now" button above. For information regarding donation via Bank Transfer, click here.
Alternately, you can also donate to us via our UPI ID: voiceformenindia@hdfcbank