The Delhi High Court in its order dated February 09, 2023 dissolved a marriage on grounds of cruelty by wife, thereby, observing that repeated use of derogatory and humiliating words against husband and his family amounts to cruelty.
Earlier the Family Court too had concluded cruelty had been committed by the wife, however, the woman had challenged the same in High Court.
READ ORDER | Haryana Man Granted Divorce After Losing 21-Kgs Due To Mental Cruelty By Wife
Case:
Appellant-wife appealed against a Family Court order dated 27.07.2022, whereby the petition filed by the respondent-husband under Section 13(1) (i-a) of the Hindu Marriage Act, 1956 seeking dissolution of marriage on the ground of cruelty had been allowed and a decree of divorce had been passed.
Arguments by Wife
Learned counsel for the appellant contends that the Family Court has been swayed by a mere suggestion given by the counsel towards the end of the cross-examination of the respondent-husband. He further submits that the allegations of cruelty by wife are unsubstantiated and that there are no dates mentioned as to when the alleged cruelty has taken place.
Submissions by Husband
Learned counsel for the respondent-husband disputes the same. She contends that the allegations of adultery or having an affair with the co-worker, though are not in the pleadings before the Family Court in these proceedings, but similar allegations have been levelled against the respondent-husband in the replication of the petition filed under Section 125 Cr.PC by the appellant. Learned counsel further submits that even if these allegations were to be ignored, respondent has sufficiently established that he was treated with cruelty.
READ ORDER | Supreme Court Allows Lumpsum Maintenance To Woman Despite Divorce To Husband On Grounds Of Cruelty By Wife
Delhi High Court
A division bench of Justice Sanjeev Sachdeva and Justice Vikas Mahajan observed the facts on record and remarked that every person is entitled to live with dignity and honour, and no one can be expected to live with constant abuse being hurled upon him.
The High Court upheld the findings of the family court which affirmed that the husband was treated with cruelty by the wife and that she used to abuse him and his parents in filthy language.
While dismissing the wife's appeal challenging the decree of divorce, the High Court said,
In the present case, the conduct of the appellant-wife which has been proved on record is of such quality, magnitude and impact as would have caused mental agony, pain, anger and suffering to the respondent-husband on a regular and continuous basis and thus clearly amounting to cruelty.
READ ORDER | Wife Caused Enough Cruelty To Husband Even After His Acquittal In False Cases Filed By Her: Punjab & Haryana High Court
Adding further, the High Court said,
Consequently, we find no infirmity in the judgment allowing the petition and granting divorce on the ground of cruelty. We, accordingly, find no merit in the appeal. The appeal is consequently, dismissed.
READ JUDGEMENT | Wife Making Discreet Phone Calls Frequently With Another Man Amounts to Matrimonial Cruelty: Kerala High Court
Words Attributed by Wife Towards Husband, His Family
 I am a superintendent in education department, your family is not upto our standard
Do kodi ka policewala h tera baap, mera kuch nahi bigad sakta, ministry tak pahuch hai mere papa ki
Main itna kharch nahi karti jitna teri dawao pe kharch hota hai
Dikhayi nahi deta baat kar rahi hu, saans ki bimari hai lakwa nahi hai jo khud nahi le sakte dawai
The High Court thus observed,
Repeated use of words of the nature as extracted herein hereinabove are clearly humiliating and would certainly amount to cruelty.
READ ORDER | Taunting Polio-Stricken Husband's Disability, Snatching His Crutches, Manhandling & Throwing Him Around Is Physical & Mental Cruelty: Punjab & Haryana HC Grants Divorce
With regards to the wife's argument that husband did not mention specific date and time when she had uttered those words, the High Court remarked:
The contention of learned counsel for the appellant that specific dates and time is not mentioned, in the facts and circumstances of the case, would lose its significance for the reason that the respondent-husband has in his evidence specifically stated that whenever a quarrel would take place the appellant-wife would use those words against him and his family, which implies that the said words have been used repeatedly over the period when they were together.
The court said no rebuttal of cross-examination or even an attempt to disprove the said imputations shows that the same have been duly proved and established.
LEAVE YOUR COMMENTS BELOW:
READ ORDER | Repeated Use Of Derogatory & Humiliating Words Against Husband, His Family Amounts To Cruelty: Delhi High Court

"Do kodi ka policewala h tera baap, mera kuch nahi bigad sakta"

"Saans ki bimari hai lakwa nahi jo khud nahi le sakte dawai"https://t.co/zigPGGoZn1

— Voice For Men India (@voiceformenind) February 17, 2023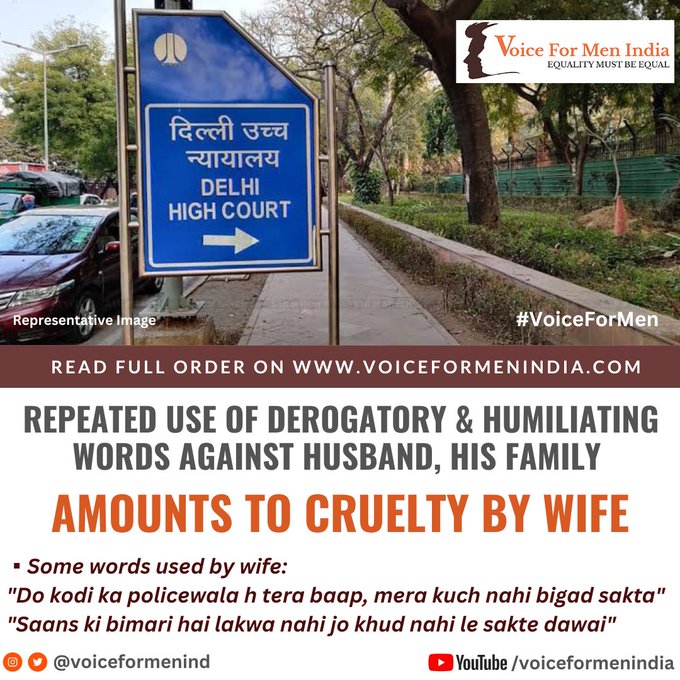 MUST WATCH:
Husband Is Fighting Child Custody & Visitation Cases With His Wife Who Is A Judge | His Story
Join our Facebook Group or follow us on social media by clicking on the icons below
Donate to Voice For Men India
Blogging about Equal Rights for Men or writing about Gender Biased Laws is often looked upon as controversial, as many 'perceive' it Anti-Women. Due to this grey area - where we demand Equality in the true sense for all genders - most brands distance themselves from advertising on a portal like ours.
We, therefore, look forward to your support as donors who understand our work and are willing to partner in this endeavour to spread this cause. Do support our work to counter one sided gender biased narratives in the media.
To make an instant donation, click on the "Donate Now" button above. For information regarding donation via Bank Transfer, click here.
Alternately, you can also donate to us via our UPI ID: voiceformenindia@hdfcbank