The non-applicant-wife along with two minor children approached the Family Court by filing an application under Section 125 of the Cr.P.C. claiming maintenance of Rs 34,000 per month to maintain herself as well as her two minor children. The amount was claimed in the backdrop of a contention that she is unable to maintain herself and her children and their requirement demand that an amount of Rs 7,000 per month shall be paid for her children, whereas the applicant No.1 should be paid an amount of Rs 20,000 per month. It was contended that the husband is a businessman earning an income of Rs1,00,000 per month.
Family Court, Bhandara
On consideration of the evidence, the Family Court considered the issue whether the non-applicants are able to maintain themselves and whether the applicant has sufficient needs to provide maintenance and despite that the applicant has neglected or refused to maintain the non-applicants.
On careful scrutiny of the evidence placed before it, the learned Judge of the Family Court has awarded maintenance of:
Rs 8,000 per month to the wife
Rs 5,000 each per month to the minor children
Total Rs 18,000 per month
Plus entire education expense of the children
The husband was also directed to clear the arrears within a period of six months and continue to pay recurring maintenance. 
Its Her Choice To Work Or Not | Bombay High Court Justifies Why Educated Wife Must Get Maintenance
Arguments by Husband
The learned counsel for the applicant-husband stated that he is not desirous of contesting the order of maintenance as well as educational expenses which are fastened upon him as against two minor children. His submission is that the award of maintenance of Rs 8,000 to the wife is without any justification. 
The husband further submitted that he made every attempt to cohabit with his wife, which the wife had also accepted in her cross-examination.
The husband challenged the family court order arguing that the wife was living separately without any sufficient reason, refused to cohabit with him and thus he was not liable to maintain her.
Bombay High Court Orders Mumbai Commissioner Of Police To Clear Maintenance Arrears To His Estranged Wife
Submission by Wife
The wife claimed that she was subjected to mental and physical cruelty by the husband and thus, she was compelled to leave the matrimonial house and stay with her parents. 
Bombay High Court
Single-judge Justice Bharati Dangre went through the file on record and upheld the family court order which had directed the man to pay Rs 18,000 per month maintenance to his wife and children.
The bench remarked that Section 125 (4) of CrPC dis-entitles a woman to claim maintenance, only if she is living in adultery, or if, without any sufficient reason, she refuses to live with her husband, or if they are living separately by mutual consent. The bench quoted:
None of the above ingredients are established by the husband as merely saying that he was and is always ready and willing to cohabit is not sufficient ground to absolve himself of the liability to pay maintenance by projecting that without any sufficient reason wife has left his company.
Estranged Wife Cannot Obstruct Sale Of Husband's Property If He Provides Her With Alternate Accommodation On Rent: Bombay High Court
The husband argued that he was already under financial loss and also had borrowed an amount of Rs 15 lakh, which he has to repay now. However, the bench noted that the wife was not able to maintain herself independently and thus ordered:
Even if he is in financial distressful condition, he cannot avoid to maintain his wife as well as his children. Since the husband has not disputed his liability towards the amount of maintenance as well as educational expenses, it is his morale and legal responsibility to maintain the wife who is unable to maintain herself.
Upholding the family court order, the Bombay High Court dismissed husband's application concluding,
In these circumstances, let the applicant to obey the order and clear all the arrears by 31st March, 2023. It is made clear that there is no application for extension of time, which shall be entertained.
LEAVE YOUR COMMENTS BELOW:
READ ORDER | Husband Liable To Pay Maintenance Even After He Has Made Efforts To Cohabit With Estranged Wife: Bombay HC

▪️Husband: "Not averse to paying for kids, but wife is living separately w/o any reason, I'm not liable to maintain her"#VoiceForMenhttps://t.co/2933Rxbq6P

— Voice For Men India (@voiceformenind) February 17, 2023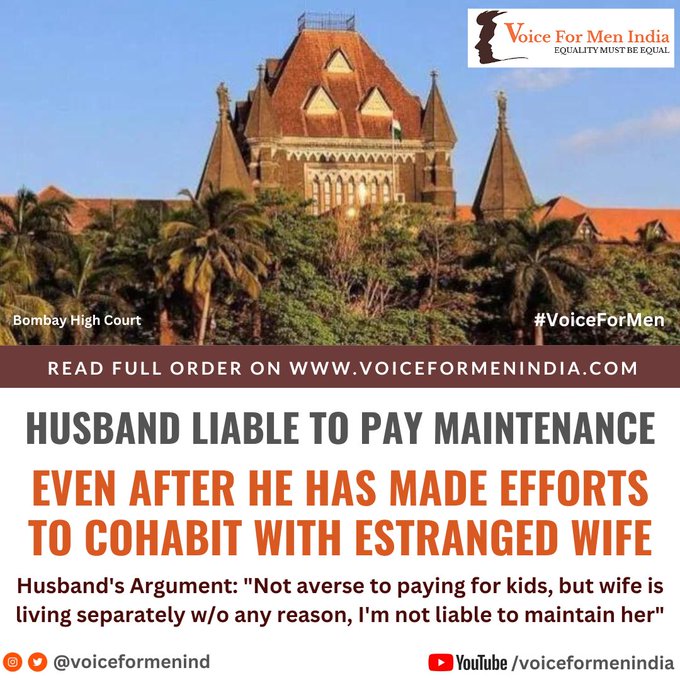 MUST WATCH:
Alimony Settlement Discussion | Madhya Pradesh High Court | Voice For Men India
Join our Facebook Group or follow us on social media by clicking on the icons below
Donate to Voice For Men India
Blogging about Equal Rights for Men or writing about Gender Biased Laws is often looked upon as controversial, as many 'perceive' it Anti-Women. Due to this grey area - where we demand Equality in the true sense for all genders - most brands distance themselves from advertising on a portal like ours.
We, therefore, look forward to your support as donors who understand our work and are willing to partner in this endeavour to spread this cause. Do support our work to counter one sided gender biased narratives in the media.
To make an instant donation, click on the "Donate Now" button above. For information regarding donation via Bank Transfer, click here.
Alternately, you can also donate to us via our UPI ID: [email protected]