The Bombay High Court in its recent order has instructed a former live-in partner of a married woman to pay maintenance to her under the Domestic Violence Act, 2005.
Initially, the sessions court had struck down woman's plea for maintenance, however, Bombay High Court has reversed the same and allowed the plea.
Tennis Ace Leander Paes Moves Court Against Maintenance Granted To Former Live-in Partner Rhea Pillai
Case:
The applicant had been married to one Mr X, who according to her deserted her 20-years ago. The woman has two sons and a daughter from this marriage.
In the year 1994, the woman got acquainted with a vegetable trader Mr Y and started living with him along with her children. After 15-years of her relationship with Mr Y, she left him following a dispute.
In 2012, the woman lodged a complaint under the Domestic Violence Act seeking maintenance against her former live-in partner Mr Y (with whom she had parted ways with in 2009). The magistrate's court held that she was entitled to maintenance but the sessions court overturned the order. It is thus that the woman filed an appeal in high court.
READ ORDER | Bombay High Court Grants Bail To Lover As Complainant Woman Filed False Rape Case To Save Her Marriage
Submission By Applicant
The woman had claimed that she had lived with Mr Y for a decade and half, shared household expenses with him and even her children from her previous marriage used to call him "father".
Defense By Live-in Partner (Mr Y)
The man's lawyers opposed the plea saying "merely living together under a shared household is not the only test of determining whether the relationship between the couple was in the nature of marriage".
READ ORDER | Instagram Profile No Proof That Adult Daughter Is Earning; Father Must Pay Maintenance Till She Gets Married: Bombay High Court
Bombay High Court
Justice Bharati Dangre of the Bombay High Court struck down the sessions court order that had rejected the woman's plea for maintenance and held that a married woman who had been in a "live-in" relationship with another man for over 15-years is entitled to maintenance from him under the special anti-domestic violence law.
Justice Dangre held that there existed a domestic relationship in the nature of a marriage between the couple. The High Court remarked,
From the facts of this case, it can be seen that the couple has held themselves to the world as husband and wife. Not only that, there was an economic exchange between them and they were carrying out the said business of trading (in vegetables). 

It is her categorical statement that he had, in fact, helped her raise the children and share household expenses.
The court further pointed to the woman's statement that she had shared money received for her daughter's wedding expenses with the man and now she was left with no funds to look after herself.
Its Her Choice To Work Or Not | Bombay High Court Justifies Why Educated Wife Must Get Maintenance
Maintenance Under Domestic Violence Act
The judge said it would have to consider the fact that the Domestic Violence (DV) Act enacted in 2005 was a benevolent law for protecting women from violence. Reversing the lower court order and upholding maintenance claim for the woman, Justice Dangre concluded:
The term 'abuse' for which the protection can be sought has been construed to be operating on a wide compass to include physical and economic abuse.

Taking into consideration the purpose of the enactment, the provisions contained in the enactment are to be liberally construed to achieve the object of ensuring the welfare of a woman for whom the Act is intended to grant certain protection in certain situations.
The court rejected the man's contention and relied on witnesses who had stated that the couple had lived together for a long time and the woman was known as the man's wife.
LEAVE YOUR COMMENTS BELOW:
Married Woman Living With Another Man For 15YRS Entitled To Maintenance From Live-in Partner Under DV Act: Bombay HC

▪️1993: Woman's husband left her
▪️1994-2009: Woman co-habited with another man
▪️2012: Woman files for maintenance from live-in partnerhttps://t.co/MdfS7Z411k

— Voice For Men India (@voiceformenind) February 8, 2023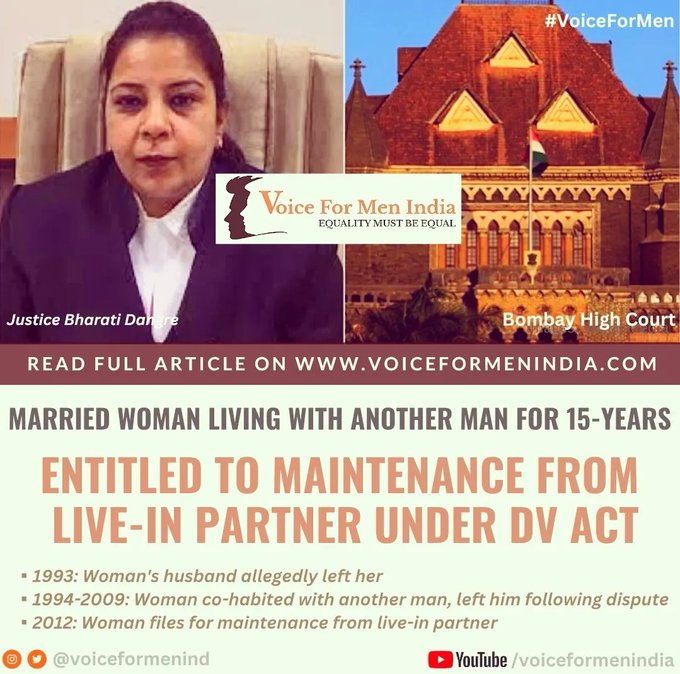 MUST WATCH:
Karan Thapar Interview (2006) With Then Women & Child Development Minister Renuka Choudhary (Domestic Violence Act)
Join our Facebook Group or follow us on social media by clicking on the icons below
Donate to Voice For Men India
Blogging about Equal Rights for Men or writing about Gender Biased Laws is often looked upon as controversial, as many 'perceive' it Anti-Women. Due to this grey area - where we demand Equality in the true sense for all genders - most brands distance themselves from advertising on a portal like ours.
We, therefore, look forward to your support as donors who understand our work and are willing to partner in this endeavour to spread this cause. Do support our work to counter one sided gender biased narratives in the media.
To make an instant donation, click on the "Donate Now" button above. For information regarding donation via Bank Transfer, click here.
Alternately, you can also donate to us via our UPI ID: voiceformenindia@hdfcbank