In an extremely rare and almost unprecedented case in India, a husband has not just successfully fought false matrimonial cases against his wife, but also managed to make wife pay damages for his ordeal. 
Though this was not officially ordered by the Delhi High Court, the mutual agreement and settlement was done between the parties to end the bitter chapter of marriage, which lasted only for three months. 
Case:
Parties got married in December 2015 as per Hindu Rites and Customs at Zirakpur, Punjab. The couple lived and co-habitated together as husband and wife at Gurugram and no child was borne out from the said wedlock. On account of incompatibility and irreconcilable differences between the parties, certain disputes and differences arose between them.
Subsequently, the wife filed an FIR at Women's Cell, Nanak Pura police station in Delhi against the husband under:
Section 498A

Section 406

Section 506

Section 34
Parties have been living separately since March 2016.
Marital Rape PIL | Read Written Submissions By Advocate Raj Kapoor For Hridey NGO, & Men Welfare Trust
During the pendency of the proceedings, the parties settled their disputes and the terms of the compromise were documented in the form of a Settlement Agreement dated 01.12.2022.
Terms of Settlement
In terms of the said settlement, marriage between the parties was dissolved by a decree of divorce by mutual consent on 10.04.2023. Further, it was agreed that the wife shall pay an amount of Rs 12 lakh towards all claims of the husband.
Out of the said amount, an amount of Rs 6 lakh was paid by the wife to the husband at the time of recording of the statement of the first motion on 06.01.2023 and the remaining amount of Rs 6 lakh was paid at the time of recording of the statement of the second motion, the receipt of which is acknowledged by the husband. 
The wife, who was present in court, stated that she had no objection in case the present FIR was quashed.
WATCH:

Should Men File For Divorce First | Voice For Men India | Swarup Sarkar | Save India Family (SIF)
Delhi High Court
Justice Vikas Mahajan of the Delhi High Court via an order dated May 22, 2023 quashed the FIR considering that the parties have amicably resolved their dispute out of their free will and without any coercion. The High Court said,
No useful purpose will be served in continuing the proceedings, rather the same would create further acrimony between them.
High Court Reconfirmed With Wife
While reconfirming this arrangement with the wife, she clarified that she entered into compromise out of her own free will and without any pressure, coercion or threat.
Thus, the quashing of FIR was permitted by the Delhi High Court. 
WATCH:

How To Approach Section 340 CrPC In Matrimonial Cases | Perjury | Voice For Men India
Husband Was Guided By Men's Rights NGO, Delhi
The husband in this case had approached Men Welfare Trust (MWT), a Men's Rights NGO based out of Delhi. The NGO is a part of Save India Family (SIF) which runs a national helpline number and conducts weekly meetings on ground in multiple cities. Speaking with Voice For Men India, Amit Lakhani, President: Men Welfare Trust expressed the below:
I think this is a remarkable triumph that underscores the power of determination, patience, the right guidance and of course unwavering effort. This is also a shining example of resilience in the face of adversity.

Through the support and guidance of MWT advisors, coupled with his sheer hard work and unwavering commitment, he navigated through his matrimonial dispute, he meticulously constructed compelling submissions that dismantled the opposition's baseless claims.
Amit further added,
As the opposition's case crumbled under the weight of truth and facts, they were exposed completely and were left with no choice but to compensate and it settled with a sum of Rs 12 lakh that the husband got from the wife's side.

This significant case stands as a poignant reminder of the consequences that await those who file false cases and inflict untold suffering upon innocent individuals and their families.
Distressed, he came to us at @MenWelfare, was directionless amidst his matrimonial dispute.
Gained knowledge, fought it out, though it took 7 years for him to come out of divorce but this fighter has got 12 lacks settlement from wife for filing false cases.
Unprecedented !! pic.twitter.com/vsjWxWm2IE

— Amit Lakhani (@TheAmitLakhani) May 24, 2023
This example also serves as an inspiration to countless others, demonstrating that with patience, perseverance, and the right guidance, you can achieve what looks impossible.

Men Welfare Trust remains steadfast in its commitment to help male victims, providing them with the necessary support, guidance, and strength to fight against injustice.
You can contact Save India Family National Helpline Number +91 8882 498 498 for free counselling in your personal cases. 
LEAVE YOUR COMMENTS BELOW:
READ ORDER | Husband Fights False Matrimonial Cases & Makes Wife Pay Rs 12 Lakh As Damages@TheAmitLakhani: "As opposition's case crumbled under weight of truth & facts, they were exposed completely, left with no choice but to compensate"#VoiceForMenhttps://t.co/ma0DquQKh5

— Voice For Men India (@voiceformenind) May 25, 2023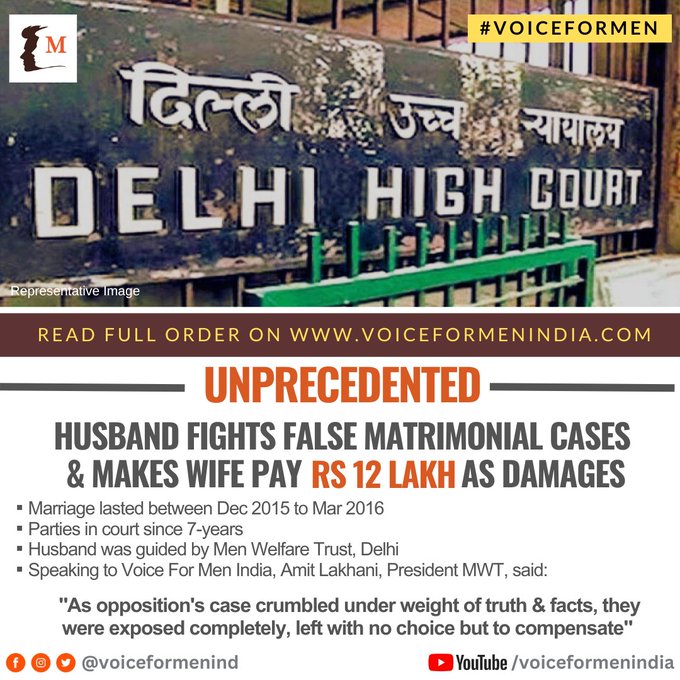 DO WATCH:
Can Your Organization Fire You If You Are Charged Under Section 498-A IPC | Voice For Men India
MUST READ:
NO, Men's Rights NGO Is Not Fighting To Keep Marital Rape Legal In India | Read Other Side Of Media Propaganda
Join our Facebook Group or follow us on social media by clicking on the icons below
Donate to Voice For Men India
Blogging about Equal Rights for Men or writing about Gender Biased Laws is often looked upon as controversial, as many 'perceive' it Anti-Women. Due to this grey area - where we demand Equality in the true sense for all genders - most brands distance themselves from advertising on a portal like ours.
We, therefore, look forward to your support as donors who understand our work and are willing to partner in this endeavour to spread this cause. Do support our work to counter one sided gender biased narratives in the media.
To make an instant donation, click on the "Donate Now" button above. For information regarding donation via Bank Transfer, click here.
Alternately, you can also donate to us via our UPI ID: [email protected]