What is the procedure for maintenance to be awarded to a wife in India? Both spouses are supposed to file their respective affidavits in the court. Click here for full order and format and affidavits. 
Since divorce matters in our country are never time bound and drag on for years and decades, both estranged spouses submit their affidavits showing bare minimum income. If the husbands are salaried, they hardly have any way out because all income is captured in the ITR, while if the wives are homemakers or earning in cash or choose not to declare their pancard and ITR, it becomes extremely difficult to track and access their real income. 
In most such cases, wives submit everything as NIL in their affidavits while claiming maintenance in thousands/lakhs per month.
Fortunately, the Central Information Commission (CIC) off lately, has been permitting both spouses to seek generic income details of the other through RTI. We are publishing a recent order sent to us by a husband who has requested us to conceal all identities. 
However, you can use the exact case references and order to file similar RTI application to procure income details of your estranged wife in an ongoing maintenance matter. 
Prenup Agreements Not Valid In India, But Signing Prenup Indicates Intent Of Parties: Mumbai Family Court
Case:
Abhijeet (name changed) is fighting a maintenance case against his estranged wife Neetu (name changed). In November 2022, Abhijeet filed an RTI stating the facts as below:
Following cases have been registered against me on complaint by Ms Neetu
FIR against me and my family members u/s 498A/406/34 IPC PS: Budh Vihar, Rohini, Delhi
Domestic Violence Case in Rohini Court, Delhi

Ms Neetu has shown herself to be unemployed and incapable of earning and is claiming maintenance in above mentioned case (mentioned in (b)) but I have cognizance of the fact that she had been working even after willfully leaving matrimonial home and even after making complaint against me and my family.
Information required:
Kindly confirm if above PAN, Aadhar details about Ms Neetu are correct?
Kindly confirm if above mentioned Ms Neetu has filed Income Tax Returns for the AY 2017-2018, 2018-19, 2019-2020, 2020-2021, 2021-2022 and 2022- 2023?
Kindly provide Gross Income and Net income for AY 2017-2018, 2018-19, 2019- 2020, 2020-2021, 2021-2022 and 2022-2023?
Please provide year in which ITR was filed for the first time against above mentioned PAN
Kindly provide copy of ITR for last 3 years i.e., AY2020-21, AY2021-22 and AY2022-23
The Central Public Information Officer (CPIO) filed their response in the matter in December 2022 rejecting the husband's application stating as below:
The information sought by you cannot be provided as the information pertains to third party and no relation to any public activity or interest and the revelation of which can cause "unwarranted invasion" into the privacy of an individual. Therefore, your application under RTI, Act, 2005 is hereby rejected u/s 8(I)(j) of the RTI Act, 2005 and the same is disposed off accordingly.
Accordingly, the husband appealed the matter in the same month and received another response from First Appellate Authority (FAA) in January 2023. To the disappointment of the husband, FAA too, via its order dated 20.01.2023, upheld the reply of the CPIO.
Final Order 
The CPIO analysed the facts and details sought by the husband. It also read out the response where the request was earlier rejected citing:
In this connection it is stated that the undersigned intended to disclose the above information or record or part thereof to the applicant, subject to the consent of the person whose information is to be disclosed, a letter u/s 11 of RTI Act, 2005 was issued to the third party for submission in writing or orally regarding whether the required information should be disclosed, or not.
The third party in her submission has submitted in writing where she has requested not to disclose the information being a personal detail. Since the third party has denied in writing to provide the said information, therefore, It is hereby stated that the information sought by you under the RTI Act, 2005 for Ms Neetu cannot be provided as the information pertains to third party.
The CPIO now referred to some past precedents and judgments in similar scenarios and observed:
The Commission based on a perusal of the facts on record observes that this bench has dealt with cases bearing the factual matrix of a spouse seeking income tax details of another in pursuit of a matrimonial dispute and the stance that had been maintained by it so far is that the information sought for in the RTI Application pertains to the personal information of a third party and stands duly exempted under Section 8(1)(j) of the RTI Act.
However, the CPIO went on to add:
In the recent past this bench has met with the continuing reliance placed by a staggering number of applicants on the decision dated 06.11.2020 of a coordinate bench of the Commission in the Rahmat Bano Case, wherein the disclosure of the gross income was allowed to the estranged wife on the ground of sustenance and livelihood of the family.
READ ORDER | Delhi High Court Orders Costs On Either Parties If They Take Adjournments Or Fail To Conclude Arguments In Divorce Matter
Referring to multiple orders in favour and against such requests, the CPIO allowed the appellant husband's request for seeking his wife's generic income details through RTI. The final order dated August 1, 2023 read as below:
In pursuance of the Appellant's praying urging that the information is being requested for a maintenance case, applying the same yardstick as applicable to a wife in such cases, the Commission directs the CPIO to provide the "generic details of the net taxable income/gross income" of the estranged wife for the period as mentioned in the RTI application available with the Respondent as mentioned by the CPIO during hearing to the Appellant free of cost within 15 days from the date of receipt of this order.

Further, as per the request of the Appellant, the CPIO should also make efforts in providing information of generic details w.r.t. current assessment year 2023-24 also. A compliance report to this effect shall be sent to the Commission by the CPIO immediately thereafter.
DO WATCH:
Husband Can Seek Wife's Generic Income Details Through RTI | Landmark Order | Voice For Men India
(This was another recent order where CIC allowed husband to seek income details of wife through RTI)
DO YOUR BIT AND SHARE THESE ORDERS WITH EVERYONE GOING THROUGH MATRIMONIAL BATTLES. THIS ORDER IS GENDER NEUTRAL.
LEAVE YOUR COMMENTS BELOW:
READ ORDER | Husband Can Seek Wife's Generic Income Details Through RTI During Ongoing Maintenance Case: CIC

▪️Husband fighting his maintenance case has asked us to share this full order so all others in similar situation can benefit from the samehttps://t.co/NyvzwbwWLA

— Voice For Men India (@voiceformenind) October 23, 2023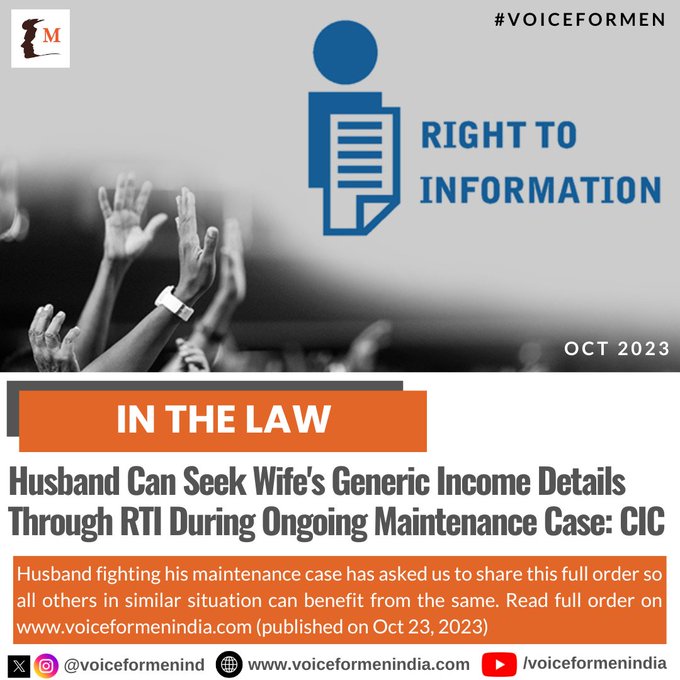 Note: Husband in the above case has been kind enough to also share other similar cases during his research. 
Join our Facebook Group or follow us on social media by clicking on the icons below
Donate to Voice For Men India
Blogging about Equal Rights for Men or writing about Gender Biased Laws is often looked upon as controversial, as many 'perceive' it Anti-Women. Due to this grey area - where we demand Equality in the true sense for all genders - most brands distance themselves from advertising on a portal like ours.
We, therefore, look forward to your support as donors who understand our work and are willing to partner in this endeavour to spread this cause. Do support our work to counter one sided gender biased narratives in the media.
To make an instant donation, click on the "Donate Now" button above. For information regarding donation via Bank Transfer, click here.
Alternately, you can also donate to us via our UPI ID: voiceformenindia@hdfcbank