The Gujarat High Court in its order dated March 06, 2023 dismissed a habeas corpus petition where the boyfriend of a married woman approached court to seek her custody. 
The woman, though married, was living in with the petitioner, who claimed that she was in illegal custody of her husband. The High Court has dismissed the case with Rs 5,000 cost on the petitioner boyfriend.
67-Year-Old Gwalior Woman Registers Her Live-In Relationship With 28-Year-Old Man
Case:
According to the petitioner, his live-in partner had been married off against her wishes. Soon, she left her matrimonial home and started residing with the petitioner. The petitioner further submitted an agreement of live-in-relationship with the corpus before the court.
The counsel for the petitioner accused the husband of the woman to have illegally detained her in his custody. The petitioner prayed before the court to direct police authority to handover the custody of the woman from the husband to the petitioner.
Can A Woman File Rape Charges Against Male Partner After Prolonged Live-in Relationship?: Supreme Court Clarifies
Arguments by State
The counsel appearing for the State argued that petitioner has no locus standi because even if the corpus is in custody of her husband, it cannot be said that corpus is in illegal custody of her husband.
Live-in-Relationships Part & Parcel Of Life | Allahabad HC Stays Arrest Of Man Living With Married Woman
Gujarat High Court
After the perusal of the materials on record, a division bench of Justice Vipul M. Pancholi and Justice Hemant M. Prachchhak held that custody of corpus with her husband cannot be termed as illegal and the petitioner has no locus to file the present petition. The Court thus observed:
It is not in dispute that till today, the marriage of the petitioner is not solemnized with the respondent No.4 (corpus). At the same time, divorce has not taken place between respondent No.4 (corpus) and respondent no. 5 (husband).

We are, therefore, of the view that custody of respondent No.4 with respondent No.5 cannot be termed as illegal custody as alleged by the petitioner and the petitioner has no locus to file the present petition on the basis of the so-called live-in-relationship agreement.
Two Contrasting Orders On Live-in Relationship Between Married Woman & Partner | One Faces Bigamy; Other Protection
Costs Imposed
The High Court also imposed costs on the boyfriend, thereby, dismissing his petition. The Court concluded:
In the aforesaid facts and circumstances of the present case, we are not inclined to entertain the present petition. Accordingly, this petition is dismissed with cost of Rs.5,000/-. The petitioner shall deposit Rs.5,000/- (Rupees Five Thousand Only) with the Gujarat State Legal Services Authority within a period of six weeks from today.
Adultery has been decriminalised in 2018 by Supreme Court of India. 
VFMI TAKE:
We believe no human should be kept trapped in a relationship he/she does not want to continue in
However, such liberties are only progressive when the human is a woman; if genders are reversed the husband has no such exit from a marriage
The root cause of most false matrimonial cases by wives is being married off to men against their wishes 
Ultimately, these women strike back with multiple cases not just to exit that marriage, but also leave with alimony and settle down with the man of her choice
Women rights activists have ended up pushing governments to make completely one sided laws, where wives can leave whenever they wish to, however, innocent husbands bear the brunt of the woman's past of present 'love'
LEAVE YOUR COMMENTS BELOW:
READ ORDER: Gujarat HC Imposes Costs On Boyfriend Who Accused Live-in Partner's Husband Of Illegally Keeping Her In His Custody

▪️Petitioner Boyfriend: "She was married off against her wishes. Request court to direct police to handover her https://t.co/whSJaNH7O7…

— Voice For Men India (@voiceformenind) March 22, 2023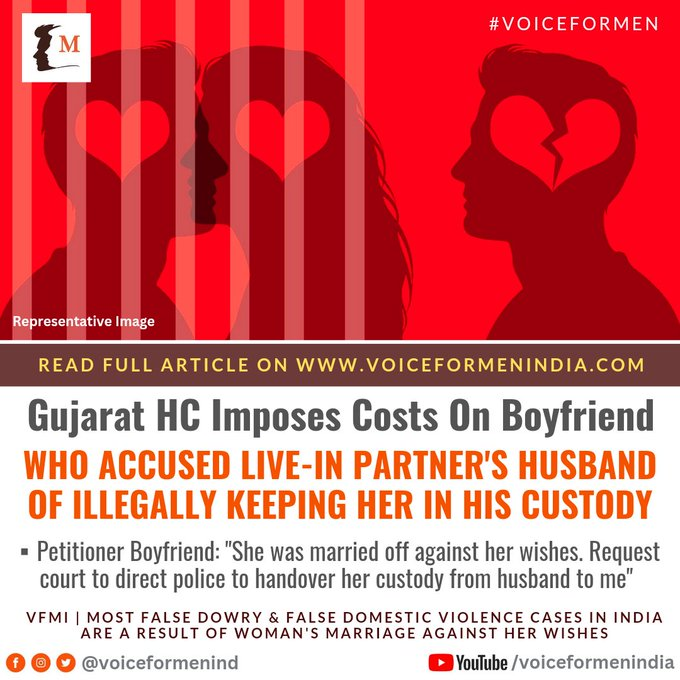 MUST WATCH:
Kapil Sibal Argues For Faster Divorce Process | Irretrievable Breakdown In Marriage | Supreme Court
Join our Facebook Group or follow us on social media by clicking on the icons below
Donate to Voice For Men India
Blogging about Equal Rights for Men or writing about Gender Biased Laws is often looked upon as controversial, as many 'perceive' it Anti-Women. Due to this grey area - where we demand Equality in the true sense for all genders - most brands distance themselves from advertising on a portal like ours.
We, therefore, look forward to your support as donors who understand our work and are willing to partner in this endeavour to spread this cause. Do support our work to counter one sided gender biased narratives in the media.
To make an instant donation, click on the "Donate Now" button above. For information regarding donation via Bank Transfer, click here.
Alternately, you can also donate to us via our UPI ID: voiceformenindia@hdfcbank