Can a male partner be charged of rape, if a consensual relationship fails and the marriage does not take place? Time and again different courts have given subjective orders based on individual circumstances in such scenarios. Recently, the top court of India ruled last week,
Where a woman has willingly been staying with a man and had a relationship with him, and if the relationship is not working out now, the same cannot be a ground for lodging an FIR for the offence of committing rape repeatedly on the same woman [Section 376(2)]
Subsequently, the accused man was granted pre-arrest bail after he failed to marry his female partner.
Don't Think Grant Of Bail Is Unwarranted | Supreme Court On Vijay Babu's Alleged Rape On Pretext Of Marriage Case
Case:
The complainant admitted that she was in a relationship with the appellant for a period of four years. Further, the woman also confessed that she got involved with the man when she was 21-years of age. 
Submissions by Appellant/Petitioner
The petitioner in this case submitted that he has been falsely implicated in this case with incorrect facts placed on record.
He argued that he and the woman were in a live-in relationship since 2015. He even submitted that the woman infact was married to someone else, and thus, there could not be any false promise of marriage of his (petitioner's) end. 
According to the accused, the complainant has got a government job and thus she lodged the present complaint due to enmity.
Sonia Gandhi's 71-Year-Old Personal Secretary Booked On Charges Of Rape On Pretext Of Marriage | Accused Cries False Case
Arguments by Complainant
On the other hand, the Public Prosecutor as well as the advocate for the complainant argued that she had taken divorce from her husband and was living in with the accused, only because he promised to marry her. The complainant shared that a female child was born out of this relationship.
Thus, she urged the Court to dismiss the anticipatory bail application for the accused so that there could be proper custodial interrogation and a DNA Test.
Rajasthan High Court
The Rajasthan High Court in May this year, dismissed the appellant's anticipatory bail application for the offences under sections 376(2)(n), 377 and 506 IPC. The High Court said,
It is an admitted position that petitioner had made the relation with complainant by promising to marry her and due to their relation, one female child was born. So, looking to the gravity of offence, I do not consider it a fit case to enlarge the petitioners on anticipatory bail.
Ahmedabad Woman With Three Husbands Accuses Live-In Partner Of Rape On Pretext Of Marriage
Supreme Court
The Supreme Court bench, subsequently, allowed the present appeal and set aside the order of the High Court, ordering that the appellant be released on bail to the satisfaction of the competent authority.
The Bench specifically added,
It is made clear that the observations in the present order are only for the purposes of deciding the pre-arrest bail application. The investigation shall proceed uninfluenced by the observations made in the present order.
Can A Woman File Rape Charges Against Male Partner After Prolonged Live-in Relationship?: Supreme Court Clarifies

▪️The comments by Supreme Court in this case, strictly pertain to anticipatory bail only, and does not guarantee an acquittal https://t.co/BNYi7ufh0a

— Voice For Men India (@voiceformenind) July 18, 2022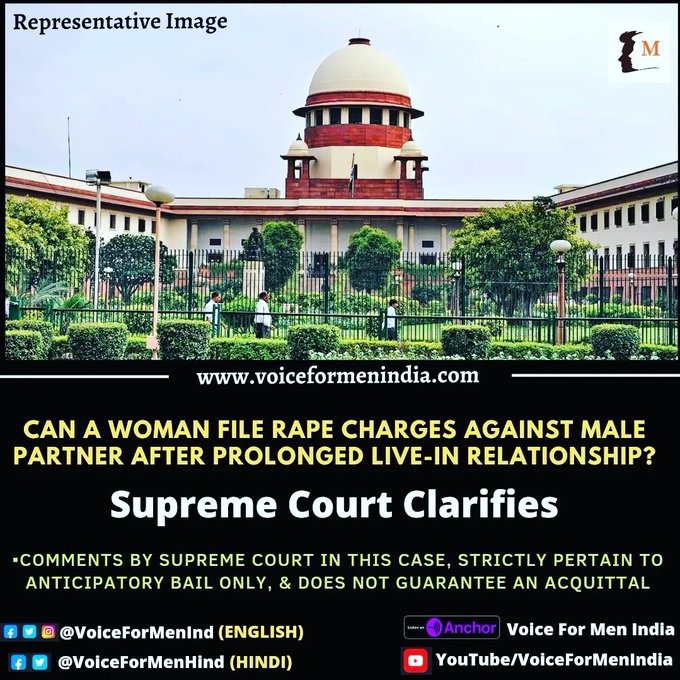 WATCH:
Women Are Filing False Rape Cases After Live-in | Chhattisgarh State Commission for Women Chief
Join our Facebook Group or follow us on social media by clicking on the icons below
Donate to Voice For Men India
Blogging about Equal Rights for Men or writing about Gender Biased Laws is often looked upon as controversial, as many 'perceive' it Anti-Women. Due to this grey area - where we demand Equality in the true sense for all genders - most brands distance themselves from advertising on a portal like ours.
We, therefore, look forward to your support as donors who understand our work and are willing to partner in this endeavour to spread this cause. Do support our work to counter one sided gender biased narratives in the media.
To make an instant donation, click on the "Donate Now" button above. For information regarding donation via Bank Transfer, click here.