The Gujarat High Court in its order dated May 4, 2023 has suggested implementing Shared Parenting in child custody cases. A PIL filed with regards to the same strongly recommended that interest of children must be a focal point while deciding custody to separated parents.
The PIL also urged that Shared Parenting and fast disposal of child custody matters must be enacted asap.
READ ORDER | Parents Cannot Be Guest In The Life Of Children; Tripura HC Orders Shared Parenting
Background:
A Public Interest Litigation(PIL) was filed in Gujarat High Court by Advocate Rajesh Kumar Mishra listing out multiple issues faced by children of parents who had been living separately and embroiled in matrimonial battles. One of the crucial factors raised by Mishra was that the children's education suffered the most in all such cases where custody cases took long to be decided.
The PIL stated some of the challenges faced by children of separated parents as below:
Lot of daily life struggles as their studies get impacted due to the unpredictability of being called for court proceedings
Children face a lot of psychological issues due to it
The PIL also added how both parents could be living in different cities and thus requested the Court to direct disposal of all child custody cases within 90 days of the application. 
Introduce Concept Of Shared Parenting At Initial Stages In Marriage Disputes: Punjab HC To Govt
Parental Alienation
One of the most critical points raised by the petitioner is the issue of parental alienation faced by children – a situation where the child misses out on the love, joy and upbringing of the non-custodial parent due to never ending divorce battles.
The petitioner thus asked for the issuance of guidelines regarding shared parenting, thereby suggesting,
It is also prayed that both the parents should be granted equal days of custody of the child so that both the parents can raise the child in a particular manner.
Mishra further demonstrated how other High Courts too have passed similar directions with regards to Shared Parenting. He submitted that similar directions could be issued by Gujarat High Court as well.
READ ORDER | Karnataka High Court Upholds Shared Parenting Order By Family Court; Lays Down Guidelines For Non-Custodial Parents
Opposition to the PIL
The state of Gujarat represented by Advocate General Kamal Trivedi appearing with Utkarsh Sharma, AGP, and advocate Ankeeta Rajput contended that guidelines issued by the NGO were not binding in nature. Further, they said that such cases are to be decided in accordance with law and judgments delivered by the Supreme Court and various high courts.
Gujarat High Court
The bench of acting Chief Justice A.J. Desai and Justice Biren Vaishnav heard the arguments in details and agreed to follow the guidelines laid down by other High Courts in India, basis a report submitted by NGO (Child Rights Foundation).
The court noted that the report deals with several aspects like interim visitation schedule, final visitation guidelines, local guidelines (parties residing within 200 km), non local guidelines (parties not residing within 200 km), joint custody and also the psychological effect on both the parents as well as child.
The High Court issued an order that read:
The Registrar General, High Court of Gujarat is hereby directed to circulate the report issued by the Child Rights Foundation which was published in the year 2017 amongst the Judicial Officers of the State of Gujarat so that while deciding such applications, the concerned judge can come to a right conclusion about the custody.
The Gujarat High Court, however, also stated that the guidelines are not mandatory in nature and judges have been asked to decide cases on their own merits and laws.
READ ORDER | Except Bihar, Consent From All States Have Been Received With Regards To Shared Parenting: Union Of India Counsel To Punjab & Haryana HC
Guardians and

Wards Act

, 1890
The Guardians and Wards Act 1890 was enacted to protect the minor's interest and secure his property. The act applies to the whole of India and came into force on 1st July 1890. The Act consolidates and amends the law related to the Guardian and Ward.
Along with operating the rules of personal laws related to guardianship and wards, the act regulates laws pertaining to guardianship and custody for all children within the territory of India. However, it does not override personal laws related to guardianship and wards. You can read here in detail about the act.
LEAVE YOUR COMMENTS BELOW:
READ ORDER | Gujarat HC Acknowledges #SharedParenting Concept; Orders Child Rights NGO Report To Be Circulated Amongst Judicial Officers

▪️HC: Guidelines are not mandatory in nature & judges to decide cases on merits#ParentalAlienation #VoiceForMenhttps://t.co/9SlI1IJ0Pu

— Voice For Men India (@voiceformenind) May 15, 2023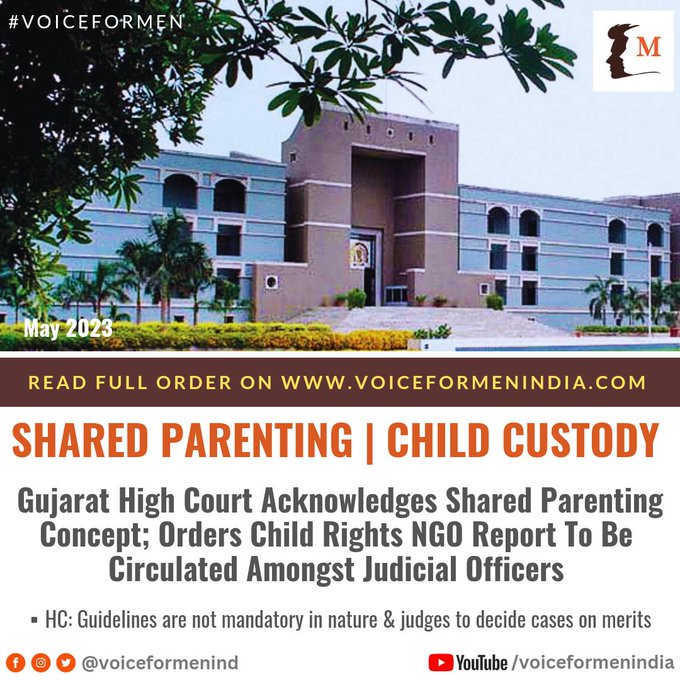 MUST WATCH:
Haara Nahi | Parental Alienation Awareness Day | Voice For Men India | Shared Parenting
ALSO READ:
Greece Adopts Shared Parenting Law Amidst Opposition From Human Rights & Women Rights Organisations
Join our Facebook Group or follow us on social media by clicking on the icons below
Donate to Voice For Men India
Blogging about Equal Rights for Men or writing about Gender Biased Laws is often looked upon as controversial, as many 'perceive' it Anti-Women. Due to this grey area - where we demand Equality in the true sense for all genders - most brands distance themselves from advertising on a portal like ours.
We, therefore, look forward to your support as donors who understand our work and are willing to partner in this endeavour to spread this cause. Do support our work to counter one sided gender biased narratives in the media.
To make an instant donation, click on the "Donate Now" button above. For information regarding donation via Bank Transfer, click here.
Alternately, you can also donate to us via our UPI ID: voiceformenindia@hdfcbank