The Delhi High Court in its judgment dated July 31, 2023 has issued a slew of directions to the family courts in the city to ensure speedy disposal of cases relating to marriage and family affairs within a time frame.
Since there is no specific rule or guideline to conclude these matters, a division bench of Justice Suresh Kumar Kait and Justice Neena Bansal Krishna directed that when a suit has been duly instituted, summons may be issued to the defendant to appear and answer the claim and to file the written statement of defence within 30 days.
ARNESH KUMAR VS STATE OF BIHAR | Landmark Judgement On Unnecessary Arrests Under Section 498A
Case:
The divorce petition was filed by the wife on12.09.2017 and despite repeated opportunities, the Written Statement was filed by the husband on 08.05.2023 after a period of 5 years and 6 months, which is highly belated.
Family Court, Dwarka
The delay in filing was condoned vide impugned Order dated 07.02.2023 and consequently, the written statement was taken on record.
READ JUDGMENT | Do Not Issue Notice Directly To Distant Relatives Of Husband In Domestic Violence Case: Punjab & Haryana HC Lays Down New Guidelines
Delhi High Court
The High Court came down sternly on the husband and said:
From the order sheets of the learned Family Court, we gather that the respondent has been lingering on the divorce petition as neither has the Written Statement been filed on time nor is the respondent conducting the trial diligently.

More so, the respondent is playing hide and seek with the Family Court.
A division bench of Justice Suresh Kumar Kait and Justice Neena Bansal Krishna remarked: 
We may observe that the matrimonial litigation must not be allowed to linger inordinately over a long period of time as it is not only painful and acrimonious for the parties but also such long drawn litigation is many a times, motivated by the intention of either party to drag the litigation.

Reducing judicial delay and improving litigation processes by case management techniques are important elements of increasing access to justice.
READ ORDER | Supreme Court Pulls Up Police For Arresting Accused Without Compliance of Section 41A CrPC As Per Arnesh Kumar Judgement
The High Court has come up with directions for family courts in the national capital as below:
Timelines for Written Statement
The bench stated that no such summons shall be issued when a defendant has appeared at the presentation of plaint and admitted the plaintiff's claim. The High Court said,
Provided further that where the defendant fails to file the written statement within the said period of thirty days, he shall be allowed to file the written statement on such other day, as may be specified by the Court, for reasons to be recorded in writing and on payment of such costs as the Court deems fit, but which shall not be later than one hundred twenty days from the date of service of summons and on expiry of one hundred twenty days from the date of service of summons.
Inspection of Documents After Filing Of Written Statement, Rejoinders
The High Court has also directed that both parties shall complete inspection of all documents disclosed within 30 days of the date of filing of the written statement and that the family court may extend the time limit upon application at its discretion, but not beyond 30 days. The Bench ordered:
Any party to the proceedings may seek directions from the Court, at any stage of the proceedings, for inspection or production of documents by the other party, of which inspection has been refused by such party or documents have not been produced despite issuance of a notice to produce.

Such application shall be disposed of within thirty days of filing such application, including filing replies and rejoinders (if permitted by Court) and hearing.
Each party to submit a statement of admissions or denials of all documents disclosed and of which inspection has been completed, within 15 days of the completion of inspection or any later date as fixed by the family court.
Interim Maintenance, Interim Custody, Other Miscellaneous Applications
The Court has ordered:
All interim applications for "maintenance pendente lite," "interim custody" and all other miscellaneous applications relating to marriage/family affairs shall be decided within 90 days from the date of filing.
The High Court stated that the first management hearing must be held by the family court not later than four weeks from the date of filing of affidavit of admission or denial of documents by all parties to the suit.
Rakesh Raman Vs Kavita | Supreme Court Landmark Judgement | Irretrievable Breakdown Of Marriage Can Be Read As Grounds Of Cruelty To Grant Divorce
Concluding the current matter, the Delhi High Court ordered:
Noting the conduct of the respondent and his dilatory tactics, we hereby direct the Family Court to make an endeavour to decide the petition within three months from today.

It is made clear that if the respondent or his counsel tries to take adjournment, the same shall be subject to costs, at the discretion of the Family Court.

If the Family Court may grant adjournment only on appropriate and proper ground, however, come what may, the petition shall be decided within the aforesaid given time.
DO WATCH:
Should Men File For Divorce First | Voice For Men India | Swarup Sarkar | Save India Family (SIF)
LEAVE YOUR COMMENTS BELOW:
READ JUDGMENT | Interim Maintenance, Custody; Delhi HC Sets Timeframe To Dispose Off Matrimonial Matters

"Matrimonial litigation must not be allowed to linger inordinately as it is painful for parties, also motivated by either party to drag litigation"https://t.co/488jVhASc3

— Voice For Men India (@voiceformenind) August 23, 2023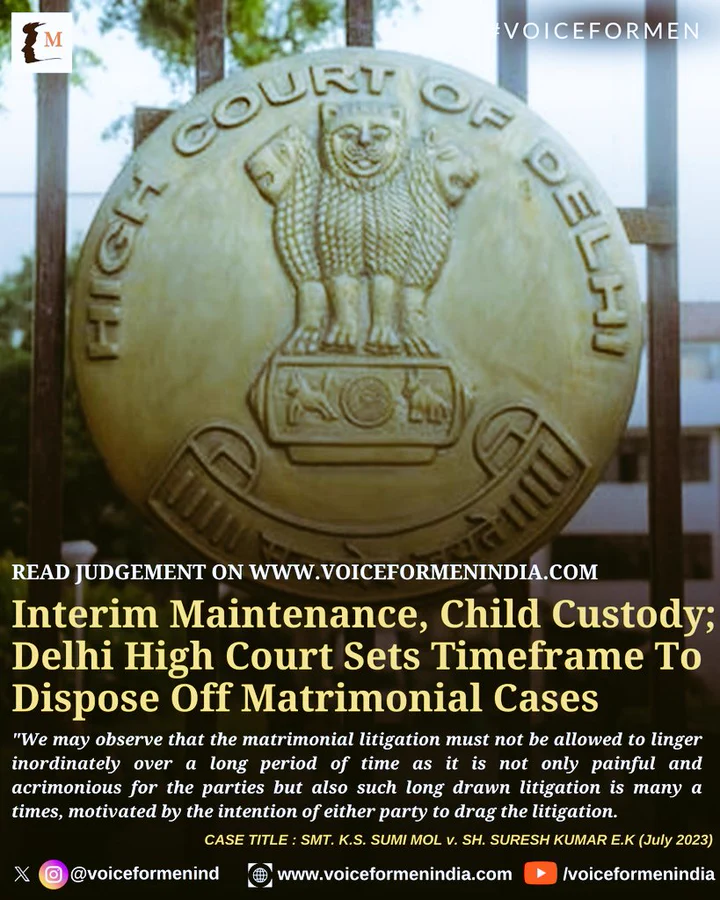 Join our Facebook Group or follow us on social media by clicking on the icons below
Donate to Voice For Men India
Blogging about Equal Rights for Men or writing about Gender Biased Laws is often looked upon as controversial, as many 'perceive' it Anti-Women. Due to this grey area - where we demand Equality in the true sense for all genders - most brands distance themselves from advertising on a portal like ours.
We, therefore, look forward to your support as donors who understand our work and are willing to partner in this endeavour to spread this cause. Do support our work to counter one sided gender biased narratives in the media.
To make an instant donation, click on the "Donate Now" button above. For information regarding donation via Bank Transfer, click here.
Alternately, you can also donate to us via our UPI ID: voiceformenindia@hdfcbank