A detailed account of a consensual relationship has been shared by a man from Uttar Pradesh. Through the smallest information divulged by him, he insists that he is not a truant in the case, but only putting his version forward.
A love affair that germinated at workplace, turned into rape charges after the man stopped giving into the girl's constant physical and emotional blackmail demands. The man also states that he is always available to cooperate in the investigation process, however, the police is only favouring the girl, thereby not even allowing him a fair chance to explain his side of the story.
His Story
Sohail Abbas (Name Changed) hails from a poor family background in UP
After completing his Master's of Social Work in Human Resource Management & Community Work, he was posted as an Officer Trainee – HR through campus placement
His father is a labourer and Sohail is the eldest son of his family

The young graduate joined his new organisation in June 2015 at Udaipur Headquarters and subsequently got posting in the same city just after one-week induction

His new job was a journey full of learning, execution at work and growing, while winning many accolades
After spending nearly two years at same site, Sohail met a girl named Deepa Shrivastava (Name Changed) from UP who had migrated to Udaipur for earning a livelihood
Being a part of HR, Sohail completed induction and on-boarding procedure for Deepa when she joined the organisation in July 2017
Whenever an employee would join the company, Sohail had to share his contact details with the new joinee to facilitate smooth formalities
ALSO READ –
Later, the girl had been shifted to the company guest house where Sohail would visit frequently to keep a tab on the food served to employees and other admin related issues. This is when Deepa initially approached Sohail for a chat. He quotes,
One fine day I was chatting with an employee's mother at the guest house where Deepa who was her neighbour, joined in the conversation. We shared our thoughts on different issues, office talks, etc. back then.
After this meeting at the guest house, Deepa called Sohail the very same night and started chatting with him post office hours via her second personal number. She started asking him to resolve office issues amidst other talks. Casually she also mentioned that she found a connect in his ascent which is why she could engage with him.
Things started brewing between the two and Sohail started getting calls almost on a daily basis. He got involved and responded to every conversation. The boy could sense how Deepa had developed a soft corner for him and when he questioned her the reason for calling/messaging him so frequently, she remained silent for a second, and later expressed her possessiveness for him.
This was the beginning to their 'consensual love affair'. According to Sohail, Deepa's room mates too were aware of her feelings for the co-employee, as she would often approach them to facilitate her talks and meetings.
ALSO READ –
This exchange of thoughts and chats continued through weeks and a few months passed on. However, strangely once whenever the boy didn't answer the girl's calls, she texted him threatening,
I will expose you under POSH Act 2013 that you have sexually harassed me.
This this was the first time Sohail got to know of her real personality. Deepa also wrote two emails to the HR Head and senior management complaining how Sohail don't pick her calls when she needed help. He quotes,
She called many times instantly to lodge internal complaint but never gave anything in writing.
Then came the Diwali of 2017 when Deepa moved out from company's guest house to another residential accommodation, where some senior officials too resided. This is where Sohail's reporting manager and his family used to live as well.
My boss had invited me to his home for Diwali celebrations with other HR executives. The same evening, I got a call from Deepa to visit her home for Diwali sweets where her mother and sister were also present. Her mother seemed to like me a lot.

I visited her place since I did not want any more trouble of threatening calls to my seniors. Deepa had also messaged me earlier that she would commit suicide if I stopped talking to her.
Sohail then describes how things got worse for him. He states,
ALSO READ –
Unfortunately for me, our regular conversations started once again and she started mentioning how she liked me a lot and always wanted to walk with me. She kept praising me over long phone calls and also wanted to hear my side.
But situation did not limit to just exchange of calls. Sohail exclaims,
We further started exchanging pornographic images, online available porn GIFs, and nude photographs of each other. She asked me many times to share an image of my erected penis and we ended up sending each other's private parts many times.

We also started with video calls in which we both used strip off our clothes. This kind of phone sex continued for about three months until February of 2018.
Deepa later started inviting Sohail to her room. He describes how the two had sex the first time, which was almost forced upon him by her. He narrates,
I went to meet her and after sometime she started opening my zip and stripped me off. She was enjoying completely as this was the first time she had me physically in front of her. Then she came over me and asked me to insert my penis into her but I resisted. I told her this is Zina, (Haram) before marriage and I cannot lose my virginity.

However, she didn't paid heed to my words and kept on playing with me and did whatever she liked. I too was fully aroused and finally we had sex. I was not even knowing how to insert, however, it was her who pushed it using her hand.

Everything was at her request and purely consensual. 
ALSO READ –
Deepa would allegedly use the most filthy language to satisfy her pleasures. The two had sex on multiple occasions. According to Sohail,
She did everything whatever she wanted to. Actually she has used me and raped me as per her wishes. Even when I told her I was scared being from HR, she said if someone came to know she would handle the situation. 

Everytime we went to a hotel room, it was her who would do all the bookings. Every single detail is recorded on chats and messages.
Much later after frequently casual sex, Deepa expressed how she wanted to marry Sohail and spend her life with him. However, the boy denied any future together stating he belonged to a different religion and the society and community would boycott his family.
Nonetheless, Deepa started persuading him that she would qualify for UPSC and then he could marry her. Even then, Sohail insisted that he could not marry her due to his constraints. He says,
There was no discussion of marriage before this. Thus condition of marriage was brought in by Deepa after having sex multiple times at her own will. I neither promised anything to her in advance nor ever forced her into any act.
Sohail also mentions how Deepa once missed her periods and he took her for a check up to a local hospital. Luckily it was just a regular delay and the girl was not pregnant. The boy also suspects that Deepa had multiple partners, one of them being Lokendra Singh (name changed), her family friend.
ALSO READ –
Deepa's obsession with Sohail did not end despite the boy informing her that he could not marry her. She started recording everything and also kept monitoring his social media accounts to track every movement of the boy. She then used these trivial matters to start a fight with him daily.
Then there was a gap between meetings and according to Sohail,
Whenever she has used words like "Milne Aaoge" (it meant she wanted to have sex that day) and "Mann hai" was also a code word expressing her desire to have sex. 
Later on one occasion, Sohail's family visited Udaipur to meet their son and without letting him know, Deepa went and met with his family. They also exchanged phone numbers with each other. He says,
She even called my father to check whether I was telling her the truth about intercaste marriage restriction and emotionally blackmailed him.
One day after returning from office, Deepa started screaming at Sohail on a call when she realised his parents has fixed his marriage elsewhere. The girl then disconnected the call and dialled the HR Head at once. In the midst of night, entire security rushed to her room just to check what had happened to her.
This is how she started bullying Sohail every now and then by creating the fear of complaining to senior management. She also pushed him to silently marry her by leaving his family which was not possible as he had never promised the same to her at any point in time. After numerous threats and mental torture, Sohail decided to resign from his job in November 2019. Deepa was well aware of this as he was serving his notice period and thus Sohail insists that his move was not to run away or be in any hiding.
This is when Deepa registered FIR by charging Sohail with Rape on Pretext of Marriage. When the boy tried to speak with the girl's mother, she too resorted to threatening him. Sohail alleges that the mother, daughter, sister and her family friend Singh are all operating a gang and now demanding money from him to settle the matter. Sohail says,
ALSO READ –
I trusted her blindly but she was playing a game with me by involving her mother, her sister and male partner. They are all trying to extort money from me by levelling false charges. They are misusing the law just to extort money by suggesting how the girl is a victim. 
I have been law abiding person since my childhood and this can be verified from any sources wherever I have been so far in my entire life.
Career at Stake
As on date Sohail's career is at stake since a criminal case of rape has been filed against him. He describes how his family gets a call daily to come to the police station and 'settle' the matter.
My parents are living in fear whenever police lands up at home. You can imagine the pain and trauma a common man goes through when he is not at fault, yet his family is dragged to the police station every now and then.

No one can bring back my lost dignity and job, but all I am demanding is a fair investigation.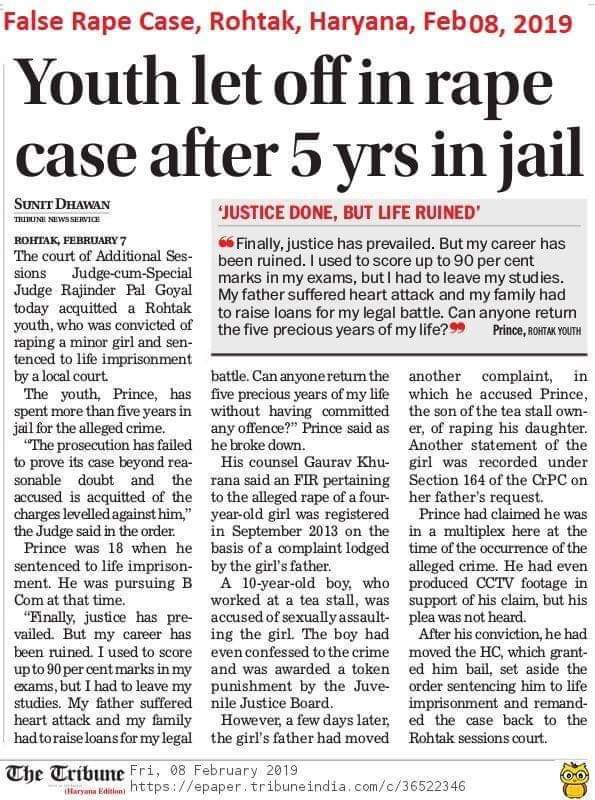 Our Take:
Sadly in a country like ours where actual rapes do happen everyday, some innocent #MenToo are trapped in the flow of allegations
From the above narrated story, it is evident how the encounters were cent percent consensual without any assurances or promises made from either sides
In the same situation, what if a girl would have backed out? Could the man then file rape charges on her?
Physical relationships amongst two adults cannot turn into rape in case the relationship does not materialise into marriage for any reason
Yes, if a man is guilty of luring a girl into sexual relations purely after promising her a marriage and family, he must be held accountable for cheating and other relevant sections
Yet, in these scenarios too, several women who have promised to tie the knot, emotionally drained men after denying marriage are left scot free
Rape is only applicable when a man denies marriage
No Means No option doesn't exist for Men
ALSO READ –
http://voiceformenindia.com/in-the-news/male-rape/
http://voiceformenindia.com/in-the-news/pune-woman-marries-man-in-icu/
http://voiceformenindia.com/in-the-law/rape-on-pretext-of-marriage-3/
Follow www.mensdayout.com on Facebook, Twitter and Instagram
Join our Facebook Group or follow us on social media by clicking on the icons below
Donate to Voice For Men India
Blogging about Equal Rights for Men or writing about Gender Biased Laws is often looked upon as controversial, as many 'perceive' it Anti-Women. Due to this grey area - where we demand Equality in the true sense for all genders - most brands distance themselves from advertising on a portal like ours.
We, therefore, look forward to your support as donors who understand our work and are willing to partner in this endeavour to spread this cause. Do support our work to counter one sided gender biased narratives in the media.
To make an instant donation, click on the "Donate Now" button above. For information regarding donation via Bank Transfer, click here.
Alternately, you can also donate to us via our UPI ID: voiceformenindia@hdfcbank