As social media users, we often forward photographs of missing people/children. For us, it's a mere share/post, but for our men in uniform the task is to actually trace them and bring them back safely to their families.
Meet one such celebrated hero of our Mumbai Police who has worked as a head constable at three police stations in his career of 26 years and has solved every single missing case registered there since 2005.
ALSO READ –
http://voiceformenindia.com/his-story/punjab-cop-bolo-tara-ra-ra/
His Story
Rajesh Pandey is Mumbai Police's most trusted investigator when it comes to cases of missing persons
With nearly 700 cases under his belt, police constable Rajesh Pandey is Mumbai Police's go-to man when it comes to cracking a missing persons case
He has managed to reunite several children with their parents
Pandey has a 'zero missing persons' record at every police station he has worked so far, which had prompted Police Commissioner Datta Padsalgikar to create a Pandey module couple of years ago
Every Mumbai police station and officer now has the module while solving missing persons cases
This basically means that every officer working on such cases should follow the same methods
One of Pandey's earliest cases was that of a boy kidnapped by his own estranged father in 2011
Since then, he has travelled across the country from Darjeeling to Delhi to locate missing people
The 52-year-old constable admits that solving missing persons' case, especially that of children is a bigger priority for him than investigating a crime
Rajesh started his career in 1993 and says that if not for his father's death, he was all set to quit the police force
It was the need to raise his four younger sisters that kept him going
Over the past several years, Pandey has managed to trace and bring back missing children from Maharashtra, Gujarat, Bihar, Delhi, Jharkhand, Uttar Pradesh, and Ranchi
According to the Mumbai Police's Sherlock Holmes, children run away from their families due to education-related stress and domestic violence
After leaving their home, the children end up living on streets and begin begging for food
In many cases, Rajesh indicates he has witnessed, that the parents do not inform the police once their children were found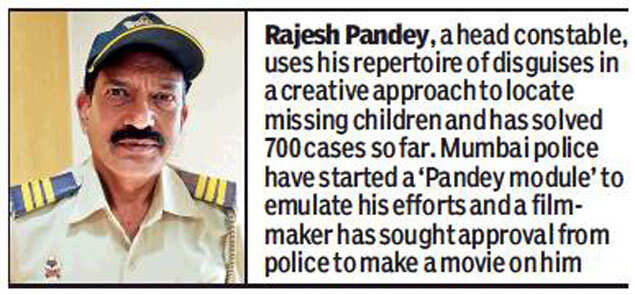 Rajesh says,
Mobile phones are a great tool to track people's locations. WhatsApp is also an important tool for sharing information pertaining to missing persons. Technology has definitely helped us in cracking some challenging cases.
Senior police inspector Sudhir Mahadik had called Pandey Missing Children's Messiah for Mumbai Police. He quoted:
He has emerged as a missing children's messiah for the Mumbai Police. He has helped track close to 700 missing children and reunite them with their parents.
Techniques Adopted
Pandey skilfully uses location tracing and social networking sites to track down missing persons
He also uses his communication and engagement skills to good effect by building a rapport with tailors, guesthouse owners, hotel and bar employees who become his trusted information network
Another investigation tool he trusts is local search engine, Justdial
When an underaged girl from Santacruz had been kidnapped and her phone location was tracked to Diphu in Assam, the police had never heard of this place before. Through Justdial, Pandey traced the contact number of the Railway Protection Force in Diphu and narrated the case details. The girl and the kidnapper were found at the railway station and were kept under the RPF's watch till the time they reached there.
Operation Muskaan
According to Pandey, most missing children did not even know their address to return home. Due to sudden spike in missing cases of minors, the Mumbai Police had started Operation Muskaan in January 2018, an initiative that had received outstanding response from the department. The drive had helped reunite hundreds of missing children with their families.
From Real To Bollywood Dabangg Pandey ji
With 700 solved cases under his belt and a repertoire of disguises, Pandey's work has impressed a filmmaker enough to seek a nod from the police department to make a film on his life and cases.
WATCH 2016 VIDEO WHEN RAJESH'S SCORE WAS 475
ALSO READ – 
http://voiceformenindia.com/his-story/dharamveer-jakhar-rajasthan-police/
Follow www.mensdayout.com on Facebook, Twitter and Instagram
Join our Facebook Group or follow us on social media by clicking on the icons below
Donate to Voice For Men India
Blogging about Equal Rights for Men or writing about Gender Biased Laws is often looked upon as controversial, as many 'perceive' it Anti-Women. Due to this grey area - where we demand Equality in the true sense for all genders - most brands distance themselves from advertising on a portal like ours.
We, therefore, look forward to your support as donors who understand our work and are willing to partner in this endeavour to spread this cause. Do support our work to counter one sided gender biased narratives in the media.
To make an instant donation, click on the "Donate Now" button above. For information regarding donation via Bank Transfer, click here.
Alternately, you can also donate to us via our UPI ID: voiceformenindia@hdfcbank