Crime Has No Gender. Its time India stops treating women as weaker sex and punishes them equally without giving them any benefit of being women.
Chhattisgarh police has arrested two female friends who have been accused of posing as government officers and looting a restaurant owner.
CRIME HAS NO GENDER | Bihar Woman Chokes Husband To Death By Biting His Throat After Losing Temper
Here's What Happened!
Swati Tiwari Asthana, who is a resident of Shivam Vihar Colony, and her friend Mamta Sharma, resident of Himalaya Heights, Dumar Terai have been nabbed by Raipur police after a restaurant owner filed an official complaint against the duo. 
According to the complainant Sagar Sharma, owner of Sagar Ka Sheetla Chowk restaurant, the accused women posed as government officers, intimidated him and started extorting money.
Both women initially visited the restaurant a month and a half ago. They claimed to be part of Food Department and asked for his license. When Sharma showed them the license which had already expired, the women started exploiting him, threatening to take action. Later, the accused women started frequenting the restaurant daily and hogged on free food.
Gurugram Police Arrests Woman For Kidnapping Two Minor Girls, Including Own Daughter To Avoid Suspicion While Demanding Rs 50 Lakh Ransom
The restaurant owner said,
By threatening me, these women took Rs 7,000 from me. After this, they started coming to my outlet again and again and kept demanding money. They used to threaten me that my restaurant would be raided. They would constantly ask for free breakfast or once again threaten action.

Once I would serve them free food, both the women would leave. They would have had breakfast and tea at my place for at least Rs 5,000 daily on an average.
Raped By Our Wives Without Consent; Why Is Marital Rape Debate Not Gender Neutral?
Adding further, Sharma said,
When I learnt that these two women were conning me, I approached police station and filed an official complaint. I believe these women have duped many more people like me.
WATCH | Mother Punishes 5-Year-Old Daughter By Tying Her In Scorching Delhi Sun For Not Doing Homework
Police Action
Local police arrested these women from their homes and produced them at court on Friday, from where they were sent in judicial custody.
These two con women are also being questioned in other cases. Many shopkeepers didn't complain to the police out of fear; some kept getting tricked thinking them to be real food department officers.
Leave your comments below:
#Raipur: Two Women Arrested For Posing As Fake Food Department Officers & Hogging Free Breakfast Daily At Local Restaurant

▪️Complainant: "They threatened to raid my restaurant. They'd constantly ask for free breakfast, they have duped other owners too"https://t.co/LLh6K9sUhu

— Voice For Men India (@voiceformenind) January 18, 2023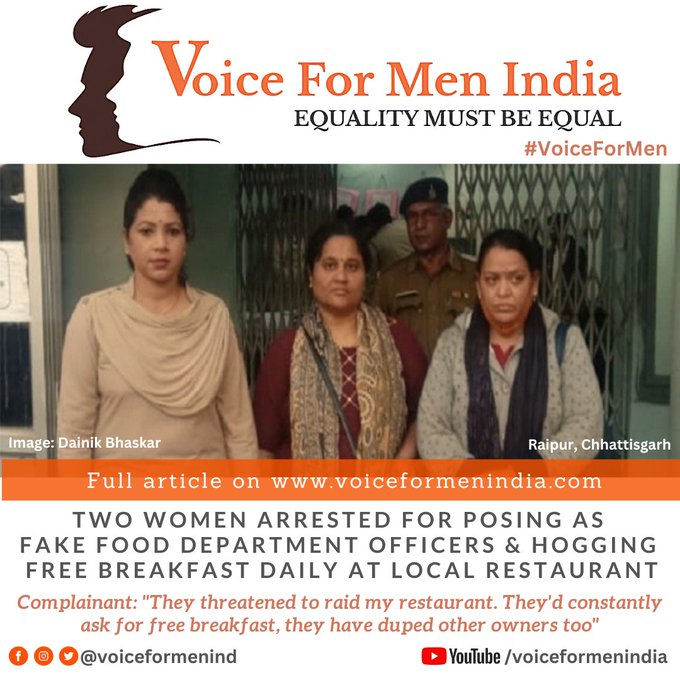 DO WATCH:
Lodha Amara Thane | Female Resident Slaps Security Guards On Republic Day
Join our Facebook Group or follow us on social media by clicking on the icons below
Donate to Voice For Men India
Blogging about Equal Rights for Men or writing about Gender Biased Laws is often looked upon as controversial, as many 'perceive' it Anti-Women. Due to this grey area - where we demand Equality in the true sense for all genders - most brands distance themselves from advertising on a portal like ours.
We, therefore, look forward to your support as donors who understand our work and are willing to partner in this endeavour to spread this cause. Do support our work to counter one sided gender biased narratives in the media.
To make an instant donation, click on the "Donate Now" button above. For information regarding donation via Bank Transfer, click here.