Adultery has been decriminalised in India in 2018, while the same still remains a valid ground for divorce (civil case). While courts have written elaborate judgements on the liberation of married women's body and choice, they seem to be completely disconnected with ground realities within smaller towns in India.
A heartbreaking case of suicide has come to light from Punjab, where a man, along with his daughter, his brother and brother's son, died by suicide, alleging illicit relationship of his wife with a businessman in their area.
At the outset, we do not encourage any such action and request all to get in touch with NGOs and helplines that can help you cope with such situations.
Newly Married Patiala Groom Dies By Suicide Due To Rs 70 Lakh Alimony Harassment By In-Laws
Case:
Jaswinder Singh (37), a resident of Mohalla Budhwara, was troubled with his wife's illegitimate affair with one financier named Kala Sandhu, who lived in the same vicinity as theirs. Jaswinder was upset as his wife had left him and their daughter since 3-years, while she was living separately with Sandhu. 
Suicide
According to Firozpur police, Jaswinder Singh along with his daughter Gurleen Kaur, his handicap brother Harpreet Singh (40) and nephew Agam were traveling in a car on Tuesday, when suddenly near Ghalkhurd, Jaswinder rammed the car into a canal.
The police was informed about this incident and later a rescue operation was undertaken to save the victims. However, when the car was pulled out from the canal, all four were found dead.
Rajasthan Businessman Dies By Suicide Due To Second Wife's Alleged Affair With Staff
Suicide Video
Sadly, before ending life, Jaswinder recorded a video sharing his ordeal as to why he was taking this step. Breaking down in the video, Jaswinder accused his wife of having an illicit relationship with Sandhu. At the same time, he also shared that his mother-in-law and sister-in-law were creating troubles in his marriage. Adding further, Jaswinder said,
Today I have reached end of my life. My children are sleeping with me, but now they have also woken up.
Adding further, he said that Sandhu had been gifting expensive things to his wife, and since three years she had been living separately. Jaswinder also accused his mother-in-law and sister-in-law of calling him a drug addict, while he claimed of never indulging in the same. 
On the fateful day, Jaswinder seemed heavily drunk due to his problems, due to which he allegedly took the drastic step.
Just before suicide, Jaswinder went live on social media many times to share his pain. 
Statement by Jaswinder's (other) Brother
The brother of the deceased informed police that his sister-in-law had started living with a man named Kala Sandhu. This man had shifted her to a separate residence in the locality and his sister-in-law's mother and her sister also supported this arrangement.
Jaswinder had called Kala Sandhu and pleaded him to send his wife back home as his children were leading a life of an orphan without their mother. Victim's brother said that Sandhu had abused Jaswinder and refused to return his wife. 
Husband Can Be Jailed For Extra-Marital Affair Under Sec 498A | Was Adultery Decriminalised Only For Wife's Paramour?
VFMI Take:
This incident is extremely unfortunate as so many lives were ended abruptly due to a marital dispute
VFMI does not support any such extreme step that endangers lives, particularly that of innocent children
As a society, we can either call the man weak and forget about this incident, or try to analyse how we are allowing our society to deteriorate in the name of empowering women
If married women do not want to continue in their marriage, husbands should be allowed easy exit
Currently, the trap of heavily biased matrimonial laws, only in favour of wives, leaves some men with no recourse
Man Dies By Suicide Alleging False Case By Wife After He Learnt About Her Extra-Marital Affair
Suicide Prevention Helpline
Men in distress due to family problems or facing threats of false cases from in-laws can contact either of the Men's Rights NGOs:
You can also contact Government of India 24×7 toll-free mental health rehabilitation helpline 'KIRAN' on 1800-599-0019
WATCH JASWINDER'S LAST VIDEO:
Punjab Man Dies By Suicide – Along With Daughter, Handicap Brother & Nephew – Alleging Adultery By Wife

▪️Wife had left him, child & living with another man since 3-years
▪️Man accused his mother-in-law & sister-in-law of creating trouble in his marriage#VoiceForMen

CONT… pic.twitter.com/Itl5ACsPCq

— Voice For Men India (@voiceformenind) November 10, 2022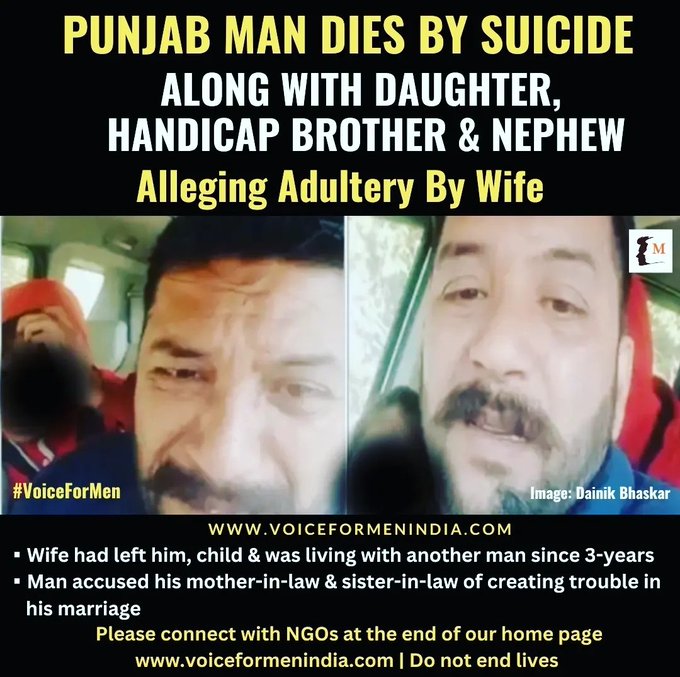 ALSO WATCH –
Hyderabad Man Dies By Suicide Due To Alleged Harassment By Wife, In-Laws
Join our Facebook Group or follow us on social media by clicking on the icons below
Donate to Voice For Men India
Blogging about Equal Rights for Men or writing about Gender Biased Laws is often looked upon as controversial, as many 'perceive' it Anti-Women. Due to this grey area - where we demand Equality in the true sense for all genders - most brands distance themselves from advertising on a portal like ours.
We, therefore, look forward to your support as donors who understand our work and are willing to partner in this endeavour to spread this cause. Do support our work to counter one sided gender biased narratives in the media.
To make an instant donation, click on the "Donate Now" button above. For information regarding donation via Bank Transfer, click here.