A public interest litigation (PIL) petition has been filed before the Supreme Court seeking directions to the Central government to formulate guidelines for registration of live-in relationships and for social security of citizens who are in live-in relationships, reported Bar and Bench (Mamta Rani vs Union of India)
2] The failure to register live-in partnerships violates the constitutional rights to live freely (Article 19) and the right to protection of life (Article 21) and personal liberty.
4] The petitioner also submitted that there has been a vast increase in crimes committed by live-in partners, including major crimes like rape and murder, due to the absence of rules and guidelines covering live-in partnerships.
The PIL also reads:
There has been a huge increase in the false rape cases being filed by the women wherein the women claims to be living in live-in relationships with the accused and it is always difficult for the Courts to find out from the evidence whether the fact of living in live-in relationship is proved by the backing of evidence.

Registration of live-in relationships will work as a vital evidence to prove whether the fact of live-in relationship is correct or not…Looking at the fast paced life and the choice of young generation to adopt the western culture, proper registration of live-in relationships will keep a check on those who are entering into live-in relationship with an ulterior motive.
We Are Not Against Live-In Relationship But Can't Give Protection When One Of The Partners Is Married | Allahabad High Court
Leave your comments below:
PIL Filed In Supreme Court For Mandatory Registration Of Live-in Relationships To Curb Crimes By Partners, Reduce #FalseRape Cases

▪️"Frame laws to govern live-in relationships, direct Central government to create a database"

🔹COMMENTS?#VoiceForMenhttps://t.co/D1E1okinCk

— Voice For Men India (@voiceformenind) February 28, 2023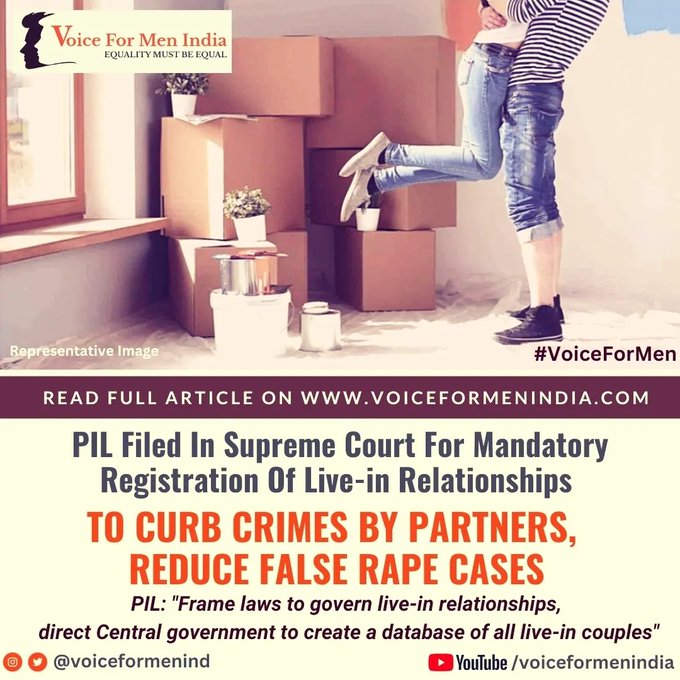 DO WATCH:
Women Are Filing False Rape Cases After Live-in | Chhattisgarh State Commission for Women Chief
Join our Facebook Group or follow us on social media by clicking on the icons below
Donate to Voice For Men India
Blogging about Equal Rights for Men or writing about Gender Biased Laws is often looked upon as controversial, as many 'perceive' it Anti-Women. Due to this grey area - where we demand Equality in the true sense for all genders - most brands distance themselves from advertising on a portal like ours.
We, therefore, look forward to your support as donors who understand our work and are willing to partner in this endeavour to spread this cause. Do support our work to counter one sided gender biased narratives in the media.
To make an instant donation, click on the "Donate Now" button above. For information regarding donation via Bank Transfer, click here.
Alternately, you can also donate to us via our UPI ID: [email protected]