On Thursday, NCW chairperson Rekha Sharma said more than 4,700 complaints of women who were abandoned by their NRI husbands had been received in the last 10 years with the highest number of grievances from Punjab and Delhi. Talking about country-wise statistics, Sharma said the highest number of complaints have been received from the US, followed by Australia and Canada.
According to the NCW Report:
A total of 4,779 complaints have been received in the last 10 years
As many as 1,105 complaints have been received from NRI husbands living in the US followed by Australia at 378 and Canada at 326 in the last 10 years
In the last 10 years, the highest number of complaints were received last year at 750, followed by 582 this year
Around 13.92 per cent of complaints were received from Delhi at 665, followed by 10 per cent of complaints received from Punjab at 479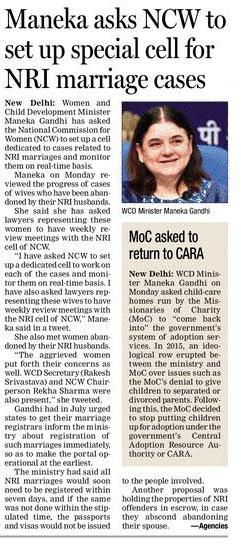 The National Commission for Women chairperson emphasised on the need to increase awareness among families to do proper background research of the man they are looking for their daughter to get married. She said,
It is better to prevent such a marriage and for that it is important that there is awareness among people that they do a proper background search. Secondly, it is also important for perception around marrying their daughter to an NRI change.
Sharma also expressed how more and more women were coming forward to report their complaints to the NRI cell of the women's commission.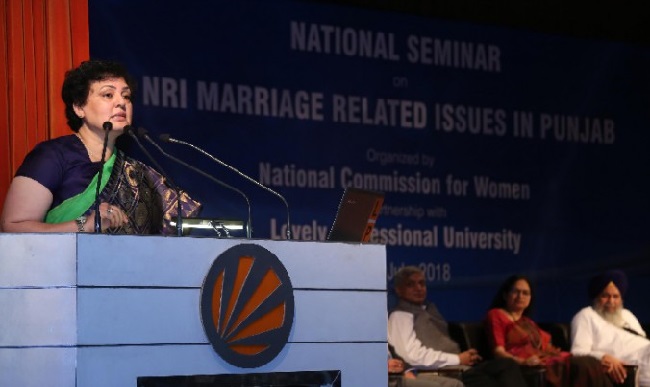 On the other hand, Mens Rights Activists who are running their own NGOs come across several cases of NRI husbands, where the women before marriage, agree to live in a foreign land with the man, get married to him and then pressurise him to return to India. When the husband refuses to do so, she returns alone and files several cases of domestic violence and dowry harassment against the NRI man and his family. Most of these cases then get settled with a lumpsum alimony, post which all alleged domestic violence is forgotten.
In some cases, wives even return to India, live in adultery, while enjoying lifelong maintenance from their husbands. Often, women return with their children and completely deny access or any visitation rights of the fathers, reducing them, only to pay money on the 1st of each month.
But unfortunately to the plight of Indian/NRI men, we do not yet have any official 'Commission' from the government who could also track the number of cases where women are deserting their NRI/Indian husbands in general.
Such one sided data does no good for Gender Equality as it aims to only show the man in poor light and woman as the epitome of truth, honesty and as the 'only' sufferers of desertion and marital abuse.
ALSO READ –
http://voiceformenindia.com/in-the-law/divorce-after-33-years-gujarat-hc/
Follow www.mensdayout.com on Facebook, Twitter and Instagram
Join our Facebook Group or follow us on social media by clicking on the icons below
Donate to Voice For Men India
Blogging about Equal Rights for Men or writing about Gender Biased Laws is often looked upon as controversial, as many 'perceive' it Anti-Women. Due to this grey area - where we demand Equality in the true sense for all genders - most brands distance themselves from advertising on a portal like ours.
We, therefore, look forward to your support as donors who understand our work and are willing to partner in this endeavour to spread this cause. Do support our work to counter one sided gender biased narratives in the media.
To make an instant donation, click on the "Donate Now" button above. For information regarding donation via Bank Transfer, click here.
Alternately, you can also donate to us via our UPI ID: [email protected]