Anyone who analysed the 2019 Wimbledon men's singles final would surely conclude that Novak Djokovic will finish his career with more majors than Roger Federer but with a bucket less of love. But A thinker and scholar, Novak, introduced a word probably never heard before in a media conference at Wimbledon. The 32-year-old Djokovic said,
At times you just try to ignore it, which is quite hard. I like to transmutate it in a way. When the crowd is chanting 'Roger,' I hear 'Novak.' It sounds silly but it is like that. I try to convince myself that it's like that.
It must have been surely difficult for the world No 1 to endure the disrespect of large swaths of the Centre Court crowd on July 14. However, Novak Djokovic called his 2019 final victory over Roger Federer, "The most mentally demanding match of his career" after finding a way to overcome his opponent and a Centre Court crowd that was overwhelmingly against him.
What Keeps Novak Going?
Among elite athletes, Novak Djokovic is well-known for his devotion to a gluten-free dietary regime. He has also published a diet book and opened a vegan restaurant, Eqvita, in Monaco. According to the tennis ace,
My gluten intolerance was discovered in 2010. Before that, I didn't even know what gluten was. I also removed the dairy products and refined sugar from my diet as well, which is maybe even more important than gluten. I think that's helped me not only to be a better tennis player throughout my career in the last seven years, but also a healthier person, an athlete that recovers faster. It worked for me. Obviously I'm not saying this is the way to go for everyone, but it's something that has been a very important, integral part of my career, of my life.
Meditate
Meditation or India's gift to the world, "Yoga" is what Novak regularly practices. As quoted by vice.com it helps him kill his fears, if any to enable him focus on what he wants to achieve.
I do [meditation and yoga] out of a need to have an optimal state of mind and peace and calm, and at the same time happiness and joy. Everybody has their ways to reach that state of consciousness where you're in a good mood and you feel love towards yourself, towards people around you, towards the planet. So I try to be aligned with this kind of approach and mindset in life […] Because it was definitely not an easy period for me in the last seven to eight months. The results were not there in the big tournaments. But more than results, it was that lack of balance on the court emotionally.

I work very hard every single day to not have any fears. I think that fears are the biggest enemy of all of us in every aspect of our beings, whatever we do. If I paid too much attention to my fears, I wouldn't be able to achieve what I have.
Love gives you a New Dimension of Consciousness
Novak constantly looks out for positive emotions which are a pure inspiration to play the sport.
I have to always go back to that core: the fact that I enjoy just holding a racket and playing on a daily basis on any regular court, not just the centre court of Grand Slams, brings me that excitement and that joy that pushes me to keep on going […] So I've had to rediscover this inner joy of motivation, of playing. And not only to win or lose, but playing for the sake of enjoying the game.
Fatherhood changed his perspective much for the better. He derives his sense of calmness from his personal capabilities of managing the family.
I was blessed to become a father almost three years ago, and my wife is pregnant again […] Personally, my life as a tennis player has changed since then. Not in a way of not having enough motivation or playing enough tournaments, but entering a new dimension of consciousness and being aware of myself as more than just a tennis player. Now, when I come home I have to leave the racket on the side and commit to the family duties, which I enjoy very much. And I think that brings me that sense of calmness and great recovery as well.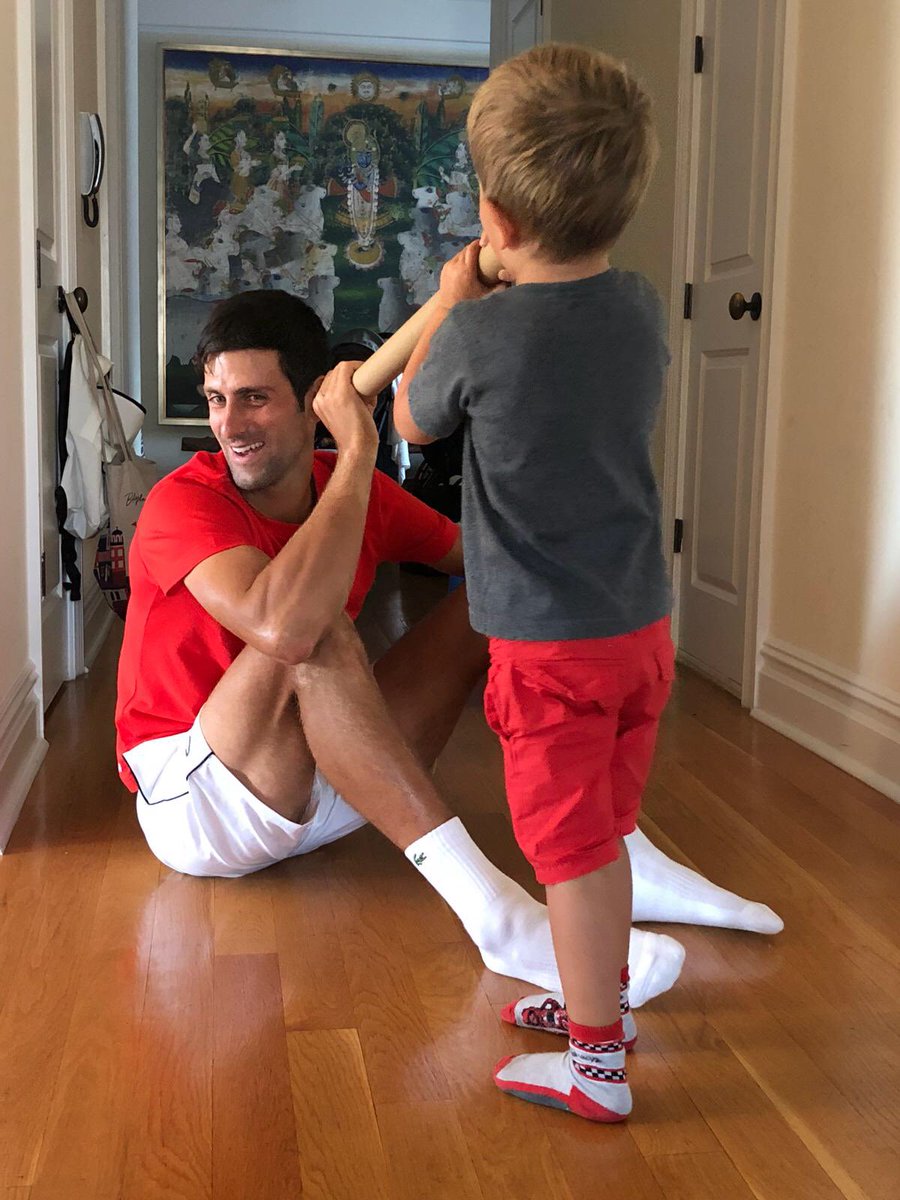 He may never be as popular as Federer or Nadal, however, getting beyond their grand slam hauls could be big enough consolation for this Serb.
Join our Facebook Group or follow us on social media by clicking on the icons below
Donate to Voice For Men India
Blogging about Equal Rights for Men or writing about Gender Biased Laws is often looked upon as controversial, as many 'perceive' it Anti-Women. Due to this grey area - where we demand Equality in the true sense for all genders - most brands distance themselves from advertising on a portal like ours.
We, therefore, look forward to your support as donors who understand our work and are willing to partner in this endeavour to spread this cause. Do support our work to counter one sided gender biased narratives in the media.
To make an instant donation, click on the "Donate Now" button above. For information regarding donation via Bank Transfer, click here.
Alternately, you can also donate to us via our UPI ID: voiceformenindia@hdfcbank