A video went viral on WhatsApp with the voice of a woman being played in the background while the photograph of Gautam Budh Nagar senior superintendent of police (SSP) Vaibhav Krishna is seen in the video.
The Noida Police on Wednesday registered an FIR against unidentified persons for allegedly circulating "doctored" obscene videos clips of the SSP. Krishna said that the viral video on the social media having his picture and a woman's voice in the background is "morphed" and is part of "conspiracy" by the criminal elements to malign his image.
According to the SSP, he has taken strict action against the organised crime and extortion racketeer's in the district in the past one year which apparently has antagonised many anti-social people. Krishna alleged that these are the same minds who are now hatching conspiracies to settle their score. Vaibhav Krishna quoted:
I myself have studied the video that is viral on social media. It appears that it is a conspiracy by criminal elements to damage my personal image.
Adding further, he said,
In the last year, I have taken strict action against the organised crime, against those who are involved in illegal activities and extortion. It seems that some of them have hatched a conspiracy.
A case has been registered at Sector 20 Police Station and a request has been made to transfer it out of District to Meerut for a fair investigation.
SSP Krishna said he had received information about his image being used in some videos which were widely shared on social media. Quoting to the media he shared,
I received the information that my image has been used in some videos which are viral over the social media. I saw these videos and believe that this is part of a larger conspiracy to tarnish my image. We have recently submitted a detailed report on the investigation of some sensitive cases related to Gautam Budh Nagar and reports of some other districts have also been submitted to the UP CM's office in November.
Earlier on Wednesday Alok Singh, Inspector General (Meerut Range), said that he has come to know about the matter through media sources. He quoted:
I have asked the Gautam Budh Nagar SSP about the matter. He has denied the allegations. I have directed Noida police to register an FIR and probe the matter.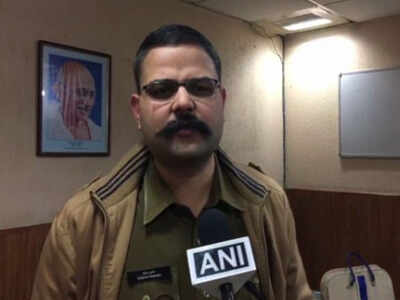 The SSP did not name a particular case or any person he believed to be involved in the "doctoring" of the video.
We will request IG Meerut Zone to transfer the investigation of this case outside Gautam Budh Nagar for the probe to be free and fair. The police will dig out the root of this crime and arrest all the people involved in this.
Additional chief secretary (home) Awanish Awasthi also confirmed to the media that the videos were indeed fudged. A detailed investigation into the matter will reveal the source of origination of the video and from where it has been forwarded.
Krishna also addressed a press conference on January 1 and warned against the videos being forwarded, saying anyone doing so will be booked with charges of "malafide intention".
WATCH PRESS CONFERENCE BELOW
Follow www.mensdayout.com on Facebook, Twitter and Instagram
Join our Facebook Group or follow us on social media by clicking on the icons below
Donate to Voice For Men India
Blogging about Equal Rights for Men or writing about Gender Biased Laws is often looked upon as controversial, as many 'perceive' it Anti-Women. Due to this grey area - where we demand Equality in the true sense for all genders - most brands distance themselves from advertising on a portal like ours.
We, therefore, look forward to your support as donors who understand our work and are willing to partner in this endeavour to spread this cause. Do support our work to counter one sided gender biased narratives in the media.
To make an instant donation, click on the "Donate Now" button above. For information regarding donation via Bank Transfer, click here.
Alternately, you can also donate to us via our UPI ID: voiceformenindia@hdfcbank