Equality Must Be Equal – But that does not happen in the real world, due to various factors which can be justified or unjustified.
Uttar Pradesh Government's recent order on work timings for women workers has struck a Gender Bias debate yet again. In an endeavour to provide a safe environment for women at the workplace, Yogi Adityanath government on Saturday, stated that no women worker can be bound to do the night shift in factories across the state.
The Government circular read:
No female worker shall be bound to work without her written consent before 6 am and after 7 pm. The authorities will also have to provide free transportation, food, and sufficient supervision if working during the aforementioned hours.
As per the order, if the woman worker refuses to work before 6 am and after 7 pm, she would not be terminated from employment, reported ANI.
The onus of providing a secure working atmosphere to the women workers will lie with the employer to prevent an incident of sexual harassment in the workplace. Moreover, the state government order makes it mandatory for the employer to inculcate a robust complaint mechanism in the factory in compliance with the provisions of the Sexual Harassment of Women at Workplace (Prevention, Prohibition and Redressal) Act, 2013 or in any other related enactments.
The UP labour department issued the state order to notify the decision late Friday night. It makes it clear that women workers will not be compelled to stay back for work beyond 7 pm and would not be called to work before 6 am without their written consent.
The government has notified the exemptions to women's workforce across all the mills and factories in the state.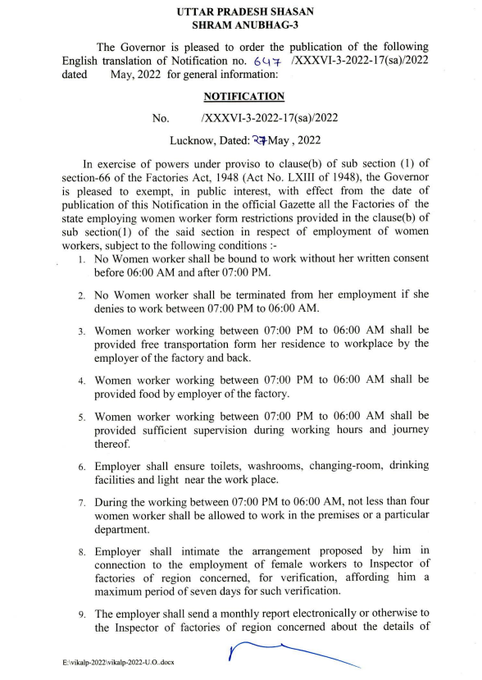 VFMI Take:
Safety for women has been cited as one of the prime reasons for this order
However, isn't that the failure of state if they are unable to provide secured environment for all?
On one hand, we want to give privileges to women, while on the other, women rights activists crib about equal pay
Is it fair that only men are supposed to work during odd hours, and also constantly face the tag of being patriarchal?
We want to put entire onus on the Men for being providers, but then women do not fail to nag them about not working equally at home
We must understand that Men cannot be constantly pinned down to working outside under all circumstances, running the home financially, as well as contributing equally working at home after returning from a tough day
While Men do their best in becoming equal partners, Women too must stop playing the victim card everytime
Both Genders have their equal duties of contributing to the household in their respective way, and Women should stop crying about how only they toil the most
Leave your thoughts on this below:
No Female Worker In Uttar Pradesh To Be Forced To Work Before 6 AM And After 7 PM: Read New State Government Order

▪️Is it time Women stop cribbing about how only they toil the most
▪️Leave ur comments for @CMOfficeUP#VoiceForMen #EqualityMustBeEqualhttps://t.co/asc0OjaPY4

— Voice For Men India (Previously Men's Day Out) (@voiceformenind) May 31, 2022
MUST WATCH – 
Women Want Gender Equality…..& Reserved Seats | Equality Must Be Equal
ALSO READ – 
Wife Demands 'Excessive' Alimony From Unemployed JetAirways Husband | Man Petitions SC On Gender Neutrality For Sec 125CrPC
DRDO Publishes Scholarship Offer 'Exclusively For Girls'; RIP Gender Equality
Jet Airways Won't Hire Male Cabin Crew Currently | Here Is Their Official Statement
Indian Temples Where Men Are Not Allowed; But No One Cried Matriarchy
Join our Facebook Group or follow us on social media by clicking on the icons below
Donate to Voice For Men India
Blogging about Equal Rights for Men or writing about Gender Biased Laws is often looked upon as controversial, as many 'perceive' it Anti-Women. Due to this grey area - where we demand Equality in the true sense for all genders - most brands distance themselves from advertising on a portal like ours.
We, therefore, look forward to your support as donors who understand our work and are willing to partner in this endeavour to spread this cause. Do support our work to counter one sided gender biased narratives in the media.
To make an instant donation, click on the "Donate Now" button above. For information regarding donation via Bank Transfer, click here.