Divorces in India do not happen in courts. Sadly, courts have become a battle field to fix the other spouse and bring him/her to the negotiating table. After years of bad mouthing Nawazuddin Siddiqui and his family publicly, his estranged wife Aaliya Siddiqui has had a 'change of heart' as per her recent note posted on her Instagram account.
After Demanding Maintenance, Nawazuddin Siddiqui's Wife Wants Sole Custody Of Both Children
Background:
The duo got married in 2009 and are parents to two children- a son named Yaani and a daughter named Shora. Since 2020, Aaliya has been accusing Nawazuddin of physically and sexually assaulting her, being a bad father to their minor kids and also throwing her out of his newly built bungalow in Mumbai. Multiple cases and counter cases were filed by both parties against each other.
Nawazuddin Siddiqui Moves Out Of His Newly Built Mansion Amidst 498-A & Domestic Violence Cases By Wife
While the Gangs of Wasseypur actor maintained silence for long, he finally expressed his side of the story in March this year.
Couple of months ago, Nawazuddin Siddiqui took to Instagram and claimed that Aaliya only wanted more money. He wrote:
I am termed as a bad guy everywhere because of my silence. The reason I have kept quiet is because all this tamasha will somewhere be read by my small children.

First of all me and Aaliya do not stay together since several years, we are already divorced but we definitely had an understanding only for our kids. Does anyone know, why my kids are in India and not attending school for 45 days, wherein the school is sending me letters everyday that it's been too long an absence. My kids have been made hostage for past 45 days & are missing their schooling in Dubai.

She had abandoned the kids in Dubai for last 4 months before calling them here on pretext of demanding money. On an average, she is been paid approx 10 Lakhs per month for past 2 years and 5-7 lakhs per month before moving to Dubai with my children, excluding the school fees, medical, travel and other leisure activities. I have also financed her 3 films costing me crores of rupees, just to help her set up her income stream, since she is the mother of my kids. She was given luxurious cars for my kids, but she sold them and spent the money on herself. I have also bought a lavish sea facing apartment in Versova, Mumbai for my children. Aaliya was made the co-owner of the said apartment as my kids are small. I have given my children a rented apartment in Dubai, where she was also living comfortably.
Following public shaming of the actor, Nawazuddin had also filed a defamation suit in the Bombay High Court against his brother Shamasuddin Siddiqui (Shamas) and Aaliya. Nawaz claimed that he sought Rs 100 crore as damages for the defamation and harassment he allegedly faced owing to misleading claims made by them.
POCSO Court Summons Nawazuddin Siddiqui's Wife Aaliya After UP Police Files Closure Report
Matter Resolved
After washing dirty linen in public, Aaliya now suddenly claims she has no issues with the actor as he has 'solved some things' and she and her children are happily settled in Dubai.
In her latest interview to ETimes, Aaliya revealed that the education and well-being of her two children is being taken care of by Nawaz on the orders of the court. She quoted:
My kids are good, they're happy. We are in Dubai right now because the court agreed with Nawazuddin that their studies shouldn't suffer. The court ordered Nawaz to clear all our issues. It put a condition on him that he has to take care of everything in Dubai and the children shouldn't face any problem.
Aaliya Siddiqui Files Complaint Of Rape & Cheating Against Estranged Husband Nawazuddin Siddiqui
Aaliya Posts Apology
In a recent turn of events, after spewing endless venom against her husband, last week Aaliya suddenly posted a note via her Instagram account. She wrote (in Hindi):
Hello Nawaz… this letter is for you. I want to put all the drama that happened between us in the past few months behind me. I apologize for my mistakes and forgive you for your mistakes. Believing in the almighty, I want to move forward in life and try to shape a better future.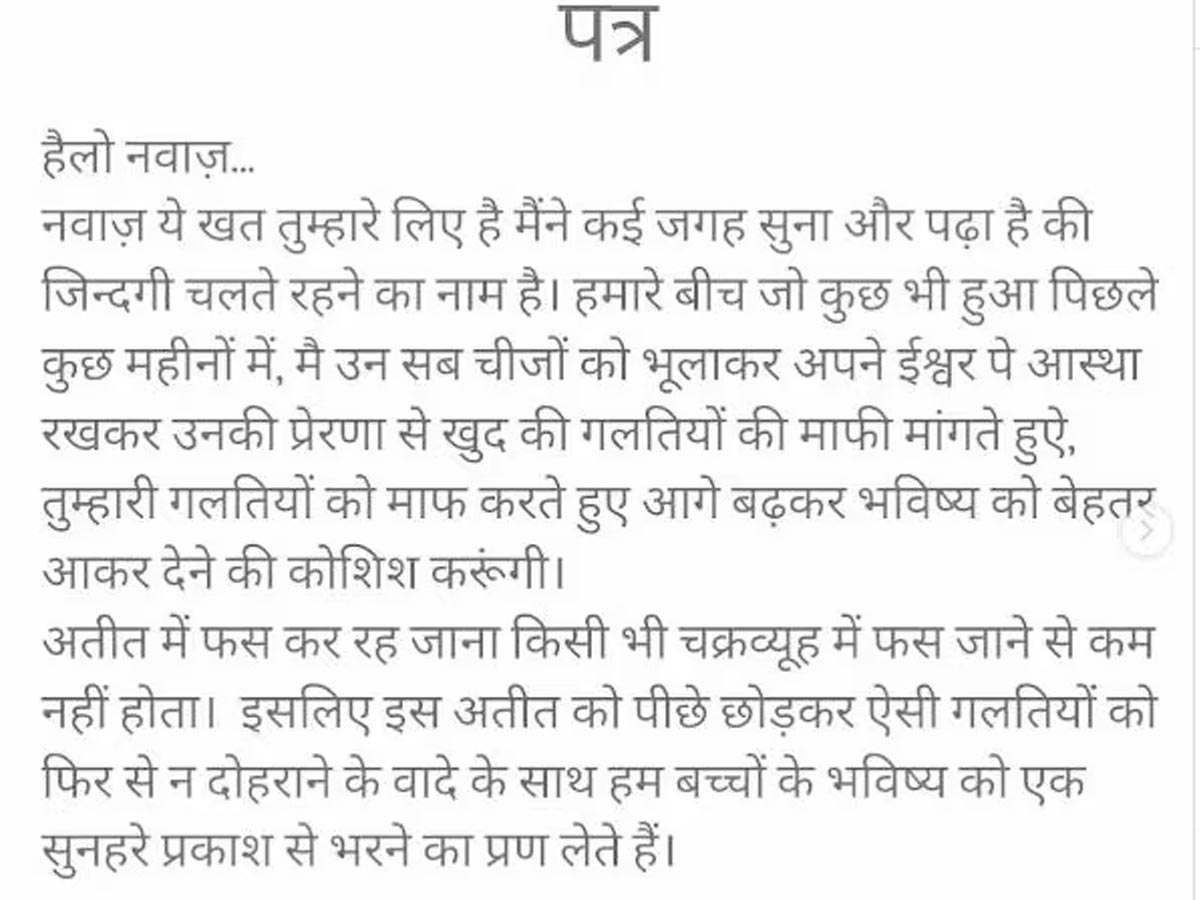 Adding further Aaliya wrote that she did not want to remain stuck in the past and wanted to move on for the sake of her kids. The caption read:
When you cannot find peace anywhere, the only way out is to listen to the voice of your soul.
After the post went viral, Aaliya's Instagram account was suddenly disabled. It is not known whether the note was posted by Aaliya or her account had been hacked. However, there is no statement from Aaliya refuting the same even after a week.
LEAVE YOUR COMMENTS BELOW:
#NawazuddinSiddiqui Divorce: "I Apologize For My Mistakes…" #AaliyaSiddiqui's Instagram Account Disabled After Note

▪️Earlier in March, @Nawazuddin_S posted: "Aaliya only wants more money"

▪️Has the settlement finally taken place?#VoiceForMenhttps://t.co/5si4FyZ8YW

— Voice For Men India (@voiceformenind) May 13, 2023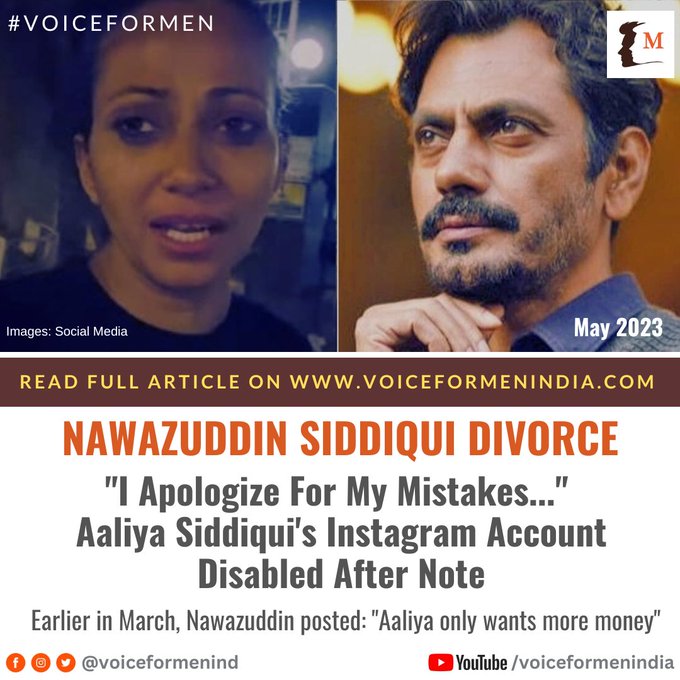 DO WATCH:
KBC 13 Contestant Shraddha Khare Accuses Husband Of Domestic Violence | Watch Other Side
ALSO READ:
UAE Announces New Divorce Laws For Non-Muslims; No Fault Divorce, Shared Parenting, Alimony Calculation Dependent On Years In Marriage
Join our Facebook Group or follow us on social media by clicking on the icons below
Donate to Voice For Men India
Blogging about Equal Rights for Men or writing about Gender Biased Laws is often looked upon as controversial, as many 'perceive' it Anti-Women. Due to this grey area - where we demand Equality in the true sense for all genders - most brands distance themselves from advertising on a portal like ours.
We, therefore, look forward to your support as donors who understand our work and are willing to partner in this endeavour to spread this cause. Do support our work to counter one sided gender biased narratives in the media.
To make an instant donation, click on the "Donate Now" button above. For information regarding donation via Bank Transfer, click here.
Alternately, you can also donate to us via our UPI ID: voiceformenindia@hdfcbank