Repeat after us – This drama of 'Gender Discrimination by Men' is a myth, which is now going way out of control! If you don't believe us, read how Faking 'Women's Equality' will crush you as a man, your son, your father or any other male member of your family.
The Bangalore Traffic Police (BTP) has issued a stern notice to all Men asking them to refrain from sitting on 'reserved seats for women' onboard BMTC buses, even if they are empty. Yes you read that right! That's the Importance of Gender Equality.
In their effort to ensure discipline on the State Transport Buses, the Bangalore police will be fining men if they fail to adhere to these regulations. According to the report in local media, two men have already been fined Rs 100 for sitting on reserved seats for women. It must be noted that BMTC buses have the following seat reservations:
Senior Citizens
Physically Challenged
Women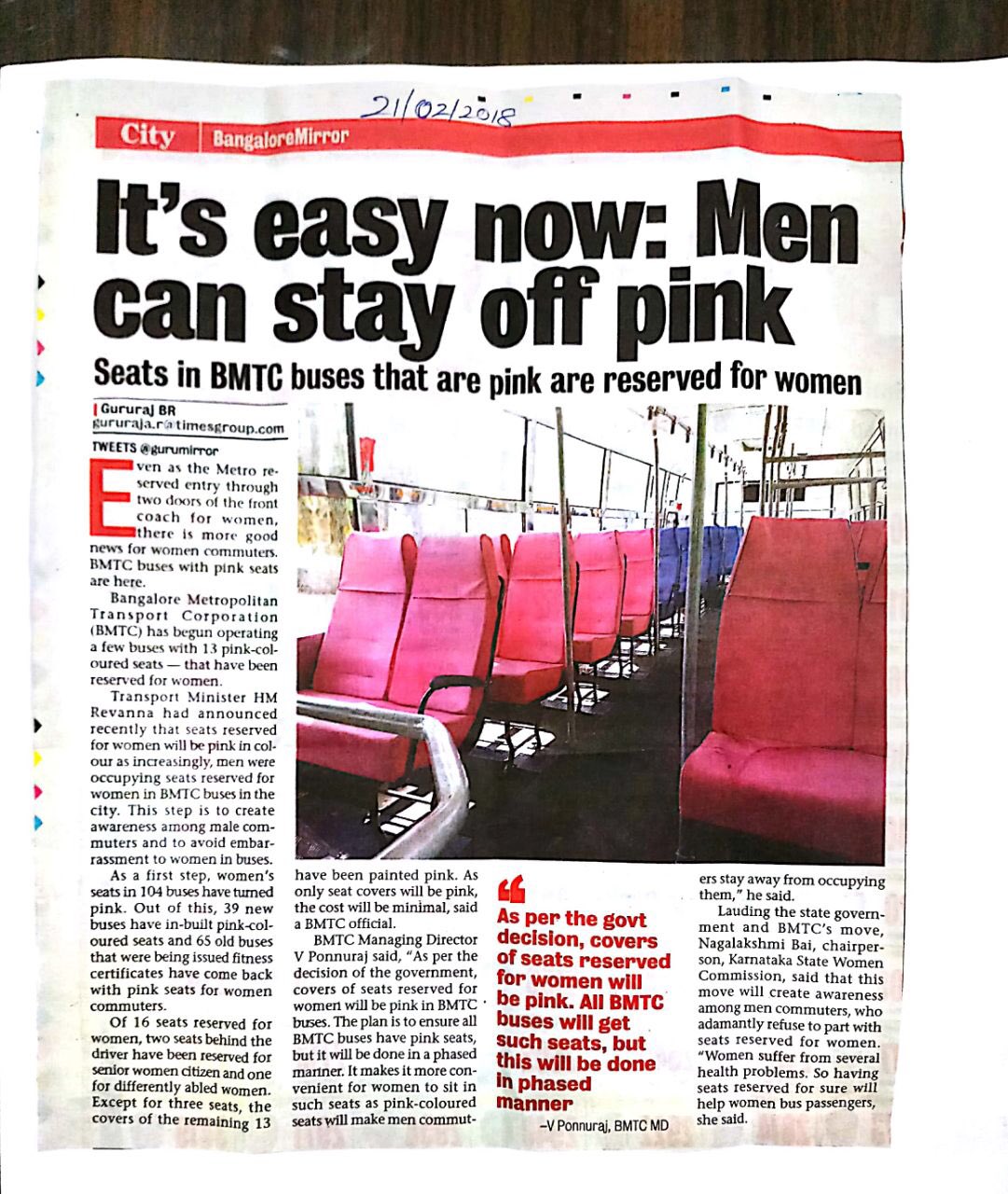 However so far, the fine is only applicable if Men dare to sit on the seat reserved for women and not on Physically challenged or senior citizen seats! Also do note that women are even allowed to enter from the front door of the bus and basically have only privileges but NO rules.
According to a senior traffic police official, these rules are in existence since the year 1999-2000, however, the same were not put into enforcement. The traffic police also states that it is a challenging task to stop buses and check for Men occupying reserved seats for women, however, they are usually acting upon this when the buses are stationary at the traffic signal. The particular traffic cop, who has not been named in the media report, also feels the fine amount of Rs 100 is too low!
ALSO READ –
Well, if you thought 'Bangalore Traffic Police' was harsh on Other Human Gender, 'The Men', now read what Pune Mahanagar Parivahan Mahamandal Limited (PMPML) Buses have in store for you. The public transport bus service provider in the city, has levied a fine of Rs 5,000 on any man who disrespects the law and occupies the reserved seat for women in the bus. The women often complain of their 'reserved' seat being occupied by men, which leads to unpleasant arguments during travel. The PMPML has now authorised women to take the bus directly to the police station in case they face such a situation.
Do note, the above is also applicable on school male passengers and perhaps even on other male passengers, who may be older and physically unfit in comparison to any woman who is hale and hearty.
The below video is a must watch for you to understand, how shameless we have become as a society in the name of Women's Equality.
ALSO READ –
http://voiceformenindia.com/in-the-news/dtdc-metro-free-rides-for-women/
Follow www.mensdayout.com on Facebook Twitter and Instagram
Join our Facebook Group or follow us on social media by clicking on the icons below
Donate to Voice For Men India
Blogging about Equal Rights for Men or writing about Gender Biased Laws is often looked upon as controversial, as many 'perceive' it Anti-Women. Due to this grey area - where we demand Equality in the true sense for all genders - most brands distance themselves from advertising on a portal like ours.
We, therefore, look forward to your support as donors who understand our work and are willing to partner in this endeavour to spread this cause. Do support our work to counter one sided gender biased narratives in the media.
To make an instant donation, click on the "Donate Now" button above. For information regarding donation via Bank Transfer, click here.
Alternately, you can also donate to us via our UPI ID: voiceformenindia@hdfcbank