It often starts in childhood. We tell boys that "boys don't cry".…..We condition boys from a very young age 'to not express emotion, because to express emotion is to be weak.'
The suicide data of the state of Kerala released by the National Crime Record Bureau (NCRB) of 2018 presents a grim picture. In 2018, as many as 8,237 persons committed suicide in the state.
Number of unemployed who committed suicide in 2018 exceeded the number of farmers who gave up their lives-a trend that has reversed in just the past 2 years.
A total of 12,936 unemployed gave up their lives, representing 9.6% of total suicides, as compared to 10,349 in the farming sector which made for 7.7% of total suicides
National Crime Record Bureau's latest data revealed total suicides in the country had risen 3.6% in 2018 to 1,34,516 from 1,29,887 in 2017
Suicides Due To Marriage / Family Problems – Kerala
The english media has often made us believe, that it is only and only the women who suffer in a bad marriage or it is only the women who commit suicide due to domestic violence or other harassment in their matrimonial homes. No one ever speaks about the trauma a man goes through amidst the turmoil he may be facing due to harassment from his wife and in-laws or due to extreme Gender Biased Laws in India.
From the summary below, let us look at suicides committed by both Genders due to Marriage related issues or various other family problems. It can be clearly seen how the number of suicides for Men are almost three times more as against women.
ALSO READ –
Marriage Related Issues:
Non Settlement of Marriage:
Extra Marital Affair:
Divorce: (more than 7 times)
Other Marital Issues:
Family Problems:
Mental Illness (Always ignored when it comes to Men):
Death Of Dear Ones:
Love Affairs:
Property Dispute:
Suspected Illicit Relation: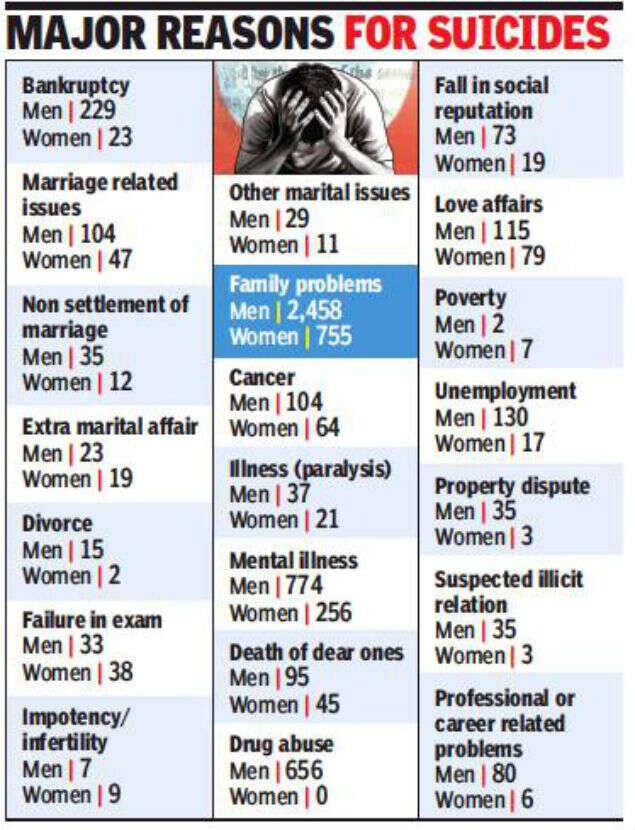 Even if we look at other medical related parameters such as Cancer, Paralysis and Drug Abuse, the number of Men who commit suicide are much higher than the number of women who take this unfortunate step.
Obviously, none of the Genders, be it Men or Women should be driven to the extent of taking their lives, however, do we really have forums for Men and Women equally where they can get assistance? We have a National Commission for Women, Ministry of Women & Child Development, several health related schemes for women, depression blogs (marketing) only for women, gender biased laws which only favour women and so on.
ALSO READ –
What does a Man really have for himself? We want to label him as a provider for the family, a protector for the home, but when it comes to giving him that little care, we fail to even acknowledge his problems. As a society, we have become so ignorant and immune to the plight of Men, that we don't realise how it is and can affect our male gender back in our own homes.
India can have a ministry for animals, but does not even want to talk about a Commission for Men, which can strike a balance between the Genders when it comes to personal problems. We have left our Male Gender to fight the traumas all alone……………if he fails, we have left him to end his life.
It cannot be more shameful as a country, if we do not respect all Genders Equally. If this continues, we are driving ourselves towards a marriage-less society.
ALSO READ –
http://voiceformenindia.com/in-the-social/one-in-four-men-in-india-suffers-from-anaemia/
http://voiceformenindia.com/in-the-news/derek-obrien-pocso-rajya-sabha/
Follow www.mensdayout.com on Facebook, Twitter and Instagram
Join our Facebook Group or follow us on social media by clicking on the icons below
Donate to Voice For Men India
Blogging about Equal Rights for Men or writing about Gender Biased Laws is often looked upon as controversial, as many 'perceive' it Anti-Women. Due to this grey area - where we demand Equality in the true sense for all genders - most brands distance themselves from advertising on a portal like ours.
We, therefore, look forward to your support as donors who understand our work and are willing to partner in this endeavour to spread this cause. Do support our work to counter one sided gender biased narratives in the media.
To make an instant donation, click on the "Donate Now" button above. For information regarding donation via Bank Transfer, click here.
Alternately, you can also donate to us via our UPI ID: voiceformenindia@hdfcbank