Sadly, Ahuja has been suffering from cancer and yet, the illness did not deter him from being a good Samaritan. He also provides patients other support, from financial assistance to blankets and clothes. A self-made crorepati, Ahuja had come to India empty handed during Partition. He sold off properties worth crores to fuel his mission, and continues to serve undeterred despite his stomach cancer.
In an interview with The Indian Express, Ahuja said,
I, along with my family, had come here from Peshawar in Pakistan at the time of Partition in 1947. My family came to Mansa and then, I shifted towards Ropar and the place, which is known as Chandigarh today. I merely had a few paisas in my pocket then. I even sold bananas sitting by the road at the old mandi in New Delhi.

The idea to start langar outside PGI was my inner voice. I had faced poverty and starvation, and when I thought I am capable of feeding others, I decided to start langar service.
Langar Baba said he heard about the Padma Shri from media persons. He quoted:
I do not know who recommended my name and how it was accepted. I just want that the government should rebate me from income tax, so my family can continue the langar service after my death.
Padma Shri Yogi Aeron
It can't be more humble when the 82-year-old Yogi Aeron, the renowned Himalayan doctor came to know about receiving the prestigious Padma Shri Award, and said,
That's fine but I have thousands of patients in my waiting list. I hope some help will arrive for them too.
Aeron has been treating patients for disfigured or burnt faces for over 25 years now without fees. Residing in Malsi, 10 km from Dehradun on Mussoorie road, Aeron starts his day with lining up his appointments with his assistant who has been with him since the last 27-years.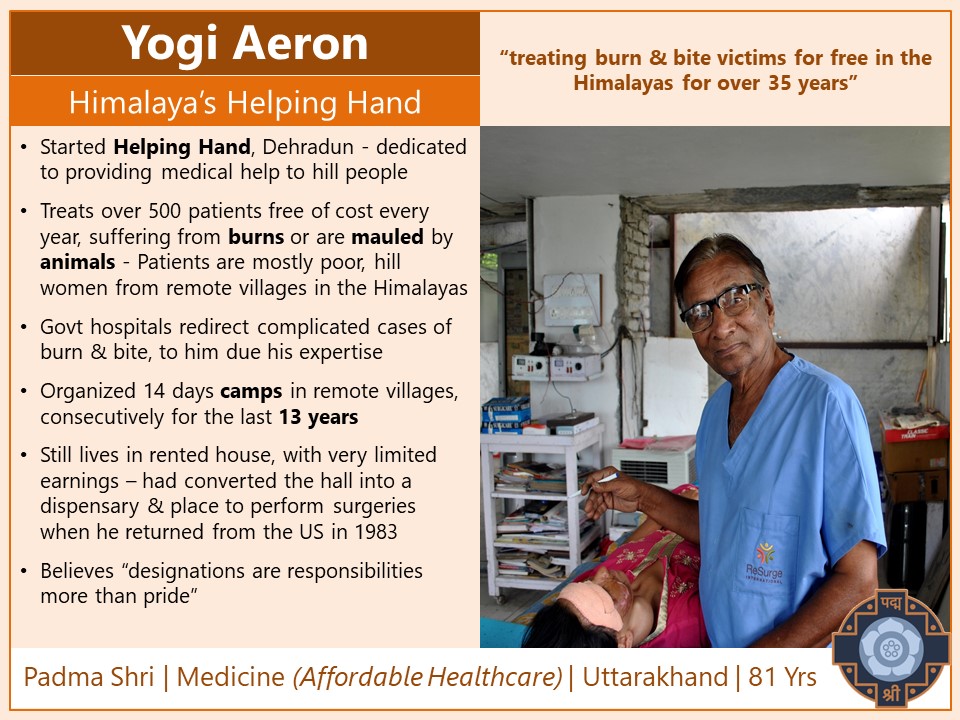 Born in Muzaffarnagar district in the year 1937, Aeron graduated from King George Medical College in Lucknow. In 1982, he travelled to the United States get to specialise in plastic surgery. Adding further, Aeron said,
My sister who practised in the US-supported me to get desired exposure in the field. That helped me immensely.
His four-acre campus which he bought and developed in the year 1983 is no less than a science park that has been built for over five years now. His aim is to convert the facility into a learning space for the children as well as a treatment facility for the underprivileged.
Since 2006, Aeron has been running a two-week camp twice a year. During these camps, patients below the poverty line are treated for disfigured lips, cheeks, nose and other parts of the face. In this venture, Aeron gets assistance and support from a team of 15-16 US-based doctors.
On average, nearly 500 surgeries are done by the doctor that makes his patients almost treat him on par with God. With over 10,000 patients on the waiting list for free treatment, Aeron constantly strives to find ways for funding the costs of those who cannot bear it.
Kush, his son who is also a doctor says,
My father has never been able to manage his finances for his own. He does it for his patients which makes him happy.
From asking for help from his friends in India and abroad to roping in NGOs and the government he has done it all but the horizon seems to be expanding. Interestingly, he was supported financially by his father after he became a father of two children and has started his job in Dehradun district government hospital.
Padma Shri Mohammed Sharif
From being labelled pagal aadmi (mad man) to receiving the Padma Shri, Mohammed Sharif has come a long way. Known popularly as Sharif Chacha, the 80-year-old has been performing the last rites of unclaimed Hindu and Muslim bodies in Faizabad for the last 27 years.
Sharif is a cycle mechanic who lives in a small rented accommodation. When he first started picking up unclaimed bodies, he would take them to the cremation or burial ground on a push cart or his cycle.
He told The Week,
Kya Hindu, kya Musalman, sabse pehle insaan (What Hindu, What Muslim, humans above all).
Sharif has, as per his memory, cremated 3,000 Hindus and buried 1,500 Muslims till date, though media reports peg this number at a much higher 25,000. The idea came to him when his own son's dismembered body, partly devoured by animals was found on a railway track 27 years ago. Adding further, Sharif said,
I resolved then that no individual would undergo the humiliation my son (then 25) had undergone in death.
When news of the Padma Shri first came to Sharif, he was sweeping around a mazar (mausoleum). He quoted:
A police officer came and said come with me at once to the District Magistrate's Office. I asked what have I done? But he wouldn't answer and did not even allow me to take my cycle. At the DM office, I was given roses and the DM held my hand and told me about the award.
Sharif has two other sons, Shakil and Ashraf. A third son died six months ago. He says that his wife never recovered from the death of his eldest son. Padma Shri Sharif says,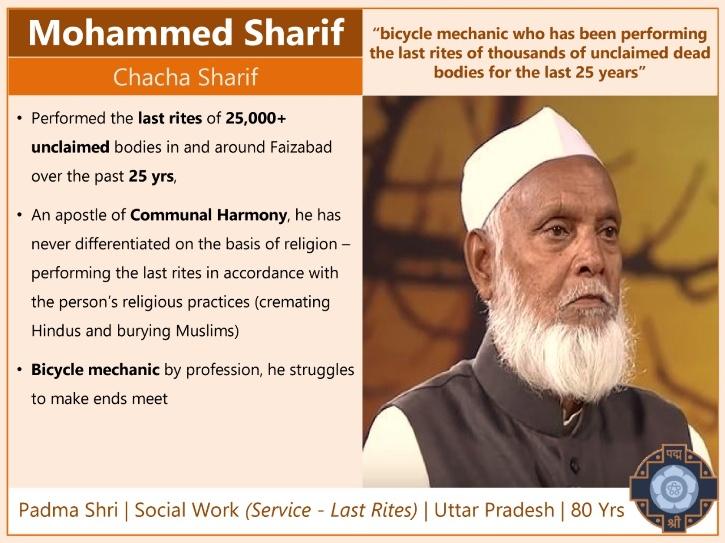 It would have been good to have her with me to receive the award but I think one of my grandsons will accompany me. 
As for the award, he says it is not really his and credits the media. He quoted:
You media people came to me so many times, took so many pictures and interviewed me. This is all your doing.
Join our Facebook Group or follow us on social media by clicking on the icons below
Donate to Voice For Men India
Blogging about Equal Rights for Men or writing about Gender Biased Laws is often looked upon as controversial, as many 'perceive' it Anti-Women. Due to this grey area - where we demand Equality in the true sense for all genders - most brands distance themselves from advertising on a portal like ours.
We, therefore, look forward to your support as donors who understand our work and are willing to partner in this endeavour to spread this cause. Do support our work to counter one sided gender biased narratives in the media.
To make an instant donation, click on the "Donate Now" button above. For information regarding donation via Bank Transfer, click here.
Alternately, you can also donate to us via our UPI ID: voiceformenindia@hdfcbank