What do we visualise first when we hear the term "harassment and violence by in-laws"? As a society, we are prompt to assume that perhaps a woman is being beaten up and tortured by her husband and his family.
Sadly, there are numerous cases when genders are reversed, and these cases never ever make it to mainstream media, particularly the English medium.
In a recent case reported from Pune, a man was thrashed, kidnapped and forcefully locked up by his in-laws because he refused to transfer the registry of land on his wife's name.
Bengaluru Man Thrashed & Beaten Up By In-Laws For Not Refilling LPG Gas Cylinder
Case:
The victim husband/son-in-law is a 25-year-old man based out of Beed district in Maharashtra. He had visited Yervada in Pune on September 4, 2023 for some work.
There was an ongoing dispute within the family, where the victim's father-in-law had been pressurising him to transfer his land to his daughter's (victim's wife) name. However, the victim was not in agreement with the same and thus his father-in-law along with 7-8 other people mercilessly thrashed him and also kidnapped him during his visit to Pune.
The victim husband was then taken to Pimpla Gevrai village, where he was threatened to transfer the land ownership or be killed. His hands and legs were tied up with a rope and he was kept hostage at a gaushala (cowshed) for two days, after which he was let off on September 06, 2023.
Upon his release, the husband rushed to the Yervada police station to lodge a complaint against his father-in-law and his accomplices.
WATCH VIDEO | Panipat Woman Assaults Elderly In-Laws In Front Of Police Officer Over Alleged Property Dispute
Police Action
On the basis of victim's complaint, the Pune police has filed an FIR against Prakash Rathod (victim's father-in-law), Ramesh Rathod and 7-8 others.
DO WATCH:
Are Senior Citizen Parents Safe With Own Daughter? | Voice For Men India | Senior Citizens Act 2007
LEAVE YOUR COMMENTS BELOW:
https://x.com/voiceformenind/status/1702591495402889299?s=20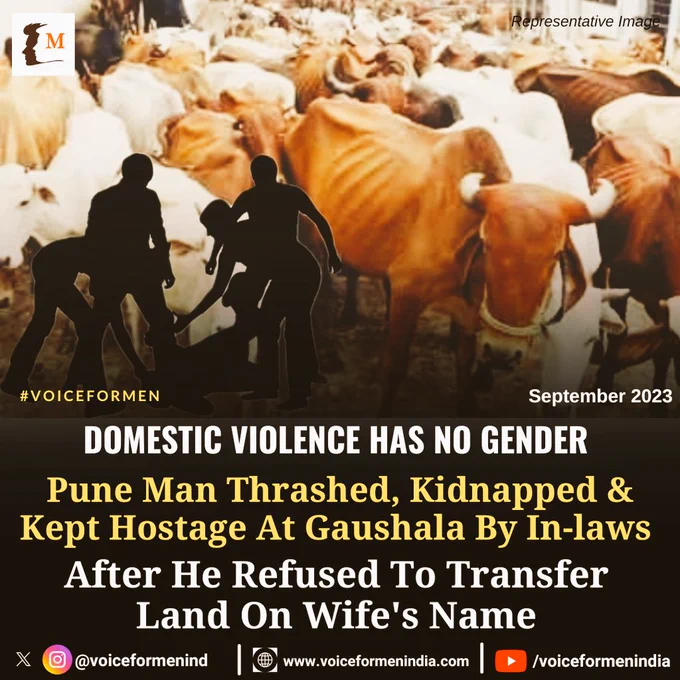 Join our Facebook Group or follow us on social media by clicking on the icons below
Donate to Voice For Men India
Blogging about Equal Rights for Men or writing about Gender Biased Laws is often looked upon as controversial, as many 'perceive' it Anti-Women. Due to this grey area - where we demand Equality in the true sense for all genders - most brands distance themselves from advertising on a portal like ours.
We, therefore, look forward to your support as donors who understand our work and are willing to partner in this endeavour to spread this cause. Do support our work to counter one sided gender biased narratives in the media.
To make an instant donation, click on the "Donate Now" button above. For information regarding donation via Bank Transfer, click here.
Alternately, you can also donate to us via our UPI ID: voiceformenindia@hdfcbank