On November 23, a social media user named Alok Singh, has posted the below note via his Facebook account. Alok's profile on Facebook reads as 'Loco Pilot at Indian Railway Service living in Rae Bareli'. 'Studied at I.E.R.T. Institute Of Engineering And Rural Technology, Allahabad.'
Hindi Post Translated in English
Before leaving this world, I just wanted to see my wife for a few last minutes. I had told her numerous times that if she returns to her mother one more time, I might end up killing myself that very day. Today, I'm fulfilling her wish by ending my life.

And that's the reason why on November 21, all brothers, sisters, family, friends were invited to see me. I could not see my wife before I died and hence, my wish remains incomplete. I'd just wanted to urge to her that she should not marry another man after me, cause she'll end up destroying him as well. That woman did not put any efforts into our marriage, and it felt like she was just killing time.

I'm posting this from Gorakhpur Nepal border and this is the last post of my life. After posting, I'll break the SIM and throw away the mobile. I've also withdrawn all the money from my account and distributed all of it to beggars. I don't need anything, just needed a spouse who would be with me till the last, but she turned out to be characterless, who seems to be a good person from outside, but for me is a poisonous snake who ruined my life.

After thinking about this over months, I've finally decided to end my life after I got to know that an honest person has no importance in this feminist and anti-male society. I've also resigned from the railway job before deciding to take this step.

My wife and in-laws are to be blamed for my situation who mentally harassed me. She fed me poison for three months constantly. She had an affair with her brother-in-law Pawan Singh and their four-month-old child was also aborted once. I'll be speaking the truth in this post so that people like me could be saved in the future.

Even though she ruined my wife, I've no hate for her but only love. She has been into an illicit relationship with Singh for three years now and I'm very well aware of that. However, for the last eight months, I was trying to convince my wife to forget everything about her affair so that we can start our relationship afresh.

I want to apologise to all my friends and family to let you down. I'll pray to God to never bring me into a life of so anti-male society. Men need to wake up now, or else we'll be left with no laws and the women will keep exploiting men by making false accusations. I request the men organisations to look into my case and if possible please try for my wife's brother, brother-in-law, and her mother's arrest.

On the night of October 17, 2020, I was attacked by my wife at Raibareli station. It was also reported verbally to Superintendent Rakesh Kumar, station Master Bhupendra Srivastav, Yard Duty Guard R K Gupta, GRP/RPF Raibareli. I didn't officially report the case even after I knew my wife and in-laws were behind it. I had a video of the incident, however, I thought of my wife's reputation and decided of giving her a chance.

And my last eight months, I kept urging to her to break her relationship as I was ready to accept her. I loved her so much and hence didn't want to marry anybody else. I was emotionally attached and dependent on her. I felt so bad when I wanted to be with her but she always used to turn to her paramour.

She said that she did not need me. I used to fulfil all her wishes and wanted her to stay by my side. I bought a car worth Rs 7 lakh so that she doesn't have any trouble travelling. She wanted to stay with her parents for a longer period. My wife is a feminist, she loves keeping men leaning.

Though I was upset and angry over my situation, I never told anybody about this. My wife considered her brother-in-law as her husband, and that hurts me a lot. She said that she doesn't have any reason to tell me why she got married to me.

Today, I feel like I've lost to that feminist and anti-male thinking society and have decided to finally take this extreme step. I've deserted myself in a forest in Nepal and will end my life here.
There are several other posts, photographs and videos posted on Alok's timeline. Since the matter pertains to Rae Bareli, we have forwarded the same to UP Police for their intervention. Request all readers to do your bit in spreading the word so that a life can be saved.
Update As on Nov 25
Rae Bareli Police has responded to MDO and they are investigating the matter. If anyone has any information about Alok, you can post your comment under this tweet: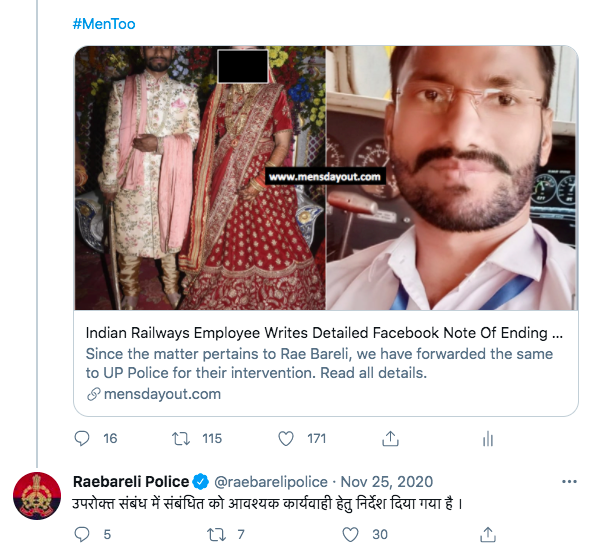 Suicide Prevention Contact Details:
Men in distress due to family problems and threats of false cases can contact either of the NGOs listed here: Men Welfare Trust, MyNation Hope Foundation, Save Indian Family Foundation, Vaastav Foundation
ALSO READ –
http://voiceformenindia.com/in-the-news/suicide/man-commits-suicide-due-to-alimony-demand/
http://voiceformenindia.com/in-the-news/suicide/medanta-hospital-doctor-suicide-manuj-sodhi-gurugram/
We are on Telegram. You can also join us on our Facebook Group
Join our Facebook Group or follow us on social media by clicking on the icons below
Donate to Voice For Men India
Blogging about Equal Rights for Men or writing about Gender Biased Laws is often looked upon as controversial, as many 'perceive' it Anti-Women. Due to this grey area - where we demand Equality in the true sense for all genders - most brands distance themselves from advertising on a portal like ours.
We, therefore, look forward to your support as donors who understand our work and are willing to partner in this endeavour to spread this cause. Do support our work to counter one sided gender biased narratives in the media.
To make an instant donation, click on the "Donate Now" button above. For information regarding donation via Bank Transfer, click here.
Alternately, you can also donate to us via our UPI ID: voiceformenindia@hdfcbank