We are not sure if OTT series are a reflection of our society, or our society has started aping incidents from OTT series! In a recent case reported from Karnal in Haryana, an unmarried woman declared to be dead, was found alive living with her boyfriend.
Its gets interesting. The woman had actually murdered another person to fake her own death.
Woman Makes Fake Death Certificate Of Living Husband & Claims Rs 18 Lakh Insurance Settlement
Here's What Happened!
Antim Devi, (25), a resident of Harisinghpura village in the Gharaunda sub-division in Karnal district, has been arrested nearly four months after she murdered her 55-year-old neighbour Rajwanti and burnt her body in a plot to fake her own death, as reported by Hindustan Times. 
READ ORDER | Alleged Suicide, Dowry Death Of Woman Was Faked To Wreak Vengeance Against Husband, In-Laws: Delhi High Court Denies Anticipatory Bail To Wife's Family
Plot
Shailender Kumar, in-charge of the Crime Investigation Agency (CIA), Karnal, said that the accused had an affair with a man from Uttar Pradesh. But she could not convince her family members to marry him, and thus, she decided to plot her own murder.
On November 24, Antim was alone at her house when she called her neighbour Rajwanti to her residence and gave her water laced with intoxicants. When Rajwanti fell unconscious, she electrocuted her. She also strangled her to death with a wire and rope and later dressed the deceased in her clothes and jewellery so that her parents would accept her death.
The official further added that Devi burnt her neighbour's body to hide her identity. Later, she fled and moved to Shamli in Uttar Pradesh, and her family cremated 'the neighbour's body' considering it to be their daughter.
Later, the family members of the deceased Rajwanti also filed a missing complaint with the police at Gharaunda police station. An FIR was registered under section 346 of the Indian Penal Code and police started its investigation.
Woman Murders Husband Along With Lover | Also Makes His Fake Death Certificate
Police Statement
Speaking with HT, the police claimed that during the investigation, they found that the dead woman was Rajwanti, while Antim was alive and had faked her own death. The police searched her social media accounts which helped them zero down on Antim's location in Shamli in Uttar Pradesh.
The police arrested her from her residence in Shamli, and later during the questioning, Antim admitted to the murder of Rajwanti, police claimed.
The Haryana police confirmed that the accused woman killed her neighbour and dressed her body similarly to hers so that she could marry her Facebook friend. The woman was arrested from Uttar Pradesh.
Wife Faked Her Death in 2005, Got In-Laws Arrested; Now Traced Alive After 14-Years Living With Her Lover
Kumar said that Antim has been booked under sections 302 and 201 of the Indian Penal Code. She was produced in the court, which sent her to six-day police remand for further investigations.
Did you see any mainstream media debating this murder? #CrimeHasNoGender
LEAVE YOUR COMMENTS BELOW:
#Haryana: Karnal Woman Arrested For Murdering Neighbour To Fake Her Own Death & Elope With Lover

▪️Antim Devi (25) laced her neighbour Rajwanti (55) with intoxicants, electrocuted her, strangled her to death with a wire & rope

▪️Later accused woman https://t.co/3pqe9e0TWF… https://t.co/0xZ2KERrOl

— Voice For Men India (@voiceformenind) March 7, 2023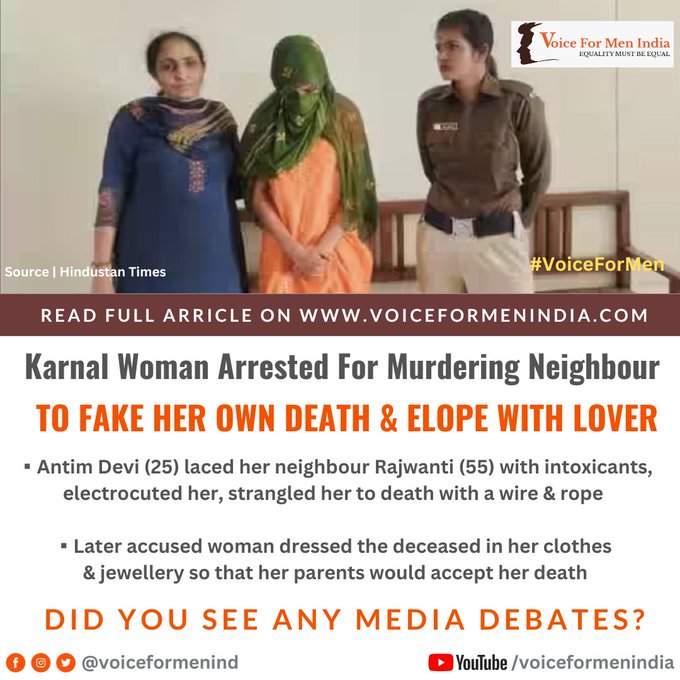 DO WATCH:
NUDE VIDEO CALL GANGS | Must Watch Advice For All Men
https://www.youtube.com/watch?v=thSXBWTAn-0&t=17s
Join our Facebook Group or follow us on social media by clicking on the icons below
Donate to Voice For Men India
Blogging about Equal Rights for Men or writing about Gender Biased Laws is often looked upon as controversial, as many 'perceive' it Anti-Women. Due to this grey area - where we demand Equality in the true sense for all genders - most brands distance themselves from advertising on a portal like ours.
We, therefore, look forward to your support as donors who understand our work and are willing to partner in this endeavour to spread this cause. Do support our work to counter one sided gender biased narratives in the media.
To make an instant donation, click on the "Donate Now" button above. For information regarding donation via Bank Transfer, click here.
Alternately, you can also donate to us via our UPI ID: [email protected]