India is a vast and complex country and thus, whatever law is applied to all uniformly, can be a disaster at many times, depending on its location and geography. While Voice For Men India firmly believes in shunning away regressive and archaic matrimonial laws, which trap couples forever in dead marriages, the law must be progressive with a balance, and not just favour the one segment of society in the name of empowerment.
As per a recent PTI report, the Supreme Court, while noting that an "atypical" manifestation of a family unit is as real as its traditional counterpart and deserves protection under the law, has observed:
Familial relationships may take the form of domestic, unmarried partnerships or queer relationships.
Live-in-Relationships Part & Parcel Of Life | Allahabad HC Stays Arrest Of Man Living With Married Woman
The report stated that the apex court opined,
Predominant understanding of the concept of a "family" both in the law and in society is that it consists of a single, unchanging unit with a mother and a father (who remain constant over time) and their children.
In an order uploaded on Sunday, a bench of Justices DY Chandrachud and AS Bopanna said,
This assumption ignores both, the many circumstances which may lead to a change in one's familial structure, and the fact that many families do not conform to this expectation to begin with. Familial relationships may take the form of domestic, unmarried partnerships or queer relationships.
Two Contrasting Orders On Live-in Relationship Between Married Woman & Partner | One Faces Bigamy; Other Protection
Additionally, the bench said,
A household may be a single parent household for any number of reasons, including the death of a spouse, separation, or divorce. Similarly, the guardians and caretakers (who traditionally occupy the roles of the "mother" and the "father") of children may change with remarriage, adoption, or fostering.
The Supreme Court bench said that these manifestations of love and families may not be typical but they are as real as their traditional counterparts and such atypical manifestations of the family unit are equally deserving not only of protection under the law but also of the benefits available under social welfare legislation. Justice Chandrachud who penned down the verdict on behalf of the bench, added,
The black letter of the law must not be relied upon to disadvantage families which are different from traditional ones. The same undoubtedly holds true for women who take on the role of motherhood in ways that may not find a place in the popular imagination.
Woman Approaches Court For Protection In Live-In Relationship By Lying About Her Marital Status
Meanwhile, during the ongoing Lok Sabha session in August 2022, Law Minister Kiren Rijiju has dismissed any proposal whatsoever to make "Irretrievable Breakdown of Marriage" as Grounds for Divorce.
Matrimonial laws in India have been designed to give easiest exits to wife and also awarding them with alimony, despite cruelty against husband proven. However, more and more traps are being laid for the Men, where now, even a domestic live-in relationship between adults – sans marriage – could be brought under the ambit of matrimonial laws.
Watch Video | Many Rape Complaints Filed After Live-in Relationships Fail: Chhattisgarh Women Commission Chairperson
Men in India are busy fighting for trivial causes blindly participating in meaningless boycott trends daily. On the other hand, feminists and a system which is driven by feminists, is quietly laying down more and more biased laws in favour of Women, to pin down the Men unfairly.
If Men do not speak up now, they should be prepared to suffer in silence in the years to come.
LEAVE YOUR THOUGHTS BELOW:
Familial Relationships May Take Form Of Domestic, Unmarried Partnerships Or Queer Relationships | Supreme Court

▪️SC: "A household may be a single parent household for any number of reasons, including death of spouse, separation or divorce"#VoiceForMenhttps://t.co/Z3IUfxLc3c

— Voice For Men India (@voiceformenind) September 1, 2022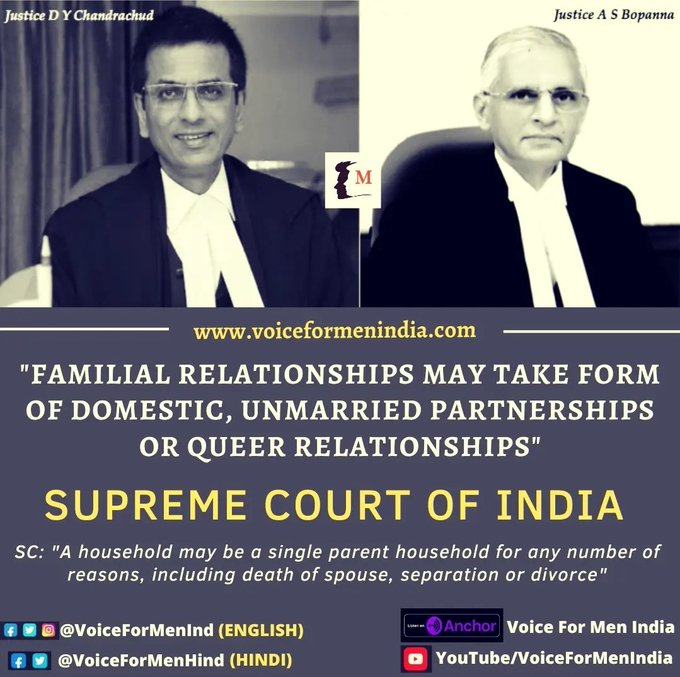 MUST WATCH – HOW BJP & JUDICIARY ARE LIVING IN TWO DIFFERENT WORLDS
Nuclear Families Result In Less Family Values, More Divorces | BJP MP Saroj Pandey In Rajya Sabha
Join our Facebook Group or follow us on social media by clicking on the icons below
Donate to Voice For Men India
Blogging about Equal Rights for Men or writing about Gender Biased Laws is often looked upon as controversial, as many 'perceive' it Anti-Women. Due to this grey area - where we demand Equality in the true sense for all genders - most brands distance themselves from advertising on a portal like ours.
We, therefore, look forward to your support as donors who understand our work and are willing to partner in this endeavour to spread this cause. Do support our work to counter one sided gender biased narratives in the media.
To make an instant donation, click on the "Donate Now" button above. For information regarding donation via Bank Transfer, click here.