Meet 43-Year-Old Dr Ganesh Rakh from Maharashtra, India, who set up a 25-bed Medicare General and Maternity Hospital in the Hadapsar suburb of Pune in 2007. The intent of starting the hospital was to help the underprivileged patients.
Dr Rakh, is the son of a coolie and a maid, who wanted to be a wrestler as a child. But his mother encouraged him to study and in due process, he had to endure a lot of hardship and discrimination. While his journey of becoming a doctor is quite interesting, the initiative he has taken after becoming a successful doctor is even more inspiring.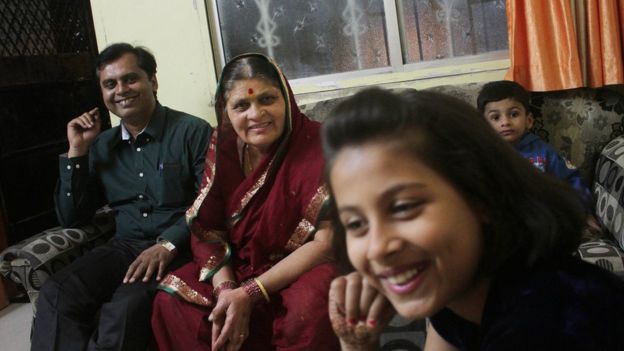 His Story
In 1961, there were 976 girls for every 1,000 boys under the age of seven. According to the latest census figures released in 2011, that figure had dropped to a dismal 914. The 2011 census figures were an eye-opener for Dr Rakh, who was also father to a nine-year-old daughter then. The appalling numbers made him realise how grim the situation really was, with regards the mindset towards a girl child.
The doctor also observed that whenever a pregnant woman came for her delivery, all her relatives would come with the hope that the baby would be a boy.
The biggest challenge for a doctor is to tell relatives that a patient has died. But for me, it was equally difficult to tell families that they'd had a daughter.
He also came across families who who would celebrate and distribute sweets if a male child was born, however, leave the hospital with mother crying if it was a girl child. With utmost disappointment, the relatives of the newly born girl would also ask for a discount!
There were times, when many expecting couples told him,
We have been taking treatment to ensure the birth of a male child…….We are consulting a holy man……we are putting some medicine in the mother's nostril to ensure she delivered a boy
This left Dr Rakh completely shocked and speechless and he offered his "tiny contribution", through his practice, to improve not just the girl child ratio but also the outlook of families that existed towards a female born.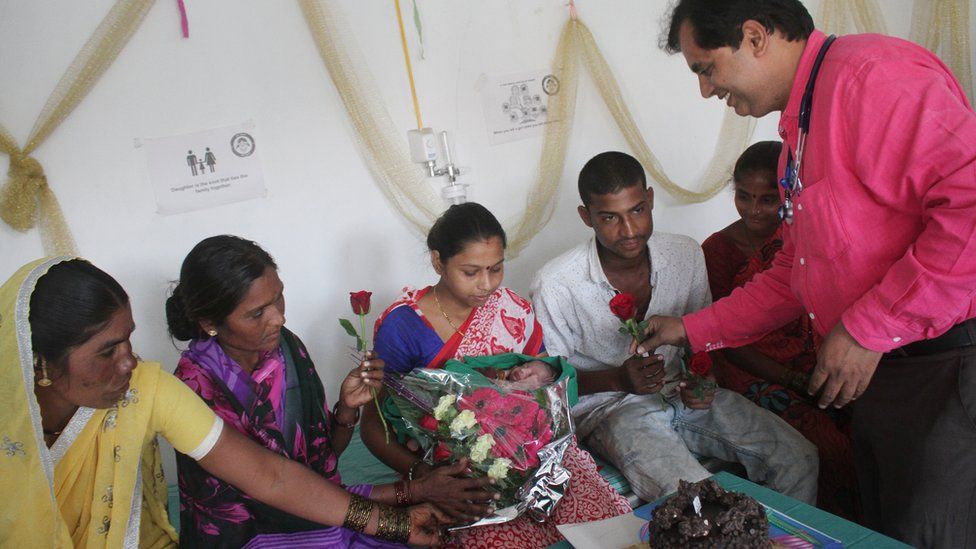 Fees
Approximate charges for a delivery would cost a family anywhere between Rs 20,000-35,000 ($300-$500). Whenever a girl was born, the husband and his relatives used to start crying and get upset, showing their displeasure towards the mother, and also becoming livid when confronted with the bill.
In a bid to fight female infanticide in his area, Dr Rakh ensured that his hospital did not charge any fees if the infant delivered was a girl. Till date, maternity charges have been waived off in hundreds of deliveries, both normal and cesarean.
It is not just about a fee waiver. The hospital also celebrates the birth of every girl. Every single staff gathers around the bed with a cake, candles and roses to make the mother feel truly special and to shame the scowling relatives into behaving. More than 500 girls have been delivered without the parents being charged a single penny.
Campaign
When Dr Rakh started delivering baby girls for free since a decade ago, he did not mean for it to become a campaign. On January 3, 2012, Dr Rakh began his own "crusade" by launching the Mulgi Vachva Abhiyan (which translates from Marathi into "Save the Girl Child Campaign").
He started reaching out to a few doctors, asking them to do at least one free delivery and many willingly pledged support. The initiative became a mass campaign when doctors across India started joining him in his task.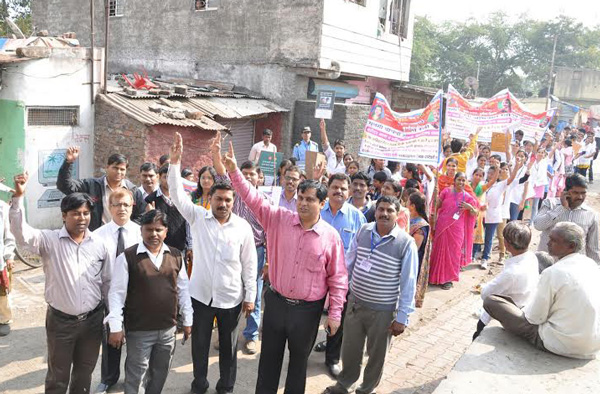 Today there are more than 200,000 doctors in India who are supporting the campaign by giving birth to girl children, either by charging very low fees or no fee at all. The chain effect resulted in Gurgaon, NCR, where a social worker Sunil Sainiji, inspired by Dr Rakh, visited hospitals and persuaded doctors to deliver girls for free or to offer a 50 per cent discount. He also started persuading chemists and medical labs to knock off a few rupees for prescriptions and tests for baby girls.
WATCH VIDEO
Family Support
Dr Rakh's wife was initially worried about his decision since they were not economically well off. However, his father Adinath Vithal Rakh supported his decision whole-heartedly. He told Dr Rakh, his son, to continue with the good work and also offered to go back to work as a porter if needed.
As Dr Rakh concludes,
I started a small thing. I didn't know it would be received like this. But sometimes small things impact minds in a big way.
ALSO READ –
http://voiceformenindia.com/his-story/major-bakhtawar-singh-brar/
Join our Facebook Group or follow us on social media by clicking on the icons below
Donate to Voice For Men India
Blogging about Equal Rights for Men or writing about Gender Biased Laws is often looked upon as controversial, as many 'perceive' it Anti-Women. Due to this grey area - where we demand Equality in the true sense for all genders - most brands distance themselves from advertising on a portal like ours.
We, therefore, look forward to your support as donors who understand our work and are willing to partner in this endeavour to spread this cause. Do support our work to counter one sided gender biased narratives in the media.
To make an instant donation, click on the "Donate Now" button above. For information regarding donation via Bank Transfer, click here.
Alternately, you can also donate to us via our UPI ID: voiceformenindia@hdfcbank