In a worrying report from Andhra Pradesh, a minor girl has accused her mother of forcing her to take 'pills' so that she can get work in regional films.
The Andhra Pradesh State Commission for Protection of Child Rights has rescued the girl after a complaint was lodged with their helpline on Thursday.
"My Daughter Beats Me, Makes Me Remain Without Clothes, Gives Food Only Once A Day" | Senior Citizen Mother
Case:
According to the statement given by the girl in her complaint, her father, K Rajesh Kumar, had divorced her mother some years ago. Later, the mother remarried, however, the second husband died few years later.
The minor who is 16-years of age alleged that she had been forcibly fed growth hormone pills by her mother so that she could act in films. She also alleged that she had been on the hormone pills for last four years.
Finally, she lodged a complaint with Childline last week, as she could no longer bear the pain caused by the side effects of the pills.
Meerut Twin Murder: Woman Arrested For Murdering Minor Son & Daughter With Help Of Lover
Allegations by Teen
In her complaint, the the Class XI student said,
My mother has been giving me an overdose of some tablets to boost body growth. Whenever I consume the tablets, I become unconscious and the next day, my body swells. It is painful and is disturbing my education.

My mother also tortured me to become intimate with some persons, claiming to be filmmakers, who visited her house.
The girl added,
She wants to make me ready for 'commitments' with movie directors and producers after completion of my intermediate. Whenever I refused to take the tablets, she would beat me. She would also threaten to give me electric shocks.
My Mom Got Into Affair, Left My Dad….& Then I Got StepMom | His Story | Speak Up Men
Childline Statement
Speaking with TOI, Kesali Appa Rao, chairman of the State Commission for Protection of Child Rights, said that they visited the girl's house with police officers on Friday and took the girl away.
Appa Rao told TOI,
The girl first dialled 112, but did not get any help. Later, she dialled the Childline number, 1098, with the help of another person on Thursday.
The commission has now referred the minor's complaint to police for registration of a case against the woman. The exact nature of the medicines given to the girl would be known after a laboratory test.
LEAVE YOUR COMMENTS BELOW:
#AndhraPradesh: Single Mom Forces Teen Daughter To Take Growth Hormone Pills, Compromise With Filmmakers To Get Work In Movies

"Whenever I consumed tablets, I became unconscious, next day, my body swells. Whenever I refused to take tablets, mom would beat me. She would also…

— Voice For Men India (@voiceformenind) June 5, 2023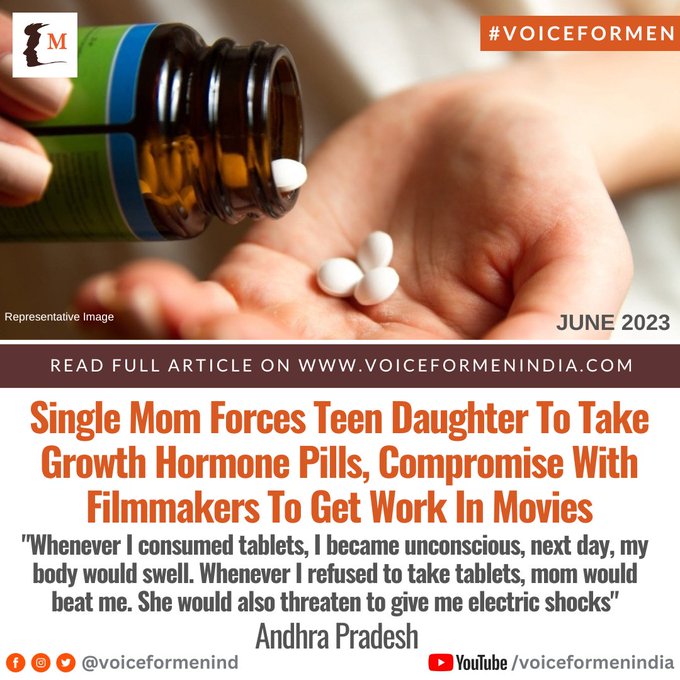 DO WATCH:
National Family Health Survey | 1020 Females Per 1000 Males | Where Are The Missing Men?
Join our Facebook Group or follow us on social media by clicking on the icons below
Donate to Voice For Men India
Blogging about Equal Rights for Men or writing about Gender Biased Laws is often looked upon as controversial, as many 'perceive' it Anti-Women. Due to this grey area - where we demand Equality in the true sense for all genders - most brands distance themselves from advertising on a portal like ours.
We, therefore, look forward to your support as donors who understand our work and are willing to partner in this endeavour to spread this cause. Do support our work to counter one sided gender biased narratives in the media.
To make an instant donation, click on the "Donate Now" button above. For information regarding donation via Bank Transfer, click here.
Alternately, you can also donate to us via our UPI ID: voiceformenindia@hdfcbank