In a further women appeasement drive, the Bharatiya Janata Party (BJP) government has announced  1,070 special courts to be commissioned soon to try cases across India. Union law minister Ravi Shankar Prasad confirmed stringent laws to protect women and children at an event organised by an NGO and the Mumbai unit of the BJP on Friday.
The Union Law and Justice Minister, affirmed that on Gandhi Jayanti, more than 1,000 special courts will be set up all over the country to try sexual offences against women and children. Mr. Prasad was speaking on, 'Law reforms by Modi government for New India' at the Convocation Hall, Mumbai University. He opened his speech by saying,
Our government's fundamental philosophy is reform and perform in order to transform and this is done in a democratic manner through legal processes.

Ravi Shankar Prasad (Image Courtesy : patnakabeta.com)
He said, the first thing the government did after coming to power was to weed out 1,486 old archaic laws and brought out far reaching amendments in the Consumer Protection Act and the Medical Council Act.
Address to Law Students
On appointment of judges, Prasad said,
We appointed, 126 high court judges in 2016, in 2017 – 115 in the year 2018 – 108 and till now in 2019, 38 judges. Since 1989, the average appointment of judges was 72 to 82 per year, and our record is 110 and above.
Encouraging the students, Prasad added,
I am very keen to establish All Indian Judicial Services. We have the finest minds from National Law Universities and they must get selected, like the Indian Administrative Services, Indian Police Services, Indian Foreign Services, we must also have Indian Judicial Services.
Prasad also justified the need for the triple talaq bill and abrogation of Article 370.
In his previous stint as the law minister, Ravi Shankar Prasad in December 2017 had expressed concern over delay in disbursing money awarded as 'maintenance' to women by courts, and had officially written to the High Courts to set up a mechanism to fast-track the process. Read Full Details Here.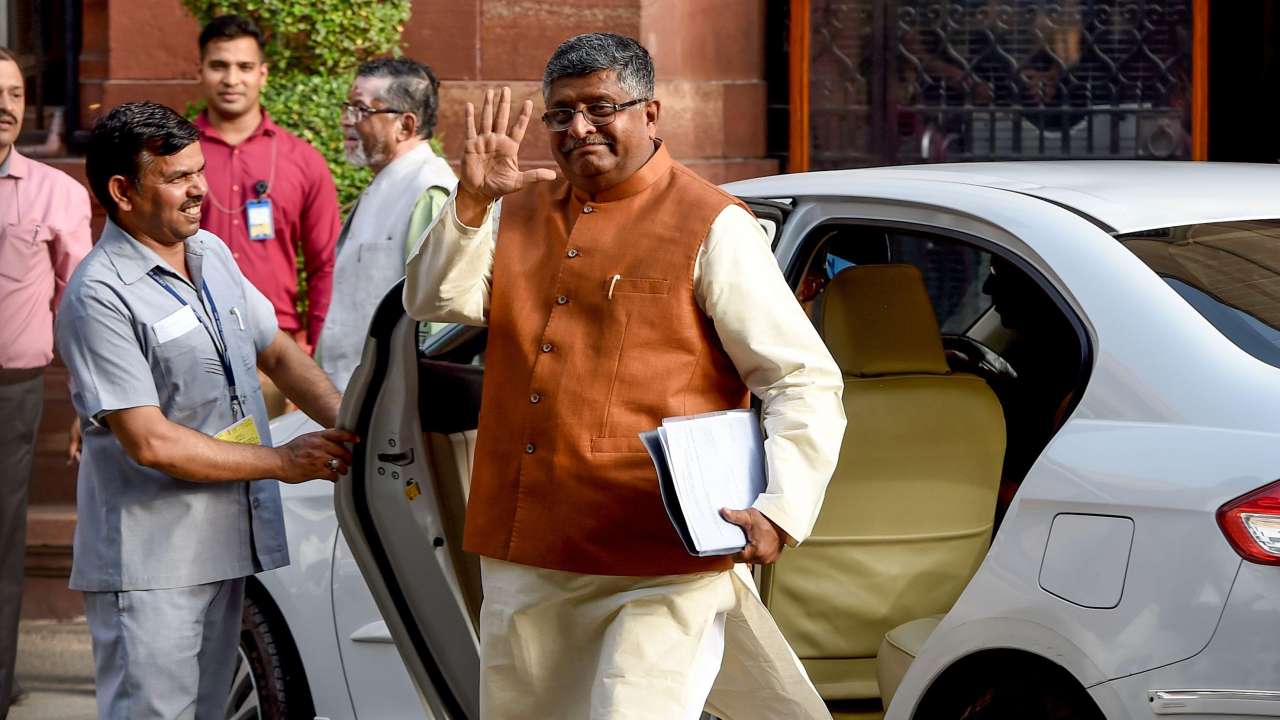 When you categorically state 1,070 special courts for women and children, you are primarily instigating a bias and already pronouncing the man guilty. These courts will ultimately be rendered only as forums pronouncing judgements and not justice.
While protecting women and children must be encouraged in every human civilisation, we must not forget that 'Men Too' are humans and need basic rights and laws to protect themselves. Completely overlooking and almost turning a deaf ear to the demand of a Men's Commission, the Law Minister seems to be on an overdrive in creating layers of women-centric laws and judicial mediums, thereby seizing any scope for the other gender (Men) to allow them, forget equal, but even a fair opportunity to defend themselves.
ALSO READ –
Join our Facebook Group or follow us on social media by clicking on the icons below
Donate to Voice For Men India
Blogging about Equal Rights for Men or writing about Gender Biased Laws is often looked upon as controversial, as many 'perceive' it Anti-Women. Due to this grey area - where we demand Equality in the true sense for all genders - most brands distance themselves from advertising on a portal like ours.
We, therefore, look forward to your support as donors who understand our work and are willing to partner in this endeavour to spread this cause. Do support our work to counter one sided gender biased narratives in the media.
To make an instant donation, click on the "Donate Now" button above. For information regarding donation via Bank Transfer, click here.