Rules and regulations are made for citizens of the country and whether one likes it or not, it is your duty to follow the law of the land where you reside. Also, needless to say that laws are be applicable equally to both men and women, however, this can be far from reality in an ideal world.
In an incident reported from Delhi's Kashmiri Gate on Saturday, a woman threatened the cops to commit suicide for being challaned (fined). Huge drama unfolded during the peak traffic hours in the capital, when traffic officials stopped a woman riding a scooter to office.
According to the traffic police personnel :
She was talking on the phone while driving her two-wheeler
The number plate on her scooter was broken
She was also not wearing her helmet properly
When the officials stopped her, they said she started creating a scene and shouting at the cops. At first the woman requested the officers not to challan her but they were relentless. Then she started crying and said that she was feeling unwell.
According to the police, while arguing with them, she threw her helmet on the road and created a scene. She dialled up her mother complaining about the challan. Still refusing to accept the challan, the woman then threatened to hang herself and asked what would the officers do if she kills herself.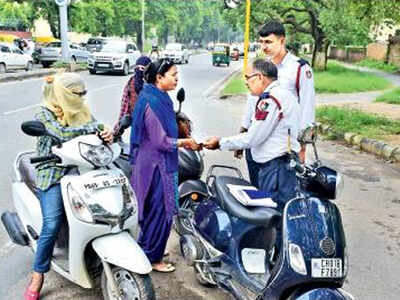 The high voltage drama continued for more than 20-minutes on the busy road and passersby started gathering around to watch the heated exchange. After the ordeal went on for several minutes, the officers finally let her go without issuing a challan. 
We are eagerly awaiting at least one comment from DCW (Delhi Commission For Women) Chief Swati Maliwal on the Gender Card played by this city woman, to break through traffic rules, which are strictly laid for the safety of citizens. While every women's rights activist scream against gender inequality when the wrong is done to a woman, these are the same one-sided Equality Rights Champions who fail to call out their gender when they misuse their rights as privileges.
New Motor Vehicles Act
Not following the traffic and road safety rules as per the Act will burn a hole in your pocket:
For not wearing a helmet, the fine has been increased from

₹

100 to 

₹

1,000, plus a three-month disqualification of licence
For not wearing a seatbelt, the penalty is now

₹

1,000
For speeding or racing, the fine has increased from

₹

500 to 

₹

5,000 and for drunken driving from 

₹

2,000 to 

₹

10,000
The fine for driving without a valid licence is now

₹

5,000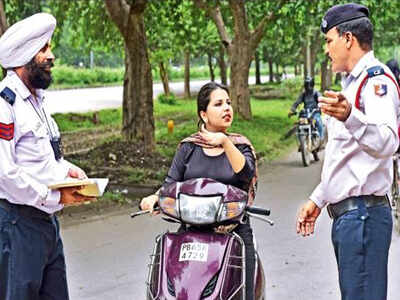 Besides higher penalty, the new Act also includes imprisonment for severe crimes:
Speed racing can attract imprisonment for three months (with or without a fine); this will extend to a period of one year if caught for the second time
For offences by juveniles, the guardian or owner of the vehicle shall be deemed to be guilty and punished with a

₹

25,000-fine and three years' imprisonment
The juvenile would be tried under Juvenile Justice Act, 2000 and the registration of motor vehicle will be cancelled for a period of 12 months
The owner of a motor vehicle who alters it by way of retrofitting of motor vehicle parts in a manner not permitted under the Act shall be punished with imprisonment for a term which may extend to six months (and/or with fine of

₹

5,000 per such alteration)
WATCH VIDEO –
ALSO READ –
http://voiceformenindia.com/in-the-news/swati-maliwal-dcw-raids-delhi-spas/
http://voiceformenindia.com/in-the-news/new-motor-vehicle-act-violation/
Join our Facebook Group or follow us on social media by clicking on the icons below
Donate to Voice For Men India
Blogging about Equal Rights for Men or writing about Gender Biased Laws is often looked upon as controversial, as many 'perceive' it Anti-Women. Due to this grey area - where we demand Equality in the true sense for all genders - most brands distance themselves from advertising on a portal like ours.
We, therefore, look forward to your support as donors who understand our work and are willing to partner in this endeavour to spread this cause. Do support our work to counter one sided gender biased narratives in the media.
To make an instant donation, click on the "Donate Now" button above. For information regarding donation via Bank Transfer, click here.