Marriage, separation, mudslinging – finally an unhappy marriage is coming to an end, with the couple reaching a monetary settlement.
Cricketer Yuvraj Singh's brother Zoravar has agreed to pay Rs 48 lakh to his estranged wife Akanksha Sharma, putting an end to four years of marital dispute and other litigations, paving the way for a mutual legal separation. Akanksha had filed a petition under section 12 of the Protection of Women from Domestic Violence Act against Zoravar, which is pending at the district court.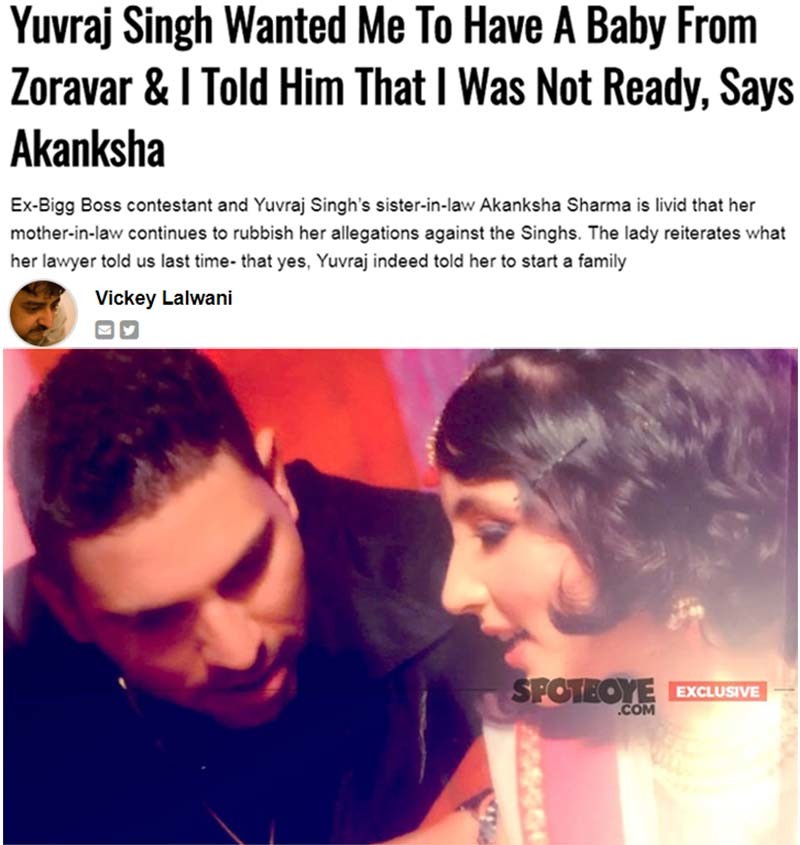 A subsequent case of criminal defamation, which had been filed against Akanksha by Yuvraj Singh's mother Shabnam Singh, shall be dismissed as withdrawn subject to Akanksha Sharma recording her statement before the court during a hearing of the case on September 26 "with respect of apology to Zoravar, Shabnam and Yuvraj".
A civil suit for recovery of damages worth Rs 2 crore filed by Shabnam against Akanksha fixed for hearing on July 25 shall be referred to Lok Adalat, on the basis of a compromise deed, upon request of Shabnam.
As per media reports this year in March, Akanksha had revealed that she had found steady love again in one Abhiraj Chadha, Ace of Space contestant. She confirmed the relationship saying:
Abhiraj and I met in a gym and started talking. Soon, we knew that we liked each other. We went through many things in Ace of Space and it is only now that I can say that yes, Abhiraj is an integral part of my life. Certain relationships do not have a name initially, but grow with time to become strong; mine with Abhiraj is definitely one such.
When she was then quizzed about her re-marriage, she said:
I am blessed that I have found love again. I am not yet saying that we are going to get married. People close to me have started asking me this question. Lekin pehle Zoravar se divorce to ho jaye.
We are happy that a settlement has been reached in the case so that both parties can move on happily. However, such practices only suggest how all domestic violence is forgotten once the money is agreed upon.
Charges are levied in several cases only to build pressure on the boy's family and once the understanding is agreed upon, all charges are dropped.
ALSO READ –
http://voiceformenindia.com/in-the-news/derek-obrien-pocso-rajya-sabha/
Join our Facebook Group or follow us on social media by clicking on the icons below
Donate to Voice For Men India
Blogging about Equal Rights for Men or writing about Gender Biased Laws is often looked upon as controversial, as many 'perceive' it Anti-Women. Due to this grey area - where we demand Equality in the true sense for all genders - most brands distance themselves from advertising on a portal like ours.
We, therefore, look forward to your support as donors who understand our work and are willing to partner in this endeavour to spread this cause. Do support our work to counter one sided gender biased narratives in the media.
To make an instant donation, click on the "Donate Now" button above. For information regarding donation via Bank Transfer, click here.
Alternately, you can also donate to us via our UPI ID: voiceformenindia@hdfcbank