Remember Priyadarshini Yadav from Lucknow Traffic signal? The woman who was caught on camera slapping an Ola cab driver 22 times was never arrested. Instead, she levied several charges on the cab driver and the matter went under indefinite investigation.
Incidents like these have given absolute courage to women today, who think they can get away by abusing, slapping and manhandling people. And if the one at the receiving end happens to be a man, he fears false molestation charges on him if he dares to react. 
Social Media is abuzz with yet another such incident, that took place with the upscale Lodha Amara complex, in Thane, Maharashtra recently. 
Here's What Happened
On the eve of Republic Day (Jan 26) the residential society had organised a program to worship Mother India.
While the event was ongoing, one of the female residents, snatched the frame which had Mother India photograph and started creating a scene.
The security guards had to intervene requesting the woman to return the photo frame. The male guards were asked to back off and when a female security guard tried to snatch the photo, the woman attacked her and also beat her up.
Later in the video, the woman also seen beating up several male security guards who were obstructing her, and she even smashed their mobile phones on the ground.
As the situation went out of hand, Kapurbawdi police were called in and the officials have registered a case against the woman. Incidentally, there has been another case registered against the same woman earlier as well.
Men's Day Out came across certain tweets on twitter, which read as below:
According to the tweets, a woman named Kanika Bhupinder Sekhri shared account of why she behaved in this manner. She quoted,
And this is to the entire population of India. Yesterday when I went downstairs, a group of people of our society, so called good for nothing "Lodha Amara" were arranging for Republic Day celebrations, hoisting flag and when I asked one of the heads of Lodha, what is the definition of Republic Day and the purpose of celebrating this auspicious day, then entire 50 people told me it was Gantantra Diwas.

Just this, they didn't know anything about this day. They were gathered just to hoist flag and there was Mata Rani photo in their dirty hands, that too in the hands of a man – that leader of Lodha.

I tried to snatch the frame from his dirty hands because rape percentage in India is very high. Still these men are allowed to hold Devi's photo or visiting Vaishno Devi or temples. A man abusing, beating, acid attacking, molesting, exploiting looting a woman are free to worship Devi.
The handle also added the she had filed another case on "ugly women police officers" on Jan 15. 
The below tweets now stand deleted.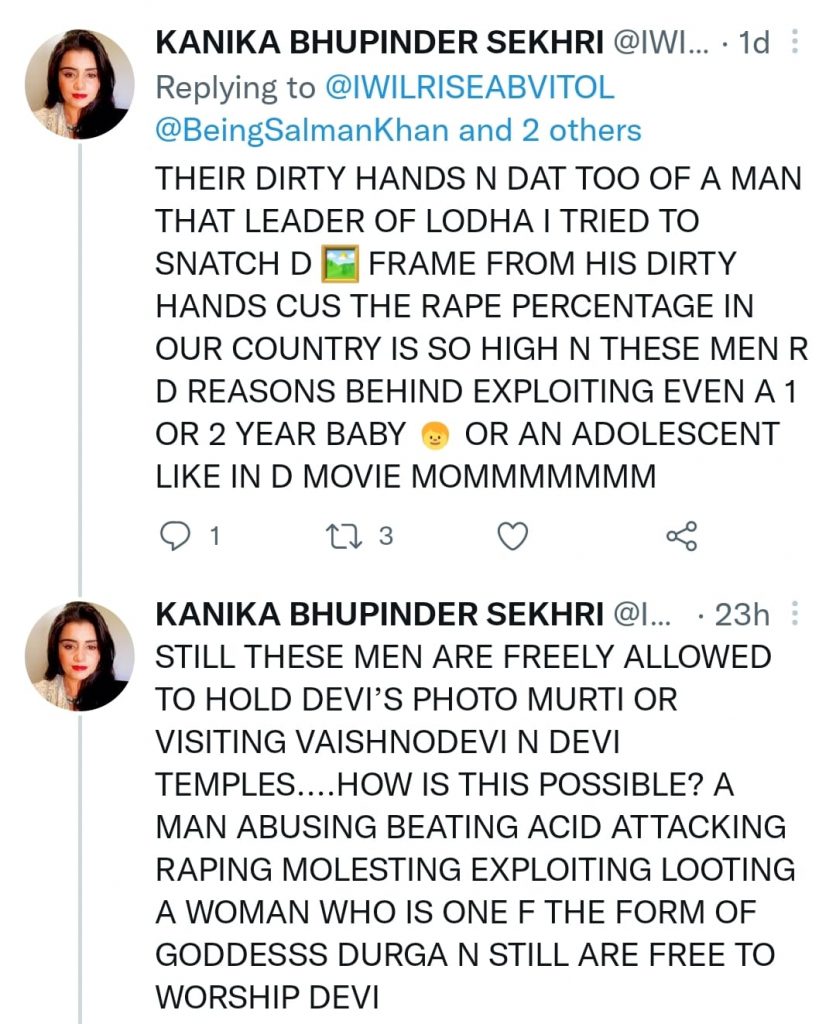 WATCH VIDEO:
Lodha Amara Thane | Female Resident Slaps Security Guards On Republic Day
ALSO READ –
Join our Facebook Group or follow us on social media by clicking on the icons below
Donate to Voice For Men India
Blogging about Equal Rights for Men or writing about Gender Biased Laws is often looked upon as controversial, as many 'perceive' it Anti-Women. Due to this grey area - where we demand Equality in the true sense for all genders - most brands distance themselves from advertising on a portal like ours.
We, therefore, look forward to your support as donors who understand our work and are willing to partner in this endeavour to spread this cause. Do support our work to counter one sided gender biased narratives in the media.
To make an instant donation, click on the "Donate Now" button above. For information regarding donation via Bank Transfer, click here.
Alternately, you can also donate to us via our UPI ID: voiceformenindia@hdfcbank