Punjab Chief Minister Bhagwant Mann on Thursday sought a special financial package of Rs 1 lakh crore from the Union government for reviving the state's economy and ensuring holistic development. Mann made the demands while calling on Prime Minister Narendra Modi in New Delhi.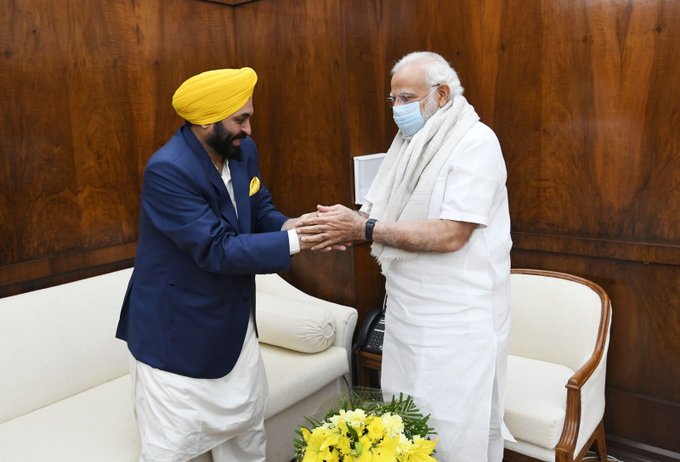 Newly elected CM apprised the PM about the "pathetic" fiscal position of the state quoting that the previous governments have left a whopping debt burden of Rs 3 lakh crore on the state. Thus, Mann demanded immediate financial package of Rs 50,000 crore each for two years to put the "derailed economy back on track".
He hoped with this financial help the state's economy would become "self-sustainable and economically viable" during the third year, as reported by PTI.
Responding to the issues raised by Mann, Modi said he would soon take up the matter with the Ministries of Finance and Home to provide adequate support to the state.
Can Debt Ridden State Distribute Freebies To Fully Abled Women?
If one recalls, one of the major poll promises of AAP was distributing freebies to the people of Punjab if elected to power. Some of the schemes promised by AAP Chief and Delhi Chief Minister Arvind Kejriwal were:
Round the clock free electricity supply to everyone in Punjab
Rs 1000 monthly financial aid to all women above age of 18 years
To renovate all schools and hospitals in Punjab and establishment of 'Pind Clinics' along the lines of Mohalla Clinics where everyone will be treated free of cost
While MDO refrains from commenting on point No. 1 and 3, we strongly oppose to the culture of giving free money to fully-abled women. Is this not a legal bribe in the form of cash for votes? 
What is the message AAP government wants to give to all women? Instead of making them self reliant (Atmanirbhar), Kejriwal is only making women dependent – on government – at the cost of maximum tax paid by men. 
These tricks used by successive governments is a result why we, in India, still cry victimhood and patriarchy, while using Women as the new minority voter card. 
Cost to Exchequer 
As per the Election Commission of India, there were 96.19 lakh women voters in Punjab during the 2019 Lok Sabha polls and AAP had estimated that the scheme could benefit 1 crore women.
As per above numbers, the cost to exchequer will be Rs 1,000 crore per month which translates to Rs 12,000 crore per annum.
Speaking with The Print last year, a senior government official said that the financial assistance of Rs 1,000 per month for every woman (aged 18 years and above) in the state is likely to create an additional financial burden of Rs 15,600 crore. 
Kejriwal's Pre Poll Financial Planning Vs Mann's Demand For Financial Aid
A twitter handle named Political Kida, exposed how Arvind Kejriwal had listed out the calculation to turn Rs 3,00,000 crore Punjab debt into surplus.
He had claimed that he would eliminate the corruption and save Rs 34,000 crore, get rid of sand mafia and save Rs 20,000 crore revenue. However, now forming state government with 92 out of 117 seats, newly elected CM wants nearly Rs 1,00,000 crore over 2-years to enable them fulfil their pro-misses!
WATCH VIDEO:
After Promising Rs 1,000 Per Month To All Adult Punjab Women, AAP Wants Rs 50,000 Crore Aid Per Year
ALSO READ –
ALSO WATCH (ANOTHER POLL PROMISE FOR GOA)
AAP Promises Rs 1,000 Per Month To All Adult Women If Voted To Power In Goa
Join our Facebook Group or follow us on social media by clicking on the icons below
Donate to Voice For Men India
Blogging about Equal Rights for Men or writing about Gender Biased Laws is often looked upon as controversial, as many 'perceive' it Anti-Women. Due to this grey area - where we demand Equality in the true sense for all genders - most brands distance themselves from advertising on a portal like ours.
We, therefore, look forward to your support as donors who understand our work and are willing to partner in this endeavour to spread this cause. Do support our work to counter one sided gender biased narratives in the media.
To make an instant donation, click on the "Donate Now" button above. For information regarding donation via Bank Transfer, click here.