A police inspector, a sub-inspector and three constables of Wadala TT police station have been suspended after an inquiry into the Vijay Singh custodial death incident that saw massive protests. The five men in uniform have been identified as:
API Sandeep Kadam
PSI Salim Khan
Constable Bhabal
Constable Chaure
Constable  Chole
In the interim, Singh's family members have sought a meeting with the Mumbai Police Commissioner. Watch Protests Below:
Protests outside Wadala police station for custodial death of marketing representative #VijaySingh pic.twitter.com/qVDOjAwUuJ

— Mumbai Live (@MumbaiLiveNews) October 29, 2019
Case:
On Sunday night, there was a scuffle between 27-year-old Vijay Singh and a couple, identified as Dashrath Devendra and Afreen, who were seated near the Wadala RTO
Vijay was known to the couple
The couple alleged that Singh had been purposely switching his bike's headlights on and off to pester them
In the ensuing fight, both parties beat each other and the police were summoned to the spot
According to Satyendra Singh, the cousin of the deceased, the police came and thrashed Vijay after the girl accompanying the complainant claimed that they had been assaulted
Satyendra also quoted that Vijay was beaten on the way to the police station as well
The cousin has also alleged that inside the police station, Vijay was kept in the lock-up, where he was beaten again
Shivam Singh and Ankit Mishra, Vijay's friends who accompanied him to the police station also confirmed that Vijay was beaten up badly in the lock up in front of them
When Vijay complained of chest pain, the police did not attend to him; neither did they give him water, when he asked for some; nor did they allow his family to assist him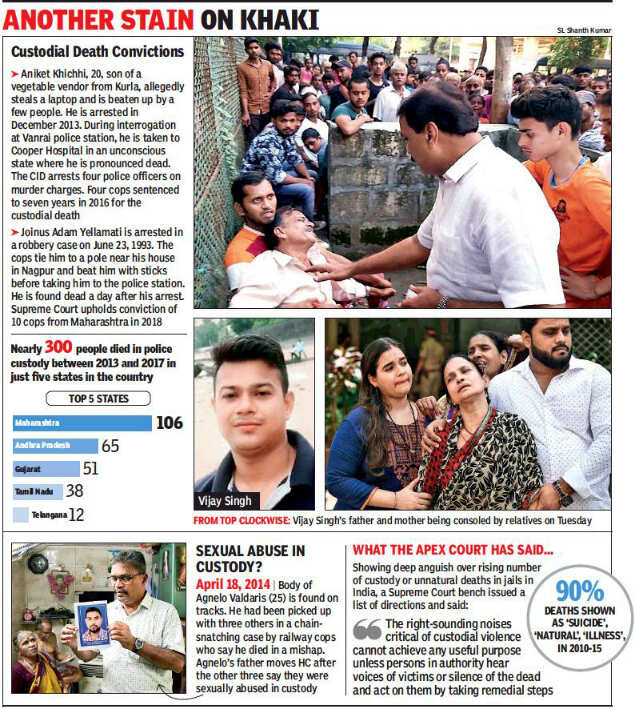 According to the police, Singh was only released after he complained of chest pain and he collapsed at the gate of the police station
Satyendra also said that when the family asked the police to provide them with a vehicle to go to hospital, they turned down their request, saying they did not have adequate petrol and thus the family had to later take a private cab to transport Vijay
However, on reaching the Sion hospital, Vijay was declared dead
Mumbai Police have made it clear they are treating the incident as a case of custodial death and the probe has been accordingly transferred to the crime branch
The post-mortem was conducted at the JJ Hospital in the presence of the metropolitan magistrate and has also been video-recorded, as per the guidelines of the National Human Rights Commission (NHRC)
After the incident, locals gathered outside the police station in large numbers and the police had to resort to lathi-charge to disperse the crowd and bring the situation under control
The protesters also broke the windshield and windows of a BEST bus, demanding that an FIR be lodged against the duty officer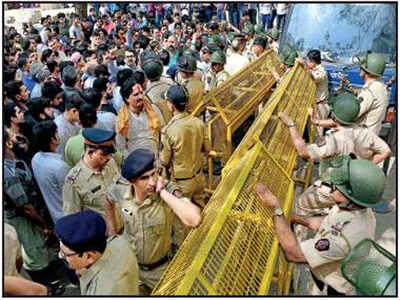 Late, on Tuesday night, an FIR was lodged against Devendra and Afreen, under:
IPC sections for voluntarily causing hurt (323)
Wrongful confinement (341)
Criminal intimidation (506, Part Il)
Intentional insult with intent to provoke breach of peace (504)
False information, with intent to cause public servant to use his lawful power to the injury of another person (182)
False charge of offence made with intent to injure (211)
Mumbai police commissioner Sanjay Barve said,
I have suspended the five policemen for their carelessness. If a suspect is detained by the police and he is complaining of chest pain, officers present there should have immediately given him medical aid. Rest the crime branch will inquire and give its final findings.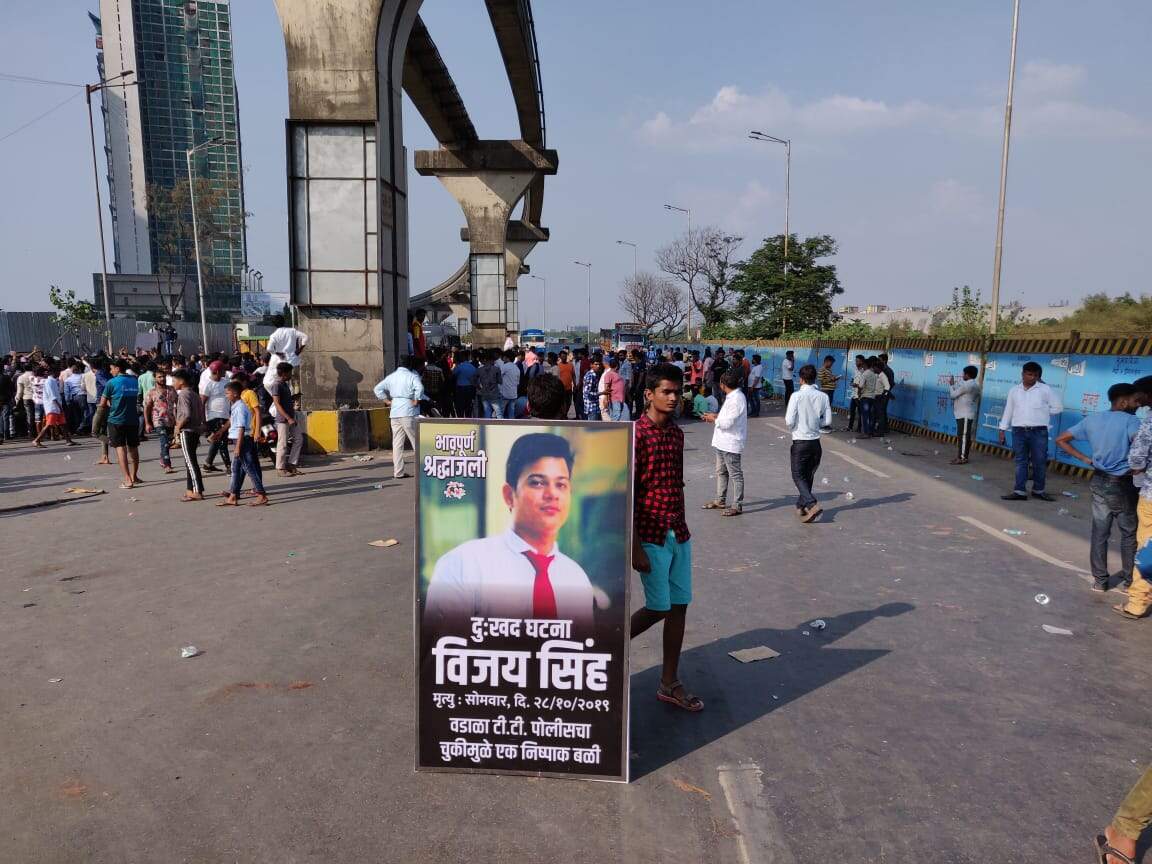 Vijay's sister Dimpy alleged,
While the couple was sitting in the police station, laughing and writing out their complaint, policemen were hitting my brother with a belt. That was when Vijay got his first heart attack, which police ignored. But half an hour later, they brought him out of the lock-up and made him sit in the station house when he got the second attack. When Vijay's nephew (a minor) tried to give him water, Inspector Sandeep Kadam kicked him and abused him.
There has been an uproar on social media too, demanding #JusticeForVijay and his family. While we don't know whether hashtag outrage can really do any justice for the departed soul, however, protesting against such horrifying and careless custodial deaths is definitely important, to save any other life from similar torture. The police must be accountable for their wrong actions.
26 वर्षीय विजय सिंह की हवालात में हत्या के ख़िलाफ़ वडाला पुलिस स्टेशन के सामने जमा भीड़ का दर्द समझने के बजाय पुलिस ने लाठी चार्ज किया।
इस निष्ठुरता का क्या अर्थ है?
क्या पुलिसवाले थोड़ा संवेदनशील नहीं हो सकते?pic.twitter.com/WpbjfH0AJM

— Sanjay Nirupam (@sanjaynirupam) October 29, 2019
Vijay was allegedly beaten up, tortured & not even given water to drink inside police station just cuz a girl & her BF complained against him. He died & the family wasn't even given vehicle to carry dead body. Serious allegations @MumbaiPolice This is shameful #justiceforvijay pic.twitter.com/Bn2qc5ukQJ

— Deepika Bhardwaj (@DeepikaBhardwaj) October 29, 2019
Same story every day. Girl alleges harassment. @MumbaiPolice arrives and nabs the #VijaySingh locks him up, beats him to death. No enquiry, nothing. Just one complaint by a woman. That is all.
Is this how ur earn ur medals @MumbaiPolice#justiceforvijay #JusticeForVijaySingh pic.twitter.com/6m0sRhwvBw

— Madhav Anand (@tweettosay) October 29, 2019
A huge Protest for #VijaySingh We want Justice #JusticeForVijaySingh @CaptTamilSelvan @shivamishrabjp @rmishra4682 @Ramakan10767515 @Advguptaji @PrasadLadInd@rahulshewale @SanjayRupadhyay @indiatimes @timesofindia pic.twitter.com/l2PTnn4r5M

— Sachin singh (@Sachins887999) October 29, 2019
@MinistryWCD @smritiirani @MumbaiPolice One Sided Law Creates lots opportunity for curruption from helpless men. Everyone His Advocate Her Advocate Police Judge even accused tries to settle financially becouse law is biased nobody can help him #VijaySingh https://t.co/CAmmLFbEnm

— Hardik kumar (@HardikK7) October 29, 2019
ALSO READ –
http://voiceformenindia.com/in-the-law/sarvjeet-singh-arnab-goswami-jasleen-kaur/
Follow www.mensdayout.com on Facebook Twitter and Instagram
Join our Facebook Group or follow us on social media by clicking on the icons below
Donate to Voice For Men India
Blogging about Equal Rights for Men or writing about Gender Biased Laws is often looked upon as controversial, as many 'perceive' it Anti-Women. Due to this grey area - where we demand Equality in the true sense for all genders - most brands distance themselves from advertising on a portal like ours.
We, therefore, look forward to your support as donors who understand our work and are willing to partner in this endeavour to spread this cause. Do support our work to counter one sided gender biased narratives in the media.
To make an instant donation, click on the "Donate Now" button above. For information regarding donation via Bank Transfer, click here.
Alternately, you can also donate to us via our UPI ID: voiceformenindia@hdfcbank