Basant Panchami marks the onset of wedding season in the hills. However, due to heavy snowfall and bone-chilling winter, the cultural and religious functions along with the routine life of people get affected in the state. One such happy incident from Uttarakhand turned out to be a hilarious one with our twitteratis penning their best!
According to a tweet by ANI,
A groom travelled four kilometre on foot to reach the bride's home in Bijra village in Chamoli district as roads were closed due to heavy snowfall in the region.
Uttarakhand: A groom travelled four km on foot to reach the bride's home in Bijra village in Chamoli district as roads were closed due to heavy snowfall in the region. pic.twitter.com/sS9pjqdZLL

— ANI (@ANI) January 29, 2020
In the photographs posted by the news agency, the groom along with other people, is seen walking with an umbrella during heavy snowfall in the area, dressed in his wedding attire. The procession along with the groom covered the distance of four kms starting from Luntara village to Bijar village.
The marriage ceremony was held in Luntara village of Ghat block amid heavy snowfall.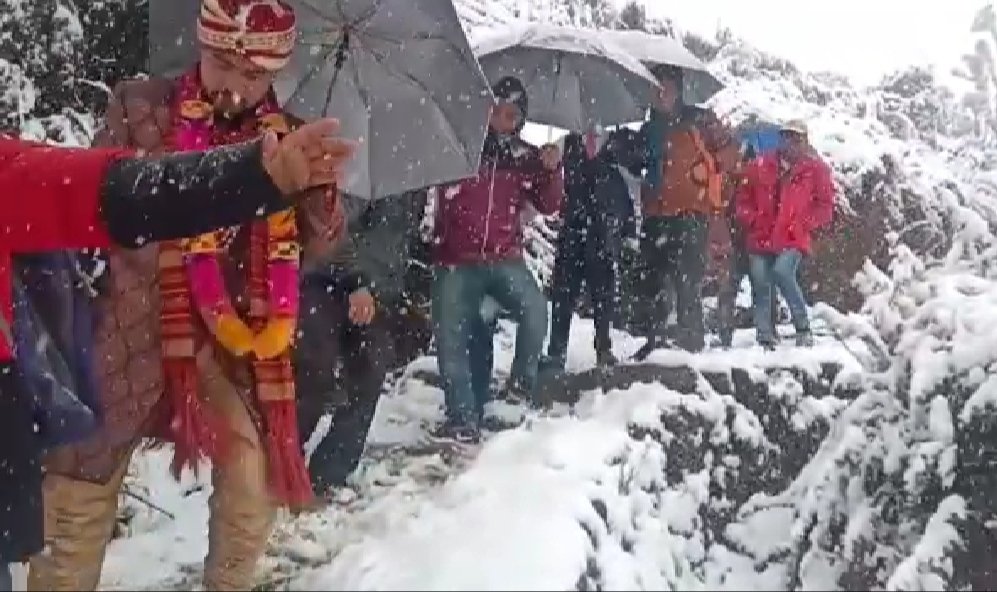 A few days ago we came across another story, where a soldier (Suneel) from Mandi, Himachal Pradesh had missed his wedding as he got stuck due to heavy snowfall while on his way home. Suneel is a soldier who belongs to Himachal Pradesh's Mandi. He was posted in Kashmir Valley. The soldier's leave was supposed to start from January 1, and he had to reach the transition camp at Bandipora, a few days back. However, after reaching Bandipora, he got stuck, as the roads were blocked due to heavy snowfall.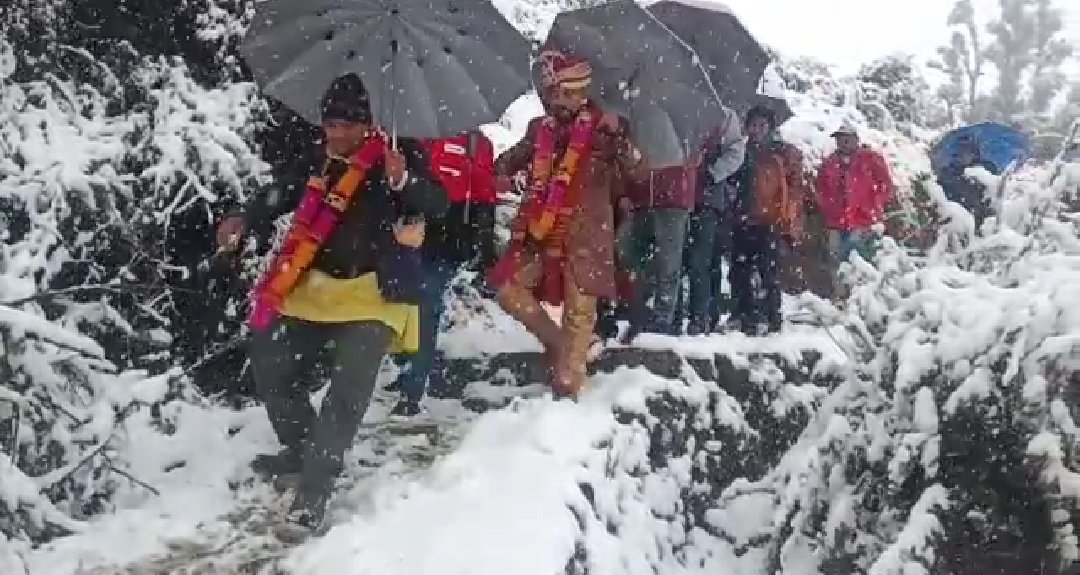 Suneel had his wedding on Thursday. The Barat was programmed to leave for the Daled village of Ladbhadol in Mandi, all family members had geared up for this occasion. However, Suneel did not show up.
Coming back to our Chamoli Dulha, this is how the witty netizens have reacted!
Dear fake feminist Man are not trash ?

— Varidha? (@iamVaridha) January 29, 2020
Char dino ka pyar ho rabba badhi lambi chadhai ho badhi lambi chadhai ?

— Saanvi ? (@Lil_MissTrolls) January 29, 2020
Tharak dekho

— Pun of god (@Punnajiaka) January 29, 2020
Inko alag hi nashaa h

— Pranjul Sharma? (@Pranjultweet) January 29, 2020
Garmiyo tak intezaar ni hua bhai se
Aisa bhi Kya yaar

— Sakshi Panwar Chaudhary (@just_to_offend) January 29, 2020
Others – proud of you Gentlemen…
Grooms Friend – Tharak dekh rahe ho launde ki.

— The रायचंद (@v_ashutosh) January 29, 2020
Nadaaan hn bechara, shayad isko iske saath hone wali anhoni ka andaja nahi hain?

— ओ स्त्री कल आना । (@letsdweet) January 29, 2020
This is nothing in front of hard working #ArvindKejriwal pic.twitter.com/7mesmiA91v

— ????????_??? भारतीय (@Shailesh__IND) January 29, 2020
Ladki ka chakkar Babu Bhaiya
Ladki ka Chakkar ?

— ?@NotSoCool (@mrsingh807) January 29, 2020
कुछ दिन इंतजार कर लेता भाई.
शादी कहाँ भागी जा रही थी.
???

— संतोष कुमार (@trueindian55) January 29, 2020
Hawasi winter ke baad shaadi kar leta

— Jailor Saab (@saab_jailor) January 29, 2020
Pakka Engineer hoga mushkil se larki mili hogi

— Ayush Mishra (@Ayushmishraim) January 29, 2020
Dard samjh Gaye hum single hone Ka??

— Proud JNU Alumni (@JnuProud) January 29, 2020
http://voiceformenindia.com/in-the-social/vipin-sahu-paragliding-manali/
Follow www.mensdayout.com on Facebook, Twitter and Instagram
Join our Facebook Group or follow us on social media by clicking on the icons below
Donate to Voice For Men India
Blogging about Equal Rights for Men or writing about Gender Biased Laws is often looked upon as controversial, as many 'perceive' it Anti-Women. Due to this grey area - where we demand Equality in the true sense for all genders - most brands distance themselves from advertising on a portal like ours.
We, therefore, look forward to your support as donors who understand our work and are willing to partner in this endeavour to spread this cause. Do support our work to counter one sided gender biased narratives in the media.
To make an instant donation, click on the "Donate Now" button above. For information regarding donation via Bank Transfer, click here.
Alternately, you can also donate to us via our UPI ID: voiceformenindia@hdfcbank