The Story Will Be Updated Periodically As And When New Details Surface.
At the outset, we wish to clarify for many readers, who are linking #UnnaoKiBeti case to the ongoing rape case of BJP Leader Kuldeep Sengar. This is a different case, where the woman had alleged rape by one Shivam Trivedi, who was released on bail by Allahabad High Court.
After the police resorted to 'retaliatory' firing in the Telangana rape-murder case, the chorus for the same grew for the Unnao rape case as well. The people are demanding for an 'encounter' in the Unnao rape case where a girl was burnt alive by accused.
Disclaimer : Men's Day Out is only stating facts in this case
Case:
The woman, who was allegedly raped in December last year, was on her way to a Rae Bareli court early on Thursday morning when she was attacked
Aflame, she ran for a while before people saw her and informed the police, who sent her to a community health centre, from where she was sent to the district hospital, before being referred to Lucknow
The five men, who have been arrested for the alleged assault on her life, are Harishankar Trivedi, Ram Kishore Trivedi, Umesh Bajpai, Shivam and Shubham Trivedi
Of the five, Shivam is the main accused in the rape case and he was subsequently released on bail
The rape survivor, who suffered serious burns after being set on fire allegedly by the five men, including two of the rape accused, on Thursday morning, was airlifted to a Delhi hospital, where her condition was stated to be critical
After battling for life at New Delhi's Safdarjung Hospital, the Unnao rape victim, died at 11.40 pm on Friday
Now, what we are going to add more to this case, are merely facts and in no way we are justifying the acts of the Men and the murder of the victim.
According to the bail order issued by Allahabad High Court on November 25, 2019, the applicant Shivam Trivedi had informed court :
He and the victim were in a consensual relationship since two years
The two had also allegedly tied the knot in January 2018
However, Shivam's family was against the alliance and rejected the marriage
This is when the victim had filed an FIR against Shivam in March this year alleging "Rape On Pretext Of Marriage"
The learned counsel of the victim accepted that the first "rape" had taken place almost two years ago, when the girl did not file any charges
The counsel confirmed that they had filed rape charges because Shivam backtracked from the relationship by giving false promise of marriage to the victim
Read Bail Orders below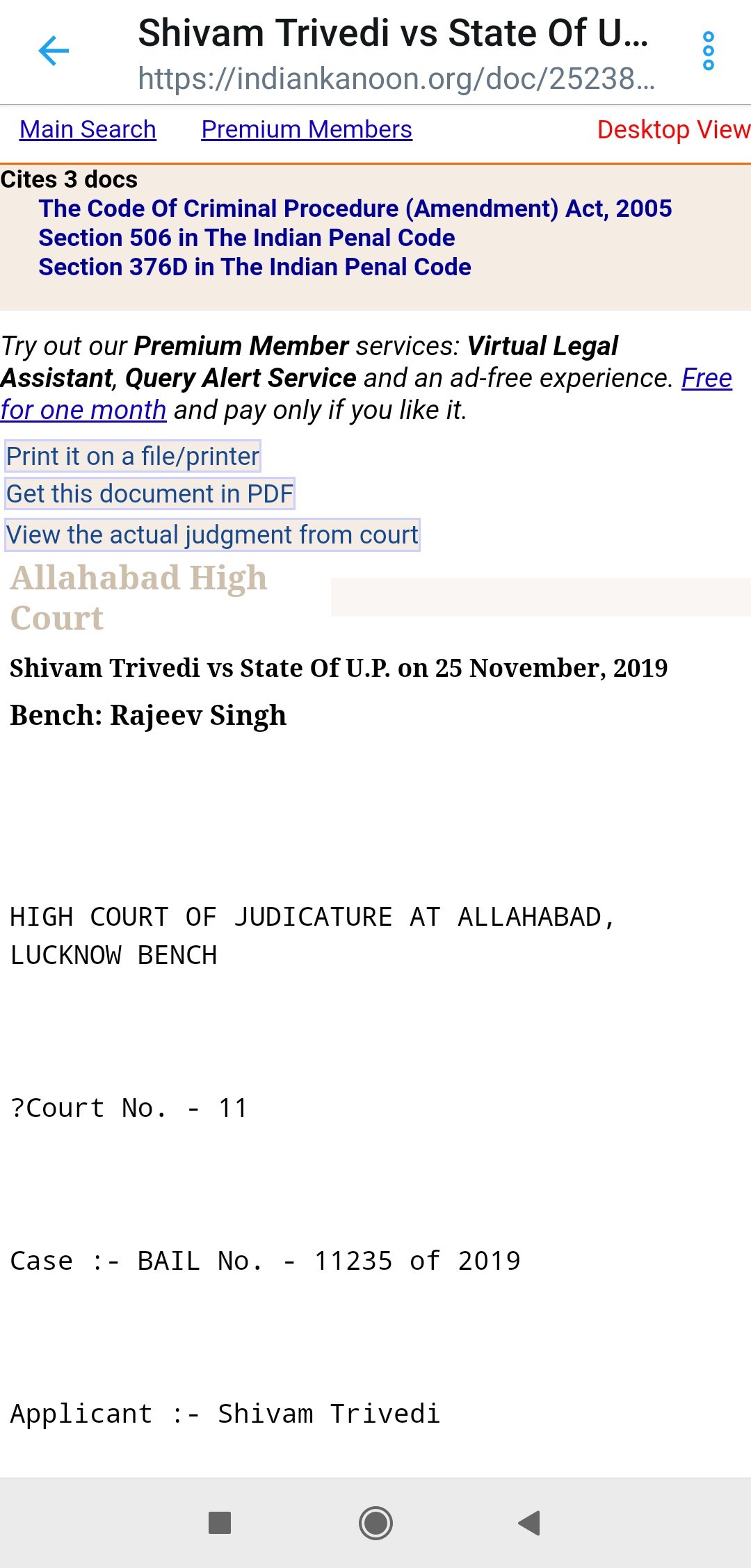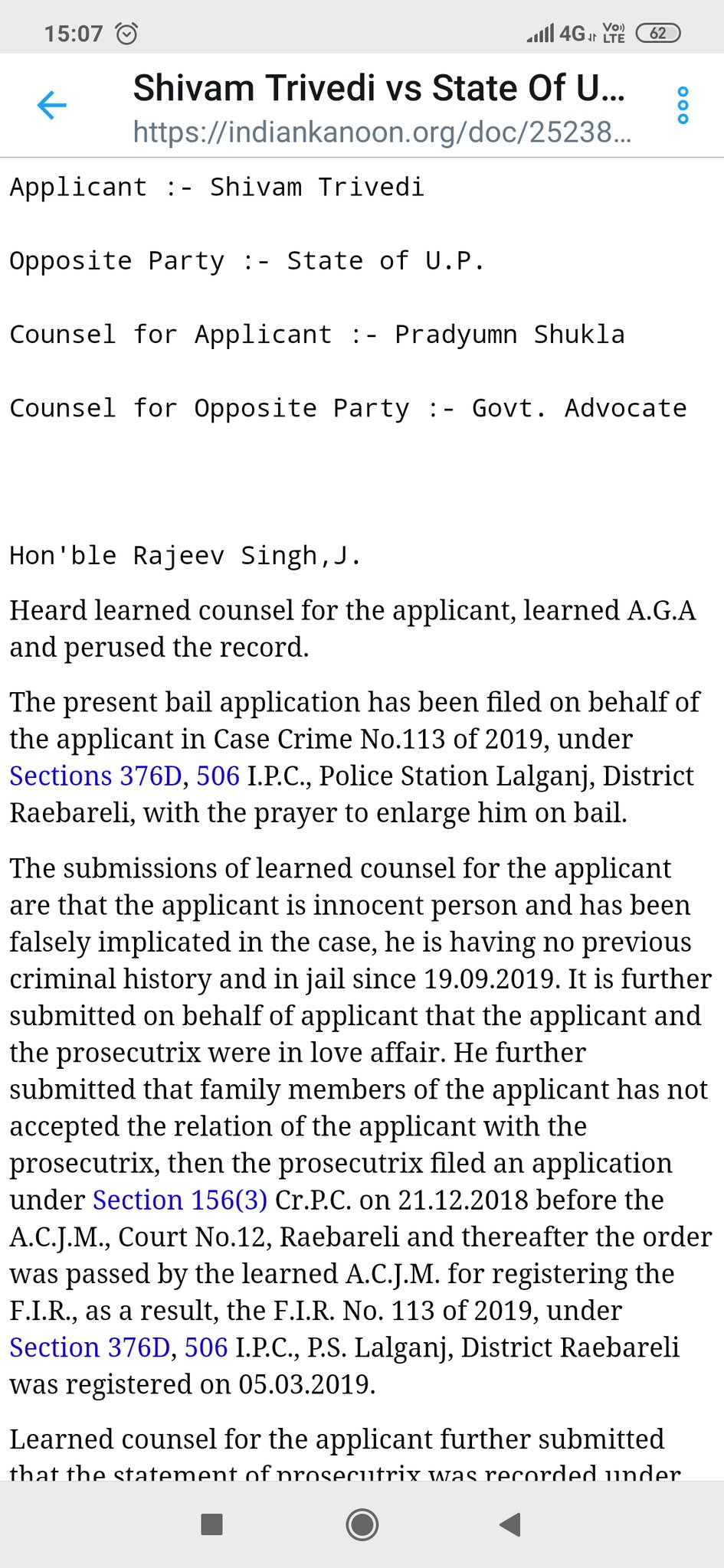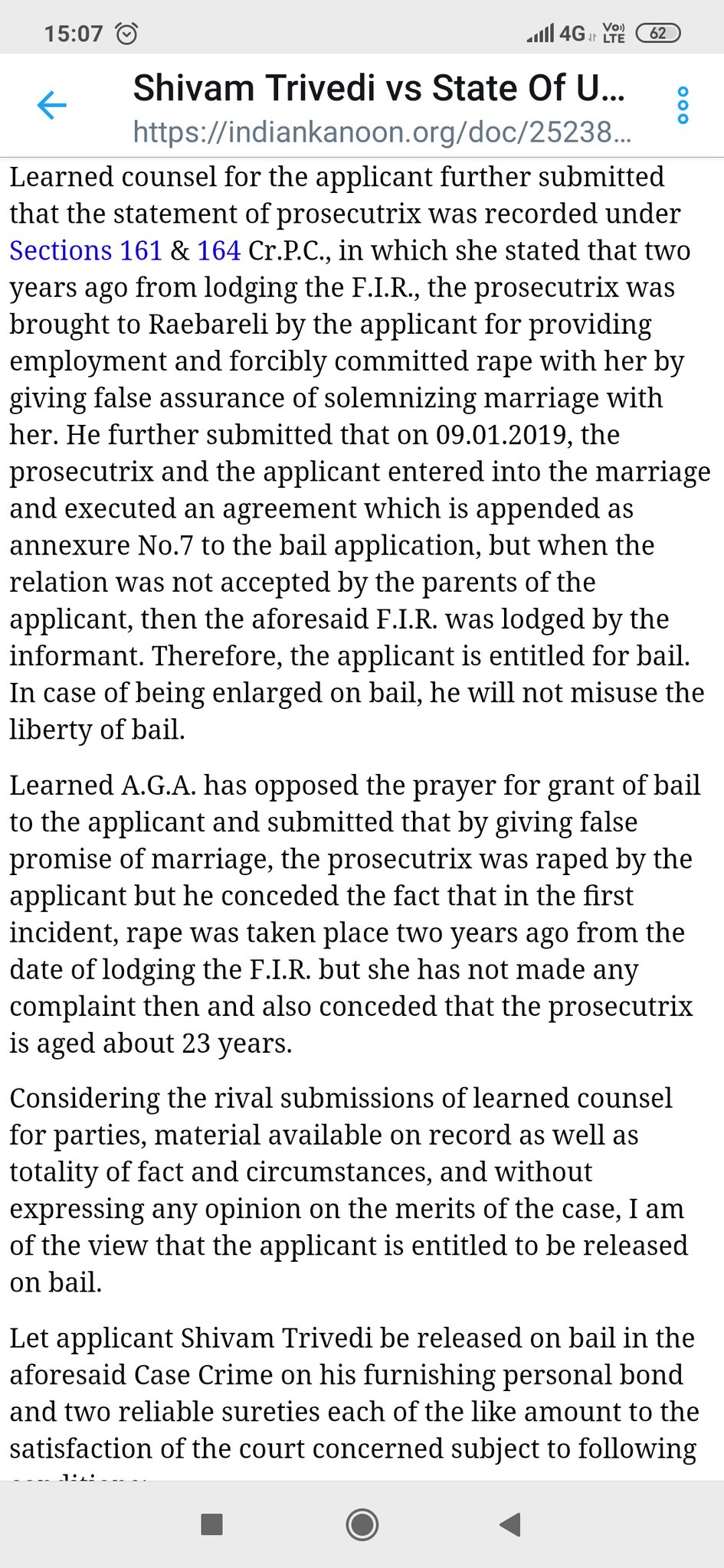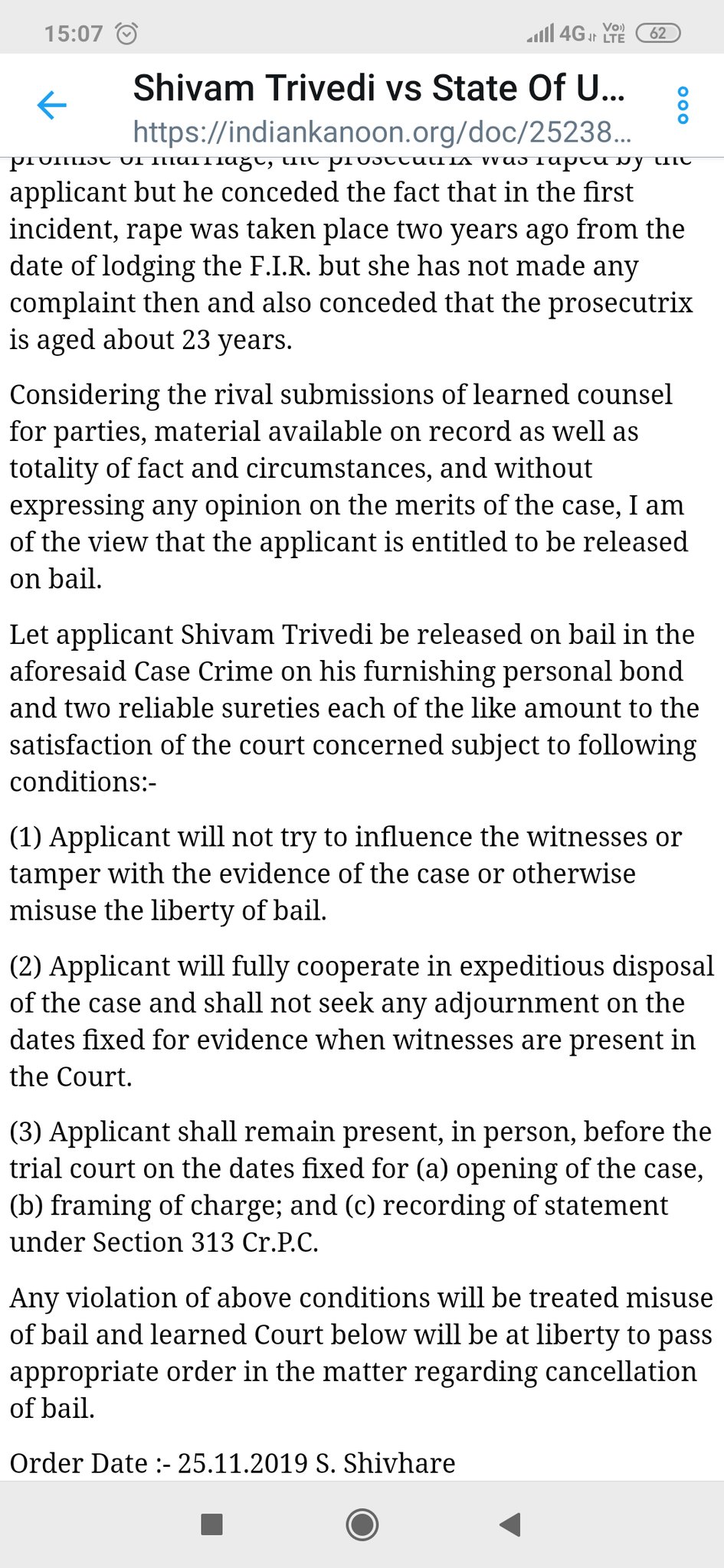 This bail order has been posted by independent journalist Deepika Bhardwaj and this opens up a new angle to the case.
However, once again at the cost of repetition, Men's Day Out is not taking a stand on either sides, but merely putting across documents which are vital in this case.
Before people bay for blood of accused in Unnao case, some facts : Here's bail order of Shivam Trivedi, alleged rapist in #unnaokibeti case. Rape case was filed when his parents said no to his & womans marriage#UnnaoHangBrahminRapists#YogiAdityanath#UnnaoTruth#IStandWithHer pic.twitter.com/bFn8CQThph

— Deepika Narayan Bhardwaj (@DeepikaBhardwaj) December 7, 2019
Bhardwaj has also tweeted the marriage affidavit signed between the couple.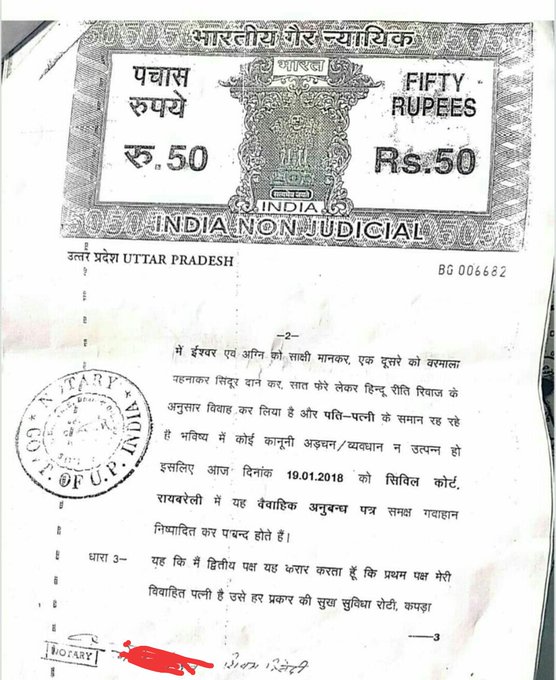 Shivam Trivedi & #unnaokibeti marriage affidavit. I hope some journalist worth her or his salt from main stream media show the actual truth of #UnnaoHorror https://t.co/8MnmctOQmk

— Deepika Narayan Bhardwaj (@DeepikaBhardwaj) December 8, 2019
Amit Deshpande, President – Vaastav Foundation, has also put out a series of tweets, questioning whether the "Rape" actually happened. He writes,
Woman has affair with guy, family agreed to their marriage
It was found she had affairs going on with multiple other men
Man refused to marry her
She threatened with filing rape case if he doesn't marry and filed it upon refusal
Police knew it's a false case
They didn't register FIR immediately. Upon pressure by woman they finally did
Woman demanded extortion from family of man
Man was arrested and judge upon going through the case granted bail
Woman came to relatives threatening them to get her married to the guy, else she'll immolate herself and blame them
Upon refusal, she came early morning at 5 AM, immolated & ran to Police station, named all of those associated with the man
Now she's dead, society is baying for blood of those men
Women from man's family are threatening with self immolation, if they do not get justice
Family says, if found guilty punish the men, who were sleeping at home & were arrested at dawn, but only after investigation
#UnnaoRape case
1) Woman has affair with guy, family agreed to their marriage
2) It was found she had affairs going on with multiple other men
3) Man refused to marry her
4) She threatened with filing rape case if he doesn't marry and filed it upon refusal
5) Police knew it's ++

— Amit Deshpande (@antidespondent) December 8, 2019
WATCH INTERVIEW OF BOY'S FAMILY DONE BY GAON CONNECTION
According to the family of the boy, the girl threatened them with Rape case when they refused for marriage. They have also alleged demand of money to end the matter.
Now, check out admission from NDTV reporter Alok Pandey, that Rape on Pretext of Marriage was always present in the FIR from Day 1. However, did NDTV or any other mainstream media flash this aspect of the news? No. They only projected as if a gang rape had taken place and perpetrators will given bail.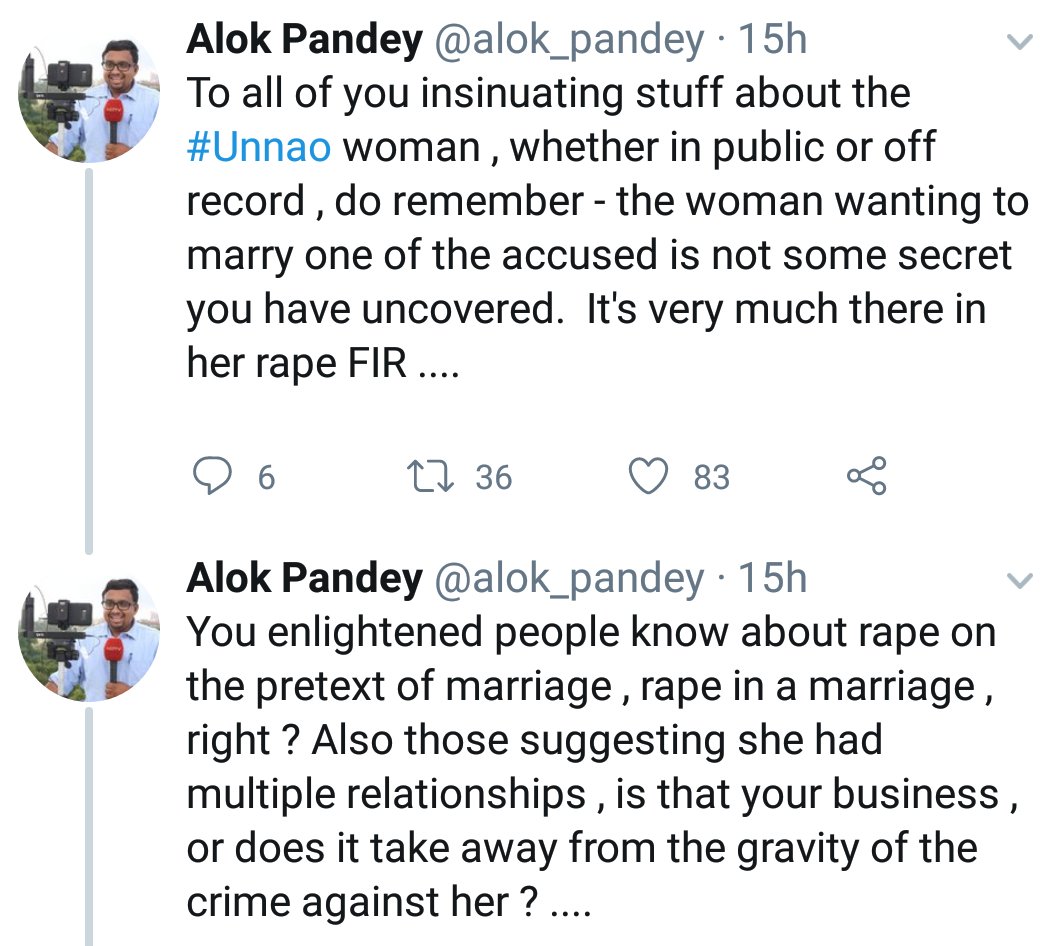 Dear @alok_pandey,

?️Can You Pl Show Us If @ndtv Explicitly Ran Headline As "Rape On Pretext Of Marriage" Survivor?

?️Primetime Media Runs Misleading Headlines For TRPs & Then U Want To Shame Others.

In fact @Uppolice Must Book All Channels Misleading #UnnaoRape Case pic.twitter.com/IEynEFZhVO

— Men's Day Out (@MensDayOutIndia) December 9, 2019
ALSO READ –
http://voiceformenindia.com/in-the-law/false-rape-cases-india/
Join our Facebook Group or follow us on social media by clicking on the icons below
Donate to Voice For Men India
Blogging about Equal Rights for Men or writing about Gender Biased Laws is often looked upon as controversial, as many 'perceive' it Anti-Women. Due to this grey area - where we demand Equality in the true sense for all genders - most brands distance themselves from advertising on a portal like ours.
We, therefore, look forward to your support as donors who understand our work and are willing to partner in this endeavour to spread this cause. Do support our work to counter one sided gender biased narratives in the media.
To make an instant donation, click on the "Donate Now" button above. For information regarding donation via Bank Transfer, click here.
Alternately, you can also donate to us via our UPI ID: [email protected]