As married Indian men, do you really get a chance to go out with your friends partying on a weekend? If you are one of those lucky souls, ensure your wife does not see this story! Else be ready to be domesticated for good…
48-year-old UK resident Jayne Tapper's idea to make her husband stay around her as much as possible surely sounds cute! Her husband Paul Tapper was fond of visiting a local pub for his daily dose of booze and friends. In order keep a check on this, his wife decided to build a pub……….right in their own backyard.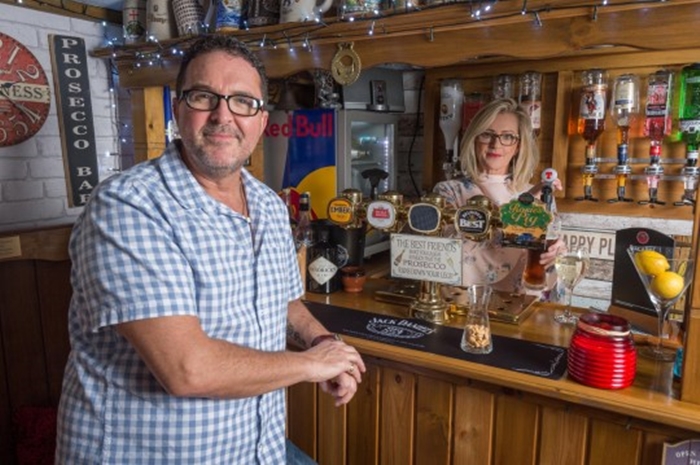 Jayne got the 'Doghouse Inn' built in five months which treats Paul and his friends with games, booze, and music daily. The couple spent around £4000 approximately (Rs 3.8 lakh) in building the cabin-style pub. Jayne quoted to Metro,
My husband Paul, 53, an engineer had always loved popping down to our local, and I could never seem to keep him at home. And so I got thinking – why not create my own pub, become my own lady and then I can really tell people – my husband's in the doghouse.
Adding further she said,
We'd had to get the garden levelled out anyway, which had been expensive, over £15,000, and it seemed like the perfect opportunity for me to play out what I'd always wanted.
Jayne shared how building her own pub at home has helped her husband stay home.
He won't want to go to the local anymore – we have three basset hounds and a mate was able to create us a sign for the front of the pub, with one of our dogs, Rufus on.
Later Jayne decided to turn it around into a mini pub and thus she worked on making it like more professionally. Something that started like a dog house ended up into a proper bar, which left people astounded.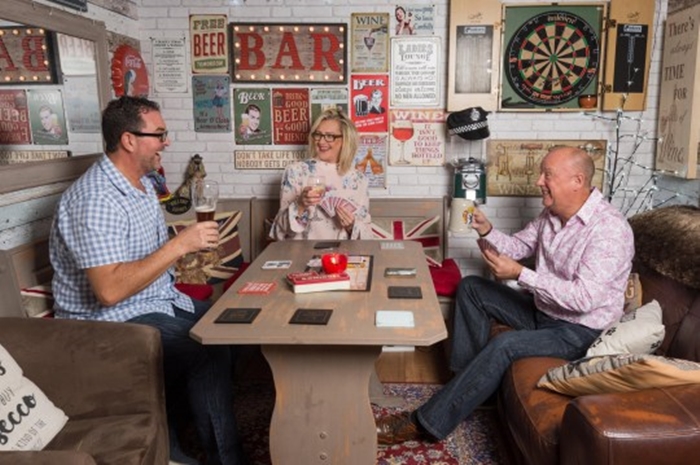 Though they have spent a lumpsum amount on the cabin pub, the couple believes they will soon be making profits from the same. They have also received some of the items like a fridge, fire heater, sofa, etc for the pub as a gift from friends.
Jayne said,
I'm always finding things for the little pub, and it's not just become a man cave as such for Paul – I love using it too and I'd quite happily spend most nights in there. It's great to chill in and it really does feel like I'm in my local!
All we can say is Paul Paul Dil Ke Pass………Tum Rehti Ho!
WATCH VIDEO
ALSO READ –
http://voiceformenindia.com/in-the-social/woman-fakes-illness-for-bigger-seat/
Follow www.mensdayout.com on Facebook, Twitter and Instagram
Join our Facebook Group or follow us on social media by clicking on the icons below
Donate to Voice For Men India
Blogging about Equal Rights for Men or writing about Gender Biased Laws is often looked upon as controversial, as many 'perceive' it Anti-Women. Due to this grey area - where we demand Equality in the true sense for all genders - most brands distance themselves from advertising on a portal like ours.
We, therefore, look forward to your support as donors who understand our work and are willing to partner in this endeavour to spread this cause. Do support our work to counter one sided gender biased narratives in the media.
To make an instant donation, click on the "Donate Now" button above. For information regarding donation via Bank Transfer, click here.
Alternately, you can also donate to us via our UPI ID: voiceformenindia@hdfcbank