Author and newspaper columnist Twinkle Khanna has launched "Tweak India", a digital media platform for the modern Indian woman.
The bilingual platform will offer women content to expand their minds and strengthen their backbone. Tweak promises to bear Khanna's signature wit, nonpartisan perspective and empathy and will highlight complex topics from sex education to feminine health while championing women to be financially independent and socially confident.
Speaking about her digital media company, Twinkle Khanna said:
I want Tweak to be a judgement-free place for women to ask questions, seek advice and engage in a meaningful debate on almost any subject. This is as much a space for seeing your glass as always half-full, while laughing at yourself because you really can't see without your glasses.

Twinkle Khanna – Tweak India
Feminism and women empowerment portals always work well globally and eventually most of them end up becoming brand endorsement partners for products and services. While real empowerment takes a back seat, most often the portals are reduced to Male bashing and gossip channels.
And while blogging is a free space like we do at Men's Day Out, here's a small refresher for Mrs Funny Bones aka Mrs Twinkle Khanna or the better half of Khiladi Kumar.
Khanna, who is often hailed for taking an ideological stand, different than that of her husband, somewhere forgets to practice shunning sexism right from her home. Twinkle Khanna has tweeted and blogged several times in the past mocking and almost giving sermons to other Men how to respect women and not indulge in body shaming.
Now here's what her husband Akshay Kumar said in 2012! Commenting on his Rowdy Rathore co-star, Sonakshi Sinha's bodytype, Akshay then said:
Sonakshi is a wonderful actress who has her own style of acting. She has an absolutely different figure – a typical, Indian figure and not size zero.

Khaate peete gharane ki lagti hain. I am a pure Punjabi. I like heroines who are hari bhari. Chusa hua aam na lagey.

(Women should be full endowed, not like sucked mangoes)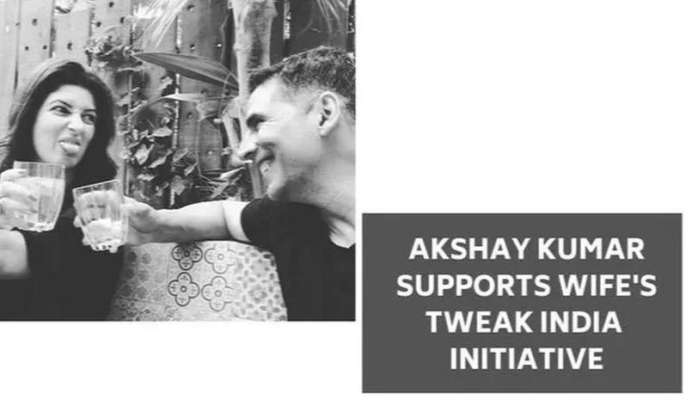 Mrs Funny Bones, also wrote an interesting article in TOI last December, titled Killing two birds with one big fat scone, which was her sarcastic take on women politicians being fat shammed. Several feminist portals hailed the blog calling it a Must Read.
Now, we certainly do not favour Body shaming, be it for men or for women, but we strongly object to anyone running and promoting fake feminism for the outer world and remaining completely blind and oblivious even if misogyny runs in the family. The most repeated explanation given by Khanna is how she and her Bollywood superstar husband are completely different from each other. Fair enough, but that does not spare him from your sarcasm or nasty jokes on Men.
One advice to all who think they are flag bearers of Women Empowerment – Charity Must Be 'Tweaked' From Home!
ALSO READ –
http://voiceformenindia.com/health-lifestyle/fardeen-khan-silences-body-shaming-critics/
http://voiceformenindia.com/in-the-law/showing-middle-finger-to-woman-can-land-you-in-jail/
Follow www.mensdayout.com on Facebook, Twitter and InstagramTeam
Join our Facebook Group or follow us on social media by clicking on the icons below
Donate to Voice For Men India
Blogging about Equal Rights for Men or writing about Gender Biased Laws is often looked upon as controversial, as many 'perceive' it Anti-Women. Due to this grey area - where we demand Equality in the true sense for all genders - most brands distance themselves from advertising on a portal like ours.
We, therefore, look forward to your support as donors who understand our work and are willing to partner in this endeavour to spread this cause. Do support our work to counter one sided gender biased narratives in the media.
To make an instant donation, click on the "Donate Now" button above. For information regarding donation via Bank Transfer, click here.
Alternately, you can also donate to us via our UPI ID: [email protected]