Amid a raging debate in the Rajya Sabha on Tuesday, India's parliament has approved a bill outlawing the centuries-old right of a Muslim man to instantly divorce his wife, drawing accusations of government interference in a community matter.
The Muslim Women (Protection of Rights on Marriage) Bill, 2019, popularly known as the Triple Talaq Bill was passed yesterday. The Bill makes all declaration of instant divorce, including in written or electronic form, to be void (not enforceable by law) and illegal.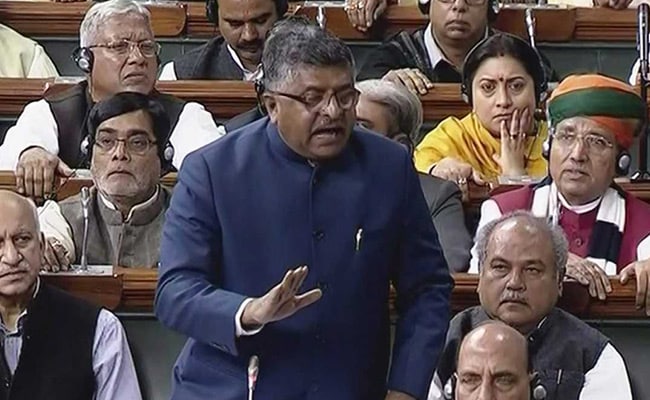 Key Features Of The Bill
Offence and Penalty:
The Bill makes declaration of talaq a cognisable offence, attracting up to three years' imprisonment with a fine. (A cognizable offence is one for which a police officer may arrest an accused person without warrant)
The offence will be cognizable only if information relating to the offence is given by: (i) the married woman (against whom talaq has been declared), or (ii) any person related to her by blood or marriage
The Bill provides that the Magistrate may grant bail to the accused
The bail may be granted only after hearing the woman (against whom talaq has been pronounced), and if the Magistrate is satisfied that there are reasonable grounds for granting bail
The offence may be compounded by the Magistrate upon the request of the woman (against whom talaq has been declared)
Compounding refers to the procedure where the two sides agree to stop legal proceedings, and settle the dispute
The terms and conditions of the compounding of the offence will be determined by the Magistrate.
Allowance/Maintenance:
A Muslim woman against whom talaq has been declared, is entitled to seek subsistence allowance from her husband for herself and for her dependent children
The amount of the allowance will be determined by the Magistrate
Custody Of Minor Children:
A Muslim woman against whom such talaq has been declared, is entitled to seek custody of her minor children
The manner of custody will be determined by the Magistrate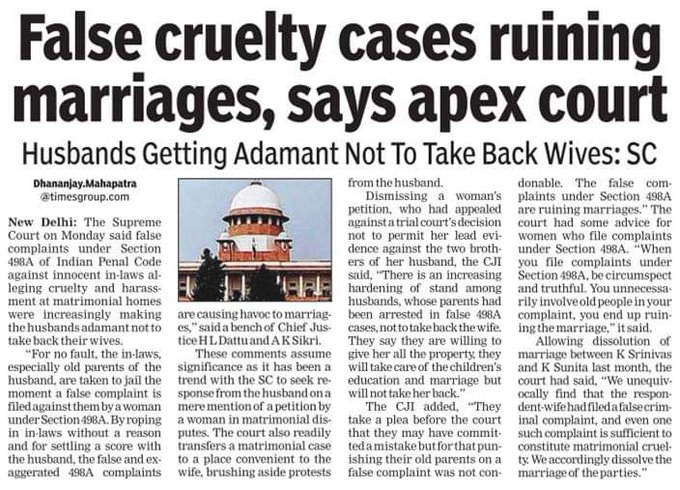 While overall the common sentiments of society have been uniform in welcoming this regressive practice of instantly divorcing a wife, several Men's Rights Activists have particularly pointed out the consequences of criminalising the same. Here's what they have to say:
Swarup Sarkar, well-known activist and a TEDX speaker attacks the bill and says the moment men will think about divorce from abusive wives, they will land up in jail.
#TripleTalaqBill is nothing But #Misandry at Best in parliament. By hook or crook send men in Jail,many Hindu cherish today, keep this tweet save, next is yr turn ?The moment Men will think divorce from abusive wife, u will land in jail, tats the logic put by @rsprasad

— SwarupSarkar (@swarup1972) July 30, 2019
Amit Lakhani, President, Men's Welfare Trust, points out how even a petty dispute between the couple will be filed as an FIR under the new act. He goes on to say that husband will not be granted bail unless demands and vengeance of the wife are not satisfied.
#TripleTalaq bill is now through in RS, soon it will be a law where in any petty dispute between a muslim couple will be filed as an FIR under the act & the husband will be behind bar, bail not granted unless demands & vengeance of the wife is not satisfied.@republic @TimesNow

— Amit Lakhani (@TheAmitLakhani) July 30, 2019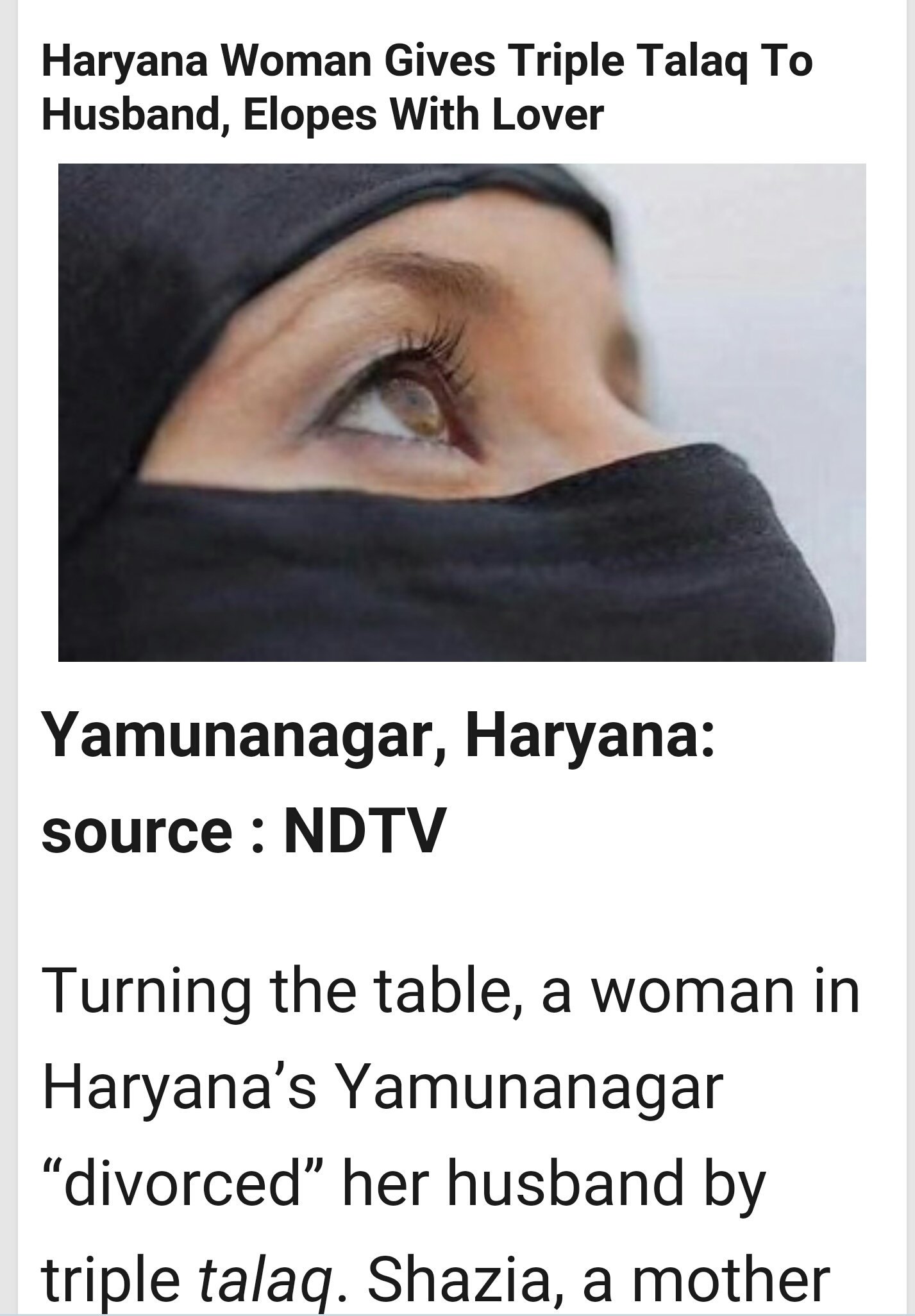 Deepika Bhardwaj, Documentary filmmaker, says how today almost every contested matrimonial dispute is effectively a case of Section 498A. She alleges that main motive behind this section is to send husband to jail and then push him for a compromise to take maximum benefit out of a broken marriage. She does not shy away from alleging a big nexus between the police, lawyers and NGOs to be party to this legal extortion.
Today, almost every contested matrimonial dispute has #498A. Main idea is to send husband to jail & bring him to compromise table to take maximum benefit out of a breaking marriage. Slowly and steadily a nexus of police, lawyers, NGOs will form around #TripleTalaq just like #498A

— Deepika Bhardwaj (@DeepikaBhardwaj) July 30, 2019
Amit Deshpande, President, Vaastav Foundation, just poses a simple question on this matter asking what will happen if a woman is lying about the allegation that her husband uttered Triple Talaq?
What happens if a woman lies that her husband uttered #TripleTalaaq?

— MRA Amit Deshpande (@antidespondent) July 30, 2019
Rudolph D'souza, Founder, MyNation Hope Foundation quoted,
This law is politically motivated so that the muslim couple are busy in fighting amongst themselves, and for sure it will be misused just like Section 498A IPC and Domestic violence Act. Women can claim otherwise even if the man did not pronounce Triple Talaq. How will Men will defend themselves? How will it benefit Muslim Women? What is the Government trying to prove with this law?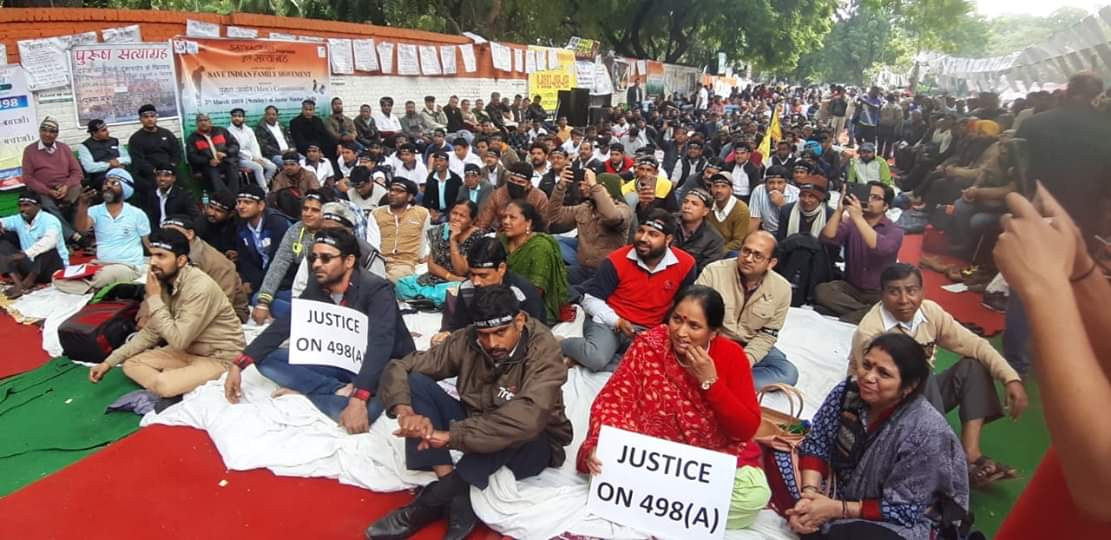 Key Takeaways
Criminalising a matrimonial dispute is itself regressive
The act could have merely stated the legal approach to get justice for a woman, when it comes to divorce, maintenance, alimony and child custody
Section 498A already arms any Indian woman to file police complaint against her husband and family in case of alleged cruelty
Many argue that you cannot stop making laws because they are misused
This is true, however, here the only evidence in sending the man and his family behind bars will be the word of the wife
Inclusion of wife's family members as the official complainant can also be one sided, as many could take advantage to settle scores
Also, where does this leave a husband who is genuinely suffering in a bad marriage
If he chooses to file for divorce through the legal way, there is an absolute chance of a rebound by disgruntled wife with this new law
Shouldn't there be a provision in all matrimonial laws for a strict punishment against either spouse who files a false complaint?
In totality, every matrimonial law should be Gender Neutral and not biased towards just one spouse, in this case, the wife. Bad and abusive marriages for Men are also a reality, however, in most cases judiciary and society always looks only at women as a victim.
Above views are completely apolitical and purely in the interest of Men's Rights.
ALSO READ –
http://voiceformenindia.com/in-the-law/wife-intentionally-filed-false-criminal-complaint/
Join our Facebook Group or follow us on social media by clicking on the icons below
Donate to Voice For Men India
Blogging about Equal Rights for Men or writing about Gender Biased Laws is often looked upon as controversial, as many 'perceive' it Anti-Women. Due to this grey area - where we demand Equality in the true sense for all genders - most brands distance themselves from advertising on a portal like ours.
We, therefore, look forward to your support as donors who understand our work and are willing to partner in this endeavour to spread this cause. Do support our work to counter one sided gender biased narratives in the media.
To make an instant donation, click on the "Donate Now" button above. For information regarding donation via Bank Transfer, click here.
Alternately, you can also donate to us via our UPI ID: voiceformenindia@hdfcbank