If a married woman goes through domestic violence or harassment in her marital home, she has been armed with several laws in India to move court for justice. In most cases, she is rewarded monthly maintenance without any primary investigation. However, what recourse does a husband have if his wife subjects him with cruelty, to the extent of planning and executing a robbery in her own marital home! Read Below.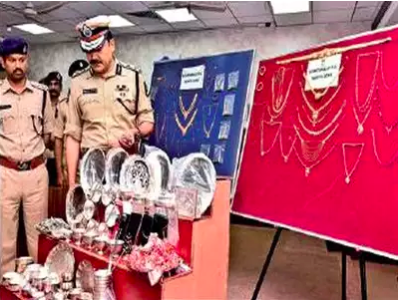 Case:
On October 21, T Sarala, 48, a private financier from Mallikarjuna Nagar from Secunderabad formally lodged a complaint with Bowenpally police, mentioning that unknown people had entered his home and stolen jewellery and cash
Sarala specified that he found 2Kg Gold, 6.5Kg Silver and Rs 18 Lakhs cash missing from his house, however, the cash was later found intact
The police suspected insider's job since the offenders directly went for the suitcases and bags, without messing much within the home
When the police verified the CCTV details, they spotted Sarala's 21-year-old daughter-in-law, Supriya, and her brother Satwik, in one of the footages
Incidentally, Supriya had left for her parent's home three days before the crime
On analysing their cell phone data, it was confirmed that the daughter-in-law and her brother were very much present on the crime scene at that time
When the cops interrogated the sister and brother, Supriya confessed to have stolen the ornaments not just with the help of her brother, but with the full backing and support of her parents as well
Shockingly, the reason given behind doing so, was because Supriya 'had a grudge against her husband and her in-laws and she wanted to hurt them'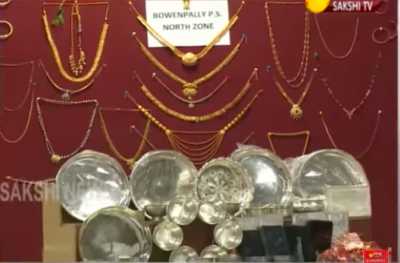 Based on the woman's confession to Anjani Kumar, Hyderabad Commissioner, her brother and parents K Srinivas and K Sunitha, were all arrested from their house in Kamareddy
Entire stolen jewellery was recovered from the daughter-in-law's home, including a duplicate key of her marital residence that was traced from her brother's car
Police Commissioner, Anjani Kumar said,
Relationship between the couple was not normal and this gave us further clue about the suspects. With systematic investigation by women officers, we were able to traced the main culprits.
WATCH VIDEO (Partly In Telegu Language)
Numerous such cases come to light, where daughter-in-laws supported and backed by their families resort to such illegal means of settling score with the husband and his family.
If this incident would not have been reported to the police, the woman might have also filed false domestic violence cases against her husband, which would have been impossible to defend in court, since one can barely prove what happens within four corners of the house, and the word of the woman ultimately prevails.
ALSO READ –
http://voiceformenindia.com/in-the-news/war-veteran-robbed-by-women-in-delhi/
Follow www.mensdayout.com on Facebook Twitter and Instagram
Join our Facebook Group or follow us on social media by clicking on the icons below
Donate to Voice For Men India
Blogging about Equal Rights for Men or writing about Gender Biased Laws is often looked upon as controversial, as many 'perceive' it Anti-Women. Due to this grey area - where we demand Equality in the true sense for all genders - most brands distance themselves from advertising on a portal like ours.
We, therefore, look forward to your support as donors who understand our work and are willing to partner in this endeavour to spread this cause. Do support our work to counter one sided gender biased narratives in the media.
To make an instant donation, click on the "Donate Now" button above. For information regarding donation via Bank Transfer, click here.
Alternately, you can also donate to us via our UPI ID: voiceformenindia@hdfcbank