A Division Bench of the Delhi High Court comprising Justices Rajiv Shakdher andC Hari Shankar delivered split verdict in criminalisation of Marital Rape case on May 11.
Justice Shakdher was in favour of striking down the provision as unconstitutional, while Justice Shankar upheld the same.
The entire 393-page Delhi High Court Split Verdict can be read on the link below, posted by J Sai Deepak, advocate representing Men Welfare Trust (intervenors in the Marital Rape PIL).
1. Here is the link to the 393-page split verdict delivered yesterday on the Marital Rape Exception in the Indian Penal Code by a Special Bench comprising Hon'ble Justices Shri Rajiv Shakdher and Shri Hari Shankar. https://t.co/sd9bqz55u9.

— Sai Deepak J (@jsaideepak) May 12, 2022
This morning, an appeal has been filed before the Supreme Court against this split verdict of the Delhi High Court [Khushboo Saifi vs Union of India].
The appeal filed has been filed by one of the petitioners before the High Court, Khushboo Saifi, through her counsel Colin Gonsalves, as reported by Bar and Bench. The appellant has supported the verdict of Justice Rajiv Shakdher, while challenged the opinion of Justice C Hari Shankar.
It will be interesting to note whether Supreme Court will pass a verdict in this matter, since the very same apex court had refused to hear a petition in November 2018, which sought to strike down Section 375 of the Indian Penal Code on the ground that it is not gender neutral.
The then Chief Justice of India Ranjan Gogoi stated how Supreme Court was not the appropriate forum to deal with the case, and suggested that Parliament could amend the law if required. While hearing the petition filed by the Criminal Justice Society of India, Gogoi then said,
We are not inclined to interfere at this stage. Parliament has to take a call in the issue.
WATCH:
https://twitter.com/MensDayOutIndia/status/1526533780541952002?s=20&t=o7m3Bys2AZVvmrMKIQd4Lw
Section 375 of the Indian Penal Code, which defines a rape, says that it is a man who commits the act of rape and that it is a woman who is a victim.
The below plea was filed in 2018 challenging this section, as the petitioner argued that Section 375 did not recognise that men and women could be both victims as well as perpetrators of rape.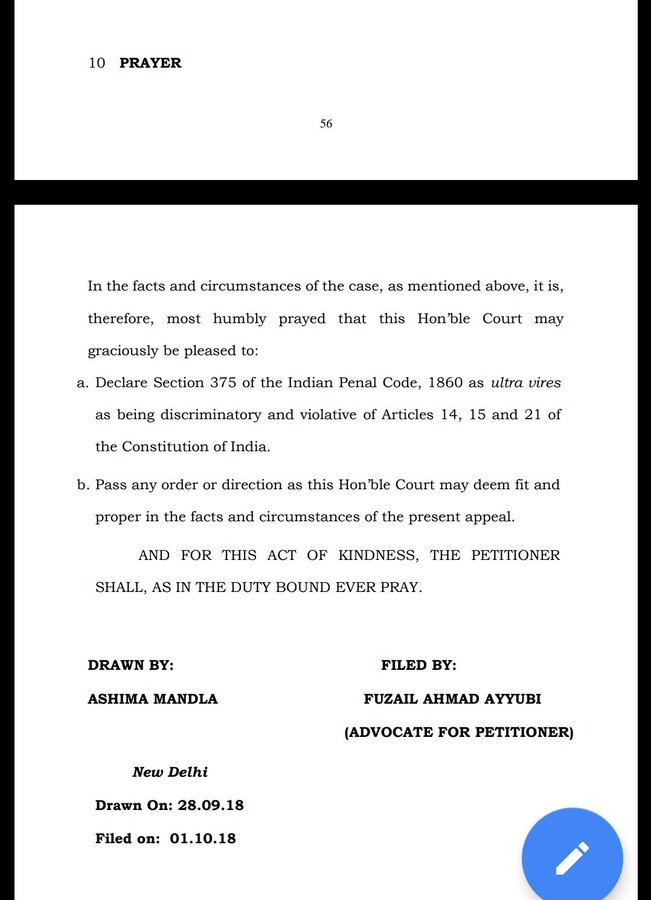 MUST WATCH – 
Marital Rape Verdict | Advocate J Sai Deepak | Other Side
Late Ram Jethmalani On Marital Rape Law
Marital Rape Debate | Prejudiced NDTV Anchor Barkha Dutt Shuts Down Other Side
ALSO READ –
"Rape Laws Should Be Gender Neutral": Delhi High Court Judge Who Supported Criminalisation Of Marital Rape
Marital Rape PIL | Read Written Submissions By Advocate Raj Kapoor For Hridey NGO, & Men Welfare Trust
After #MeToo Allegation Against CJI Ranjan Gogoi, Several Supreme Court Judges Asked For Male Staff
Raped By Our Wives Without Consent; Why Is Marital Rape Debate Not Gender Neutral?
Join our Facebook Group or follow us on social media by clicking on the icons below
Donate to Voice For Men India
Blogging about Equal Rights for Men or writing about Gender Biased Laws is often looked upon as controversial, as many 'perceive' it Anti-Women. Due to this grey area - where we demand Equality in the true sense for all genders - most brands distance themselves from advertising on a portal like ours.
We, therefore, look forward to your support as donors who understand our work and are willing to partner in this endeavour to spread this cause. Do support our work to counter one sided gender biased narratives in the media.
To make an instant donation, click on the "Donate Now" button above. For information regarding donation via Bank Transfer, click here.
Alternately, you can also donate to us via our UPI ID: voiceformenindia@hdfcbank