Political analyst Shehzad Poonawalla is seen every night on Times Now prime time shows, questioning the probe in Sushant Singh Rajput's death case.
On September 12, Poonawala on national TV, read out several public tweets posted by his fellow co-panelist Ria D'souza who tweets @RiaRevealed. Shehzad read out certain tweets by Ria where she claimed to be aware of several Bollywood insiders doing drugs and that she was in the know-how of many such rave parties.
Poonawalla also read out some tweets by Ria, which he alleged to be nothing less than a character assassination of the deceased bollywood actor, Sushant Singh.
Watch Video –
Watch how @Shehzad_Ind leaves @RiaRevealed nowhere to hide 🙂 pic.twitter.com/yOxFqL873J

— Abhijit Majumder (@abhijitmajumder) September 12, 2020
After the show, Shehzad wrote that he had taken all screen shots before the lady would delete the same. To which, Ria called him a Bhagoda (slang – someone who has a habit of running away).
Ria also warned Poonawalla that Times Now platform was not CBI or NCB or Mumbai Police to question her. She said she was only answerable to them..
The woman then made a personal attack on Poonawala and called him a 'Thothla' (someone who stammers.
Shehzad later once again tweeted marking Professional Congress, INC and Media Head for Congress Randeep Singh Surjewala, if they supported someone within their organisation who was 'allegedly' covering up a drugs scandal. He wrote,
You ARE DUTY BOUND TO REPORT A CRIME TO POLICE AND IN THIS CASE NCB – DONT BE LEGALLY ILLITERATE- DOES @ProfCong support someone in their organisation covering up drugs scandal? @INCIndia @rssurjewala
To this Ria too replied by tagging Women and Child Minister Smriti Irani of accusing her to come to Poonawala's rescue. She said,
Duty is not towards u amd ur channel. I'll answer to the cops or cbi if questioned so buzz off. And dare msg me again.. And yes i will answer to CBI probably then ur @smritiirani n gang will have to jump in for rescue of those so called biggies..
Shehzad was questioning the co-panelist, how she was confidently aware of such drug parties, to which she once again used derogatory language and said,
Who the hell are u to question me.. Get lost.. I'll answer to the cops.. N ncb not sadak chap tothla stooges like u ..
Ria also roped in Smriti Irani to defend her tweets on drugs and wrote,
Weird i wonder why hasn't @smritiirani

who has attended many parties of her mentor never gone to the cops till today.??? Smriti if ur a responsible citizen u shld speak up about the drug angle..
Ria keeps making open confessions — in a tone — where she is justifying how taking drugs has been normal. While defaming Sushant who is now dead and cannot defend himself, she quotes:
Oye tothla stay in ur limits.. Stop tagging me to get attention.. I dont think @narcoticsbureau has vella time like u.. They are doing their job.. They already have the names which i know too… N even NCB knows Sushant has been taking drugs from his tv days. So shut up..
Later when Poonawalla uploaded a video putting across facts which were already in public domain, Ria marked his tweets to Mumbai Police and NCW India, alleging harassment.
Why #NCBSummonRia – exposing live now – pls RT & share https://t.co/vAU7TcqfIV

— Shehzad Jai Hind (@Shehzad_Ind) September 12, 2020
Ria wrote,
Dear @CPMumbaiPolice n @MumbaiPolice the man @Shehzad_Ind has been harassing me since a while now. Its a mental torture. I need protection from such a man n his followers .. Dear @NCWIndia a women is been constantly harassed on social media since a while Now. Kindly speak up.
Here are some of the tweets which Ria D'souza had posted and which Poonawalla read out: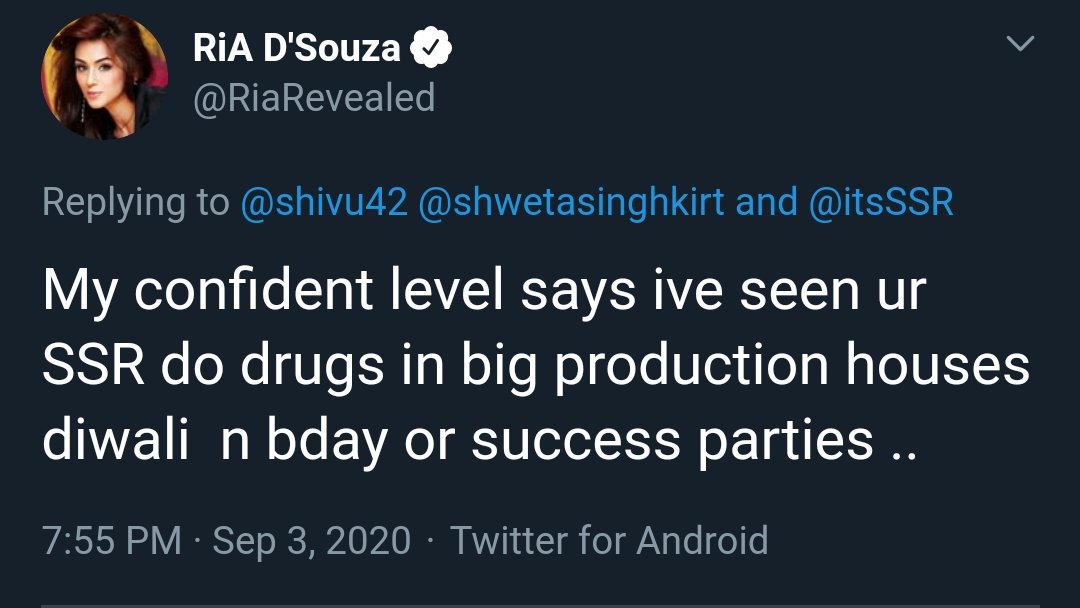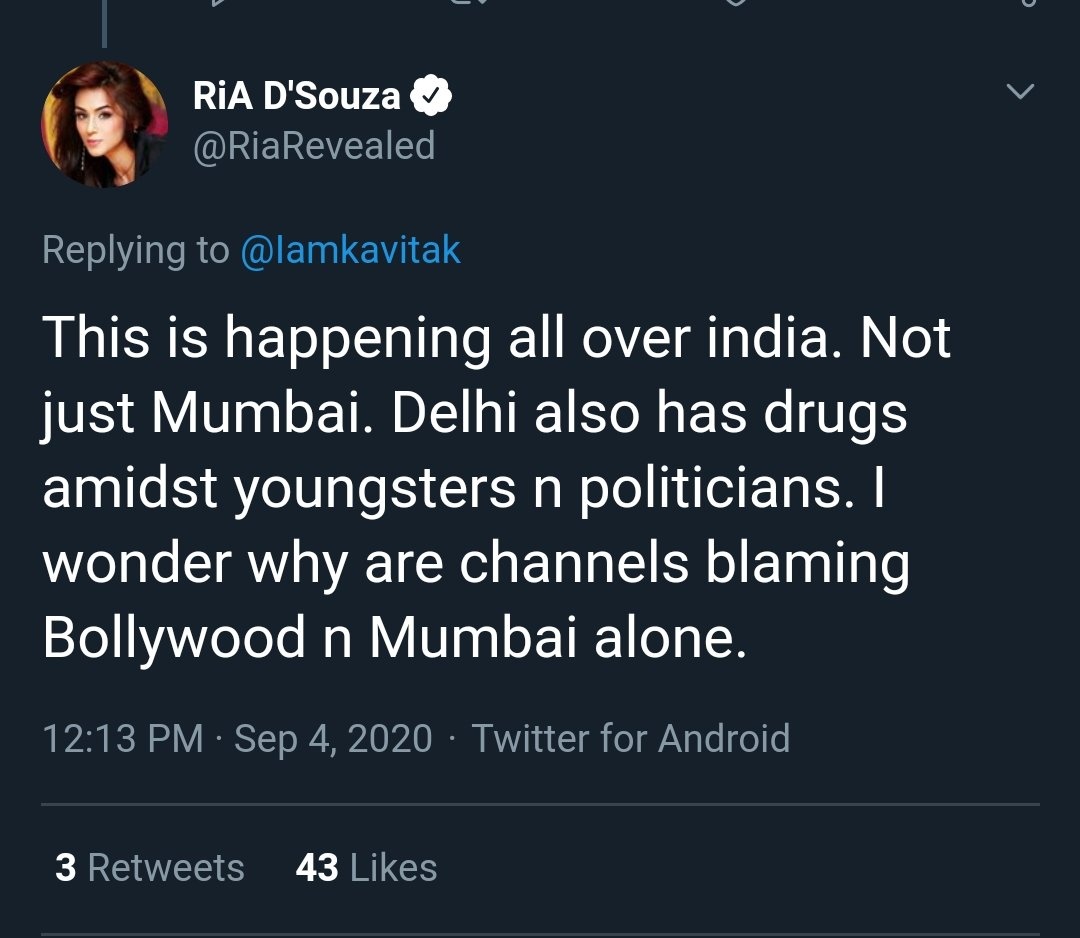 Now, there is no denying that the matter between the two is completely political, however, here are some nasty tweets put out by Ria's trolls against Shehzad as well. Which commission can he mark the same alleging harassment and abuse on Men?
Social Media allows all to express themselves freely. However, women cannot misuse the platform by posting derogatory remarks against men, and then cry foul when they are attacked with the same. Equality and respect must be mutually equal for all genders and not only women exclusively!
Some abusive comments on Poonawalla by Ria's trolls:
Pichwaade me dam ho, to #NCBSummonKangana Chalao. Original Evidence #NCBSummonRia is a cover up to save @KanganaTeam ?

Joker #Shehzad_Choonawala pic.twitter.com/GImy4zTg0z

— Asli Bharat (@BharatAsli) September 12, 2020
Why engage with such low life bhakt. Whenever he runs out of arguments, he calls his Palika market father Taginder Bagga and his troll gang. Ignore or block.
Good that you made a complaint to @MumbaiPolice. I am sure they will help. Stay strong sister @RiaRevealed ❤🤗

— Tisha Mishra🇮🇳 (@TishaMishra_) September 12, 2020
Chup #ModiCho

— Asli Bharat (@BharatAsli) September 12, 2020
@Shehzad_Ind Are you a real muslim ?

Iam a Hindu but this i knw about Islam. pic.twitter.com/ujKjRGGfkI

— Mission2024 (@Rebel4516) September 12, 2020
Tothla hahahahah🤣😂
got jagged 🤣😂
Perfect word used @RiaRevealed
Describes him perfectly well👌🏻👌🏻 https://t.co/TnDXKNZTEs

— Dr. SYED ASAD ABBAS (@MCABBAS) September 11, 2020
Yar totale ko totala kabhi nahi bolna bura lagta hai…..#JusticeForRhea #RheaChakraborthy #RheaChakraborty

— Smash Patriarchy (@Rheaclovers) September 12, 2020
Shutting up "Tothla" is my Baaye Haath Ka Khel 🤣😂🤘🏻 https://t.co/TnDXKNZTEs pic.twitter.com/smc0ugJGBY

— Dr. SYED ASAD ABBAS (@MCABBAS) September 11, 2020
Since when has he become an Anchor ?As such his political career is over unless he joins BJP & gets parked in back benches 😊

— 🐠My Green Zone🐠 (@BrainnPower) September 12, 2020
Tothla need same kind of treatment.

— M Huraib Lone (@Huraib_Lone) September 12, 2020
😂😂😂😂 tothla Sahi word choose Kiya Aapne

— Zayed Malik (@ZayedMalik6) September 12, 2020
Rondu shehzad @RiaRevealed pic.twitter.com/z142jA1jpF

— Sushant (@Qafirana_) September 12, 2020
ALSO READ –
http://voiceformenindia.com/in-the-social/twitter-feminists-silent-sanjay-rauts-haramkhor-kangana/
We are now on Telegram. You can also join us on our Facebook Group
Join our Facebook Group or follow us on social media by clicking on the icons below
Donate to Voice For Men India
Blogging about Equal Rights for Men or writing about Gender Biased Laws is often looked upon as controversial, as many 'perceive' it Anti-Women. Due to this grey area - where we demand Equality in the true sense for all genders - most brands distance themselves from advertising on a portal like ours.
We, therefore, look forward to your support as donors who understand our work and are willing to partner in this endeavour to spread this cause. Do support our work to counter one sided gender biased narratives in the media.
To make an instant donation, click on the "Donate Now" button above. For information regarding donation via Bank Transfer, click here.
Alternately, you can also donate to us via our UPI ID: [email protected]