Remember this Sardar boy from Delhi? Sarvjeet Singh's name went viral across electronic, print and digital media in 2015, when a college girl Jasleen Kaur accused him of passing obscene remarks and threatening her.
What Happened in 2015?
Kaur had accused Singh of harassing her at a traffic signal at the intersection of Aggarwal Chowk in Tilak Nagar in the capital
Sarvjeet was publicly shamed of molesting and verbally abusing the former St. Stephen's student after she published a Facebook post in August 2015, which had gone viral across the country
She had alleged that Singh abused her when she objected to his attempt to jump the traffic signal
This also lead to Sarvjeet's arrest
He was booked under Sections 354A (punishment for sexual harassment) and 509 (word, gesture or act intended to insult the modesty of a woman) of Indian Penal Code (IPC)
Until last year (3 years since the case) Sarvjeet attended 13 hearings in the matter, while the complainant girl came to court for NONE
The Tis Hazari court has now acquitted Singh after four long years of media trial and loss of job as well as career
Metropolitan Magistrate Sonam Gupta after concluding the trial on Thursday observed, that prosecution failed to prove the case beyond reasonable doubts and acquitted the youth from all charges. The court observed:
In the present case, the complainant has made material improvements in her statements. The testimony of the complainant is not trustworthy and casts serious doubt on the case of the prosecution. Moreover, the place of incident was a public road and expected to be crowded at the time of the incident and no public witness was examined in the present case.
This non-examination of the eyewitnesses who could have supported the case of the prosecution casts serious doubt on the case of the prosecution in the present circumstances, when the version of the complainant is doubtful.
An elated Sarvjeet, took to Facebook to announce this happy news just before the onset of Diwali. He shared,
The Verdict is out. I am ACQUITTED! I wish to thank Waheguru ji for keeping His eye on me, and all of you for your tremendous support. My friends and well-wishers made it possible.


Most of all, my mother who stood by me like a pillar. Her faith in me was the major driving force that made me see each day with courage.
While all of us are happy that the man has been acquitted, let's now refresh our readers how irresponsible media tarnished his image beyond a point, calling him and his father names, which also led to Singh losing his job.
Arnab Goswami (when he was employed with Times Now) had reached a new low when he went on air to call Singh "Delhi Ka Darinda" (Pervert of Delhi).
In 2016, Times Now had been fined Rs 50, 000 by the News Broadcasting Standards Authority (NBSA) for not maintaining neutrality while airing the interview with Sarvajeet Singh, the main accused in Jasleen Kaur eve-teasing case. The body also asked the channel to air an apology on March 22 that year. The shameful video was later deleted from Times Now's youtube channel.
The channel was forced to put out the below apology.
This is how Times Now even tweeted against the senior citizen father of Sarvjeet.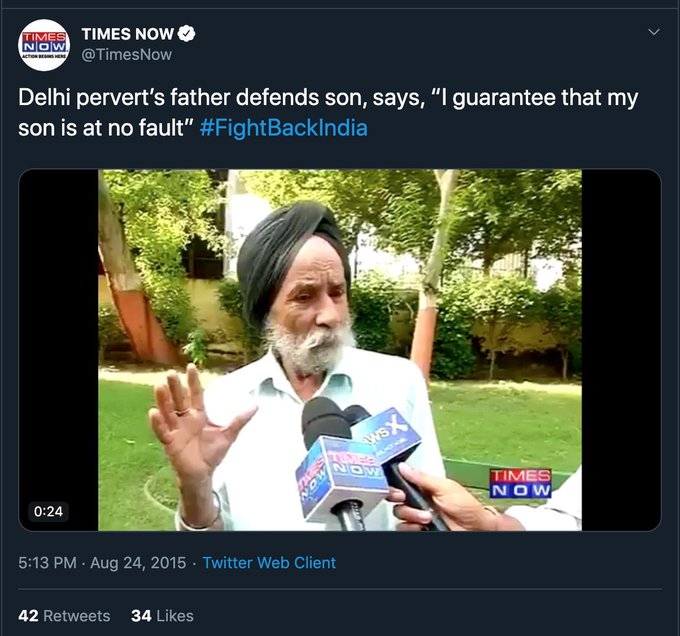 How Times Now reporter, Pooja Shali, became the judge and jury. Watch Video Below:
Hey @TimesNow, who is these reporter? She should be prosecuted defaming a citizen.#JasleenKaur pic.twitter.com/eXdWN7sFAm

— Amrut (@SriRam02893552) October 26, 2019
Name, Shame, Punish Them!
She fought the perverts. Others just watched on. Join @TimesNow's #FightBackIndia campaign pic.twitter.com/x6736VLrgB

— TIMES NOW (@TimesNow) August 24, 2015
However, the journalist who broke the story while being employed with Times Now, later apologised to Sarvjeet via a personal message. He confessed that he was ashamed and regretted his role in Singh's character assassination.
Just read the story on your case. I was very disturbed. I wanted to personally apologise to you for playing a part in your character assassination.
This was the headline from ABP News when Alka Lamba (Former AAP MLA) went all out to defend Kaur.
NDTV's Ravish Kumar too interviewed Jasleen Kaur in his one sided story
A tweet also cropped up on the internet, which suggests Jasleen worked as an intern with NDTV.
Jasleen has been seen in pictures with Delhi CM Arvind Kejriwal and also her pictures appear as a member of the AAP Party, which promoted her one sided story tarnishing the image of the innocent boy.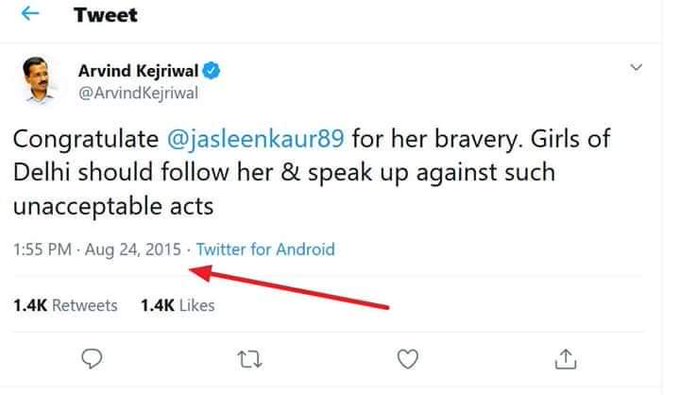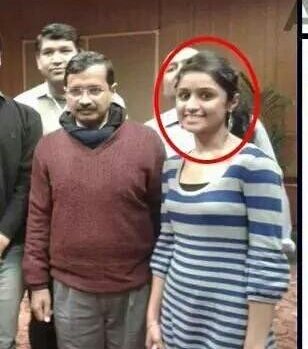 Now, this is exactly what Men's Rights Activists are fighting against. In order to satisfy the popular opinion of crimes against women in India, media, social media and society as a whole, go on an overdrive and declare the man as a vulture even before he is pronounced guilty before court. After all this harassment and loss of four precious years, all Sarvjeet gets is a mere acquittal. The girl who filed false case has apparently already migrated to Canada.
WATCH OUR DETAILED INTERVIEW WITH SARVJEET IN 2020
ALSO READ –
http://voiceformenindia.com/in-the-law/sarvjeet-singh-acquitted/
http://voiceformenindia.com/in-the-news/false-molestation-case-father-commits-suicide/
Follow www.mensdayout.com on Facebook Twitter and Instagram
Join our Facebook Group or follow us on social media by clicking on the icons below
Donate to Voice For Men India
Blogging about Equal Rights for Men or writing about Gender Biased Laws is often looked upon as controversial, as many 'perceive' it Anti-Women. Due to this grey area - where we demand Equality in the true sense for all genders - most brands distance themselves from advertising on a portal like ours.
We, therefore, look forward to your support as donors who understand our work and are willing to partner in this endeavour to spread this cause. Do support our work to counter one sided gender biased narratives in the media.
To make an instant donation, click on the "Donate Now" button above. For information regarding donation via Bank Transfer, click here.
Alternately, you can also donate to us via our UPI ID: voiceformenindia@hdfcbank