Adultery has been decriminalised in India since 2018. However, the repercussions of the same are seen not just in urban, but also Tier II, III cities.
In a recent case reported from Rohtak in Haryana, a man caught his wife red-handed with her paramour in a hotel room. What unfolded later is a result of such women having zero regard for the institution of marriage.
READ ORDER | Solitary Act Of Adultery Or Isolated Lapse Of Wife Will Not Disentitle Her To Claim Maintenance: Punjab & Haryana High Court
Case:
On Monday, a man from Rohtak got information from an acquaintance, that his wife was at a hotel room near Maharshi Dayanand University (MDU) with her lover from their neighbourhood. The man immediately landed up at the hotel, created a ruckus, checked the register and learnt that his wife was in Room No. 102. When he caught the duo in a compromising position, there was huge uproar at the hotel, after which the police was called in. The wife had checked into the hotel on a fake identity. 
All three of them were brought to the police station for questioning.
READ ORDER | Occasional Adultery By Wife Cannot Be A Ground To Deny Maintenance To Wife: Delhi High Court
Wife's Statement
When the police interrogated the woman, she said that she had come to the hotel with her lover on her own free will. Subsequently, the police could not take any action against her. 
Wife Calls Her Family
After this incident, the woman informed her family members and asked them to come over at once. Since her parents refused to adhere to her instructions, the woman left with her lover in front of her husband and police officials. 
The woman did not return to her matrimonial home nor her maternal home. Soon, her brother-in-law called up her husband and threatened to kill him.
READ ORDER | Issue Of Adultery To Be Decided Later, Not During Grant Of Interim Maintenance To Wife: Delhi High Court
Police Statement
According to investigation officer Praveen, a case has been registered against all three – including wife, her lover and wife's brother-in-law – on the basis of a complaint filed by her husband. The case is being investigated. The matter will be clear only after investigation.
LEAVE YOUR COMMENTS BELOW:
#Rohtak: "I Have Come With Lover To Hotel On My Own Will"; Wife To Police After Husband Catches Her In Compromising Position

▪️Wife had checked into the hotel room with a fake identity#VoiceForMenhttps://t.co/tUSeY0EBTw

— Voice For Men India (@voiceformenind) February 15, 2023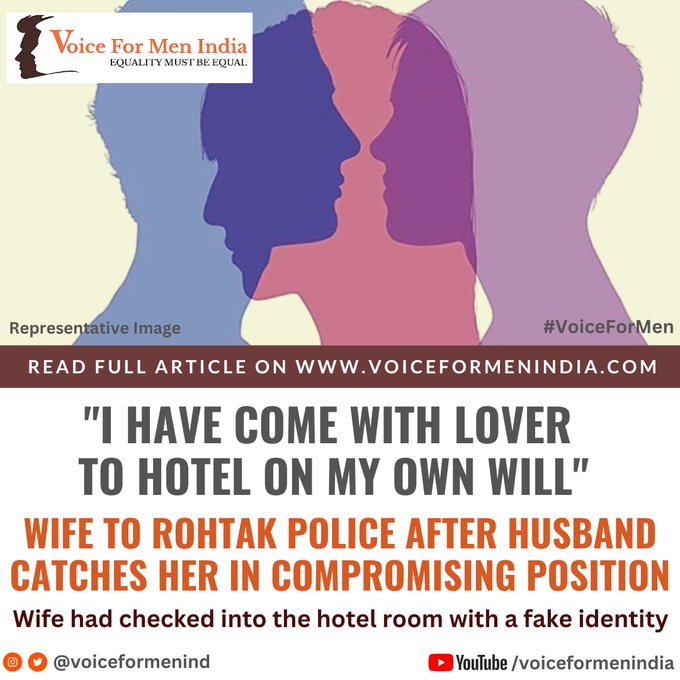 MUST WATCH:
Dubai Returned Man Murdered By Wife's Paramour & Contract Killer, Not Robbers | Punjab Police
Join our Facebook Group or follow us on social media by clicking on the icons below
Donate to Voice For Men India
Blogging about Equal Rights for Men or writing about Gender Biased Laws is often looked upon as controversial, as many 'perceive' it Anti-Women. Due to this grey area - where we demand Equality in the true sense for all genders - most brands distance themselves from advertising on a portal like ours.
We, therefore, look forward to your support as donors who understand our work and are willing to partner in this endeavour to spread this cause. Do support our work to counter one sided gender biased narratives in the media.
To make an instant donation, click on the "Donate Now" button above. For information regarding donation via Bank Transfer, click here.
Alternately, you can also donate to us via our UPI ID: voiceformenindia@hdfcbank