The Delhi High Court in its order dated September 26, 2023 quashed an FIR against man charged under various sections of IPC and POCSO Act. 
The High Court noted that the alleged victim and the accused had got into a mutual settlement and thus deploying any further state machinery on the case would not solve any purpose. 
Can POCSO Case Against Minor Boy Be Quashed If Both Children Were In Consensual Relationship | Karnataka High Court To Deliberate
Case:
A 16-year-old girl had accused her neighbour of sexual harassment by uttering some words and making gestures. 
In December 2018, an FIR was lodged against Mr R at Karawal Nagar police station in Delhi under Sections 354, 354(A), 354(D) and 506 IPC, along with Section 12 of the POCSO Act. 
In 2023, a petition was filed under Section 482 Cr.P.C. read with Article 227 of the Constitution of India seeking to quash the said FIR after the parties got into a mutual settlement. 
The petition read that a Memorandum of Settlement dated 05.07.2023 has been entered into and executed between the parties stating that the matter has been mutually settled between them.
Delhi High Court 
Justice Jyoti Singh took into consideration that the parties have amicably resolved their disputes and differences out of their own free will, volition and without any coercion, no useful purpose will be served in continuing the proceedings. The bench observed:
The possibility of conviction of the Petitioner is also remote and bleak and if the criminal proceedings continue, it would amount to an unnecessary burden on the State machinery and public exchequer as also would be an abuse of the process of Court. 
The High Court added,
No doubt, parties have willingly settled the matter but it is equally undisputed that State machinery has been utilised starting from registration of FIR to several hearings before the Trial Court and therefore, Petitioner must be put to some terms.

Petitioner submits that he is not in a financial position to pay cost and volunteers to render social service at Shree Hanuman Mandir at Connaught Place, Delhi for 40 days commencing from 27.09.2023 for two hours each day. Petitioner will remain in touch with the concerned IO, who will monitor from time to time and file a report after 40 days.
Accordingly, the FIR was quashed.
READ ORDER | Rape Charges Can Be Quashed On Account Of Settlement Between Parties: Karnataka High Court
Voice For Men India Take:
If the man is guilty, he should be sent to jail
If courts are allowing quashing of FIRs mutually, then innocent men could fall to unnecessary blackmail after cases are lodged
If the man is indeed at fault, mutual settlements could also be a result from pressure on the alleged victim to withdraw the FIR
DO WATCH:
Armaan Kohli Assault Case | Should Cases Be Quashed After Monetary Settlement? | Voice For Men India
LEAVE YOUR COMMENTS BELOW:
READ ORDER | Delhi High Court Quashes POCSO Case After "Parties Agree For Mutual Settlement"

▪️State Counsel also agreed to quashing of FIR
▪️Since petitioner couldn't afford costs, he will do social service at Hanuman Mandir for 2hrs for next 40 dayshttps://t.co/PFs3q7d7LA

— Voice For Men India (@voiceformenind) October 4, 2023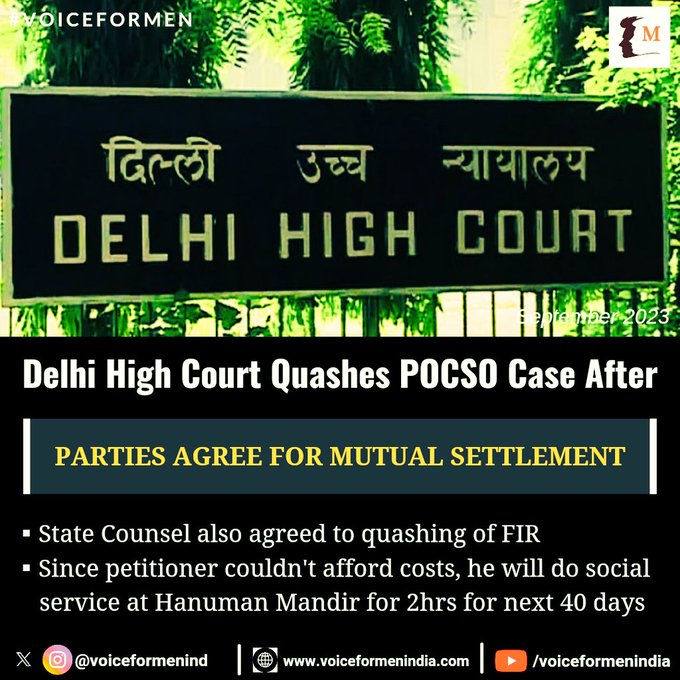 Join our Facebook Group or follow us on social media by clicking on the icons below
Donate to Voice For Men India
Blogging about Equal Rights for Men or writing about Gender Biased Laws is often looked upon as controversial, as many 'perceive' it Anti-Women. Due to this grey area - where we demand Equality in the true sense for all genders - most brands distance themselves from advertising on a portal like ours.
We, therefore, look forward to your support as donors who understand our work and are willing to partner in this endeavour to spread this cause. Do support our work to counter one sided gender biased narratives in the media.
To make an instant donation, click on the "Donate Now" button above. For information regarding donation via Bank Transfer, click here.
Alternately, you can also donate to us via our UPI ID: voiceformenindia@hdfcbank