An elderly couple in Bangalore ended their life alleging harassment from son and daughter-in-law.
The deceased have been identified as Krishnamurthy (70), a former Bharat Electronics Limited (BEL) employee, and his wife Swarna (68), both residents of Girinagar Main Road. They left behind a death note penned on the wall of their bedroom. The note read,
From Hell To Heaven. Our son and daughter-in-law are responsible for our deaths.
While Swarna ended her life by consuming poison, Krishnamurthy consumed poison and later hanged to the ceiling of his bedroom. The couple reportedly took the extreme step while their son and daughter-in-law had gone to work.
According to police, the incident took place on Friday night which came to light when the deceased son and daughter-in-law, both software engineers at a private firm in Whitefield, returned home at around 10:30 pm. Upon reaching home, they found the bedroom door of their parents shut and received no response from inside despite repeated calls and knocks on the door. When they peeped through the window they found Krishnamurthy hanging from the ceiling.
The police was then alerted who broke open the door and found a death note penned on the wall of the bedroom.
Police said Swarna had been suffering from spinal cord infection and was completely bedridden. A domestic help was hired to take care of her, but was subsequently terminated on grounds of poor service. Krishnamurthy used to look after her. The couple's daughter, who stays in Nagarbhavi, would come every evening and spend time with them before leaving around 7pm. Their son and daughter-in-law would come home after work late in the night.
According to the police, the senior citizens feared that they would be soon packed off to an orphanage and also had minor arguments with their son. However, despite these allegations, the daughter said that her brother took good care of the parents. No media has reported any arrest as of now.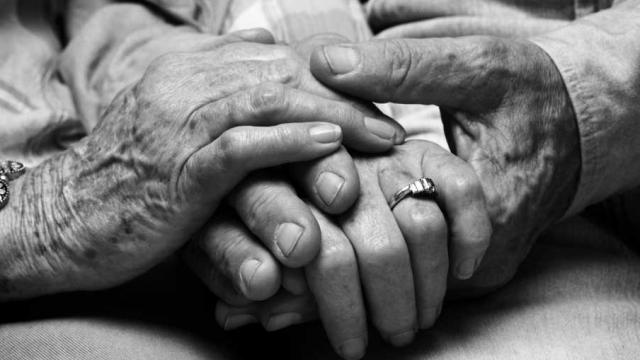 Several recent surveys conducted on the rights of the elderly noted that more than 71 per cent of the elderly population is being humiliated by their family members, relatives and others. Meanwhile, World Health Organisation report suggested around 1 in 6 people aged 60 years and older, experience some form of abuse in community settings.
ALSO READ –
http://voiceformenindia.com/in-the-law/ill-treatment-senior-citizen-mother/
Join our Facebook Group or follow us on social media by clicking on the icons below
Donate to Voice For Men India
Blogging about Equal Rights for Men or writing about Gender Biased Laws is often looked upon as controversial, as many 'perceive' it Anti-Women. Due to this grey area - where we demand Equality in the true sense for all genders - most brands distance themselves from advertising on a portal like ours.
We, therefore, look forward to your support as donors who understand our work and are willing to partner in this endeavour to spread this cause. Do support our work to counter one sided gender biased narratives in the media.
To make an instant donation, click on the "Donate Now" button above. For information regarding donation via Bank Transfer, click here.
Alternately, you can also donate to us via our UPI ID: voiceformenindia@hdfcbank