M for Money has taken over M for Marriage and sadly the meaning of a holy union has been vanishing from our Indian system.
Last week, India witnessed one of the most horrific train accidents, where nearly 300 people have reportedly died. Following the mishap, the Ministry of Railways, State & Central Government has announced monetary compensation for the kin of these deceased people.
Taking advantage of this compensation announcement, a woman from Odisha faked her husband's death to grab this allowance.
WATCH VIDEO | Sumit-Tapaswini Berhampur Odisha Case | Wife Demands Rs 8 Lakh For Divorce
Case:
Gitanjali Datta of Odisha's Cuttack district cooked up a false story stating that her husband Bijay Datta had died in the June 2 Balasore train accident. She even pretended to identify a body as that of her spouse.
According to the compensations announced, Gitanjali stood to gain Rs 17 lakh in total – which is Rs 10 lakh from the railways ministry, Rs 5 lakh from Chief Minister Naveen Patnaik's office and Rs 2 lakh from Prime Minister Narendra Modi's office.
35-Year-Old Odisha Finance Service (OFS) Officer Ends Life Due To 'Frustration Over Marital Discord'
However, shockingly Gitanjali's claim was found to be false after a verification of documents. In fact, it was learnt that she and her husband Bijay had been living separately since the past 13-years.
The estranged husband has now demanded stringent action against Gitanjali for attempting to grab public money and also faking his death.
Maniabanda police station in-charge Basant Kumar Satpathy said police have asked Bijay to lodge a complaint against Gitanjali at Bahanaga police station in Balasore district as the incident took place there.
WATCH | Domestic Violence Case Hits Odisha's Royal Family | Husband's Side | Arkesh Narayan Singh Deo | Voice For Men India
Meanwhile, Chief Secretary P K Jena instructed the Railways and Odisha Police to take stringent action against people making fake claims.
According to PTI News agency, fearing her arrest, Gitanjali has gone into hiding since Wednesday afternoon. 
It is extremely sad and unfortunate, how people are exploiting an unfortunate incident, a tragedy of this magnitude only to lay their hands on the compensation amount, which has been exclusively announced for the one's who lost their loved ones, in most cases the sole bread winners of the family.
In our opinion, Gitanjali must face stringent action by the authorities to deter any other person from taking advantage through sorrows of our fellow citizens.
LEAVE YOUR COMMENTS BELOW:
#Odisha Woman Fakes Husband's Death To Grab Compensation Announced For #Balasore Train Accident Victims' Family

▪️Couple was living separately since 13YRS
▪️Husband has filed complaint against estranged wife for faking his death to grab public moneyhttps://t.co/1oGaIQlRLO

— Voice For Men India (@voiceformenind) June 8, 2023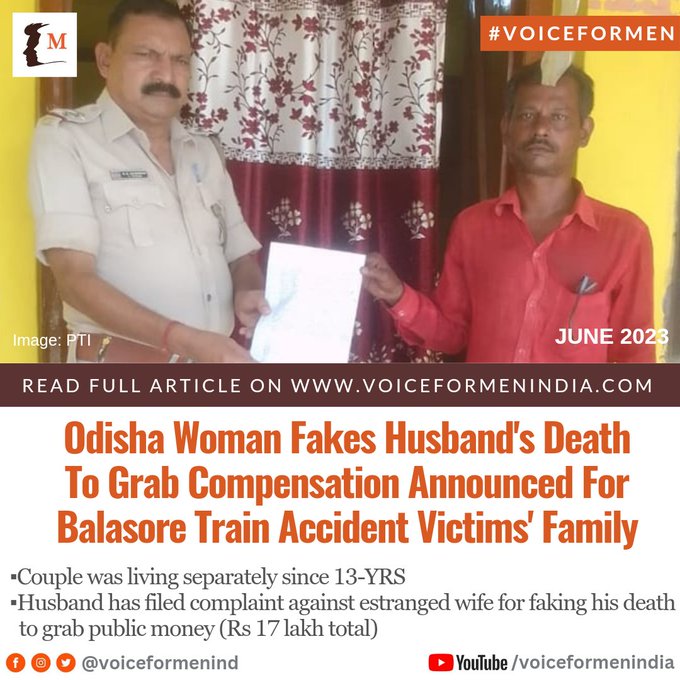 DO WATCH:
Odisha Woman Fakes Husband's Death To Claim Compensation In Balasore Train Accident | Voice For Men
https://www.youtube.com/watch?v=rKMTHyMPvOI
How To Overcome Mental Challenges While Going Through Divorce
ALSO READ:
Cuttack Woman Fights With Odisha Police | Refuses To Wear Helmet Or Pay Fine | Video Goes Viral
Join our Facebook Group or follow us on social media by clicking on the icons below
Donate to Voice For Men India
Blogging about Equal Rights for Men or writing about Gender Biased Laws is often looked upon as controversial, as many 'perceive' it Anti-Women. Due to this grey area - where we demand Equality in the true sense for all genders - most brands distance themselves from advertising on a portal like ours.
We, therefore, look forward to your support as donors who understand our work and are willing to partner in this endeavour to spread this cause. Do support our work to counter one sided gender biased narratives in the media.
To make an instant donation, click on the "Donate Now" button above. For information regarding donation via Bank Transfer, click here.
Alternately, you can also donate to us via our UPI ID: voiceformenindia@hdfcbank