We have always heard many stories about how NRI men come to India, marry their brides, take them along and then dump them. Several instances have been reported where women get married with a rosy painted picture, however, later find out how that the reality is completely different.
But the below story is about an NRI man, who meets a woman on a matrimonial website, comes to India and within a few days ties the knot with her in a lavish ceremony. As any newly married man, he was filled with joy, until the woman shattered his life completely, in a matter of few months.
His Story
Rahul Desai (named changed) is a 34-year-old engineer from central suburbs in Mumbai, who shifted to the US in 2010 on a student visa. After completing his studies, he settled in the states and also called his parents to live with him. All was going fine for the young lad – a good job, happy life with loved ones around him, until he decided to get married.
While we may blame online portals for bad marriages, they are also one of the easiest mediums to get prospective grooms/brides who are looking out for a match. Rahul got acquainted with Seema Jha (name changed) on Shaadi.com in January 2019. The two interacted with each other on social media while Rahul was in the US and the woman was in Mumbai.
ALSO READ –
Later, the couple decided to meet in March the same year and with the blessings of Rahul's parents, who also accompanied him to India, the wedding took place in the end of March 2019. The marriage was officially registered on the following day. Subsequently, the newly weds left for their honeymoon to Far East and returned after a couple of weeks. After coming back to Mumbai, Seema used to stay at Rahul's home for a few hours and then return to her residence in the Western suburbs (since she found her matrimonial home to be small).
Together the couple stayed for total 28-days including their honeymoon sojourn.
Later in April 2019, Rahul and his parents had to leave for the US and the groom had categorically informed Seema before marriage, that she may have to stay alone in India until her visa and green card process is done. However, Rahul had also promised to visit her every 3-4 months in the interim and stay in touch throughout via social media. The wife, who claimed to have no other family members, had agreed to this arrangement. As promised by Rahul, he kept sharing all updates on Seema's visa via email and the two were regularly in touch with each other.
ALSO READ –
Husband now returned to India in September 2019 to meet and spend time with his wife. He had planned a 15-day trip to be with Seema and was scheduled to return to the US in October. The couple travelled to North India to meet relatives and friends of the wife and according to Rahul everything was going as per plan.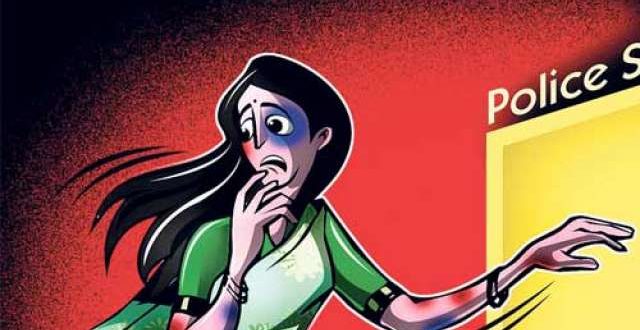 Now came the shocker! On the day when Rahul was supposed to leave for his flight, Seema told him she would not let him go back and also threatened to commit suicide. Rahul shares,
She locked herself in the bathroom and as a concerned husband, I broke opened the door to check on her. I was also scared that I would get implicated if something happens to her. While breaking the door, I broke my arm and also got stitches.
ALSO READ –
Later the couple stayed at Rahul's siblings' home for two-days who gave them advice on how to mend things with each other.
However, just after a week, Seema snatched away her husband's passport, OCI card, laptop, mobile, cash and threw him out of the home with just the pair of clothes he was wearing. She also went and filed a case of 498A stating dowry harassment and abandonment. According to Rahul, the local police did not even contact them to understand their side and registered the FIR without any investigation. He quotes,
I was left numb and the only thing I did was run away to prepare for my bail procedure.
Subsequently a look out notice was issued against his name so that he could not leave the country. Rahul says,
When I moved the sessions court on November 1, they denied me bail stating they could not permit me to leave the country until the matter was resolved. We then moved the High Court where the judge verbally asked me to try and settle the matter out of court. The court also knows that this is a fraudulent case as my wife had forged all documents given at the time of investigation.  
ALSO READ –
Seema had forged her home's agreement to show how she had to sell the same to give cash and jewellery in Dowry. She submitted fake bills in court to show purchase of ornaments that were allegedly given to the husband's family. Later when the investigating officer called out her farce, she admitted that the bills were fake as she could find the originals.
While the court has overlooked all these details, Seema has also filed a case against the investigating officer calling him biased.
My lawyer stated in the mediation centre that we could not afford to give more than Rs 10-20 Lakhs as settlement, to which the judge merely nodded. However, the woman is demanding a few crores and my parents' property to be transferred on her name. 
ALSO READ –
The husband has lost his job in the US. In the interim while he was in India, his father was critical and clinically dead in the US. The court did not allow him to leave India despite the same and subsequently his father passed away.
The woman has taken over Rahul's home in Mumbai as he has been thrown out, father is dead and mother is in US. She is also pressuring the husband to transfer the same to her name.
Rahul had his hearing at the High Court couple of days ago and the court merely stated they didn't have time to hear the matter and gave an adjournment for March. The man's fate keeps hanging till the case is concluded and going by our judiciary timelines, he may end up spending his lifetime trapped in a false case in India.
Rahul shares with us how he feels suicidal at times, but he has decided to fight and come out of this mess.
While we have a National Commission for Women (NCW) and a Ministry for Women & Child Welfare (WCD), there is no formal association for the Male gender who are also victims of marital traps combined with Gender Biased Laws.
ALSO READ –
http://voiceformenindia.com/his-story/shiv-kumar-alimony-crowdfund-milaap/
Follow www.mensdayout.com on Facebook, Twitter and Instagram
Join our Facebook Group or follow us on social media by clicking on the icons below
Donate to Voice For Men India
Blogging about Equal Rights for Men or writing about Gender Biased Laws is often looked upon as controversial, as many 'perceive' it Anti-Women. Due to this grey area - where we demand Equality in the true sense for all genders - most brands distance themselves from advertising on a portal like ours.
We, therefore, look forward to your support as donors who understand our work and are willing to partner in this endeavour to spread this cause. Do support our work to counter one sided gender biased narratives in the media.
To make an instant donation, click on the "Donate Now" button above. For information regarding donation via Bank Transfer, click here.
Alternately, you can also donate to us via our UPI ID: [email protected]