NRI Men often live in a myth that marrying Indian women is probably the better choice instead of marrying a local from their country of residence. There is nothing wrong in choosing a life partner that you desire, yet one needs to be aware of every legal right a woman holds as per matrimonial laws in India.
Another common mistake we come across by several NRI Men is that they don't give enough time to their relationship before marriage, neither they make any effort to find out little more about the person they will be tying the legal knot with.
Our Managing Editor, Arnaz Hathiram, spoke to one such NRI husband who is based out of United Kingdom (UK), got married in 2018, how he was trapped and now spending lakhs of rupees funding the lawyers to bail him out of the mess.
His Story
Robin Perreira (Name Changed) is an Overseas Citizenship of India (OCI) Card holder based out of UK. Robin who works for a bank there, was on a lookout for marrying an Indian bride and thus got himself registered on shaadi.com in June 2018. Priya D'souza's (Name Changed) mother uploaded her daughter's profile on the same matrimonial portal where Robin got acquainted with the mother.
Initial questions by the lady were generic such nature of Robin's work, his family details, what kind of spouse he was looking for etc. After a few chats, the mother shared Priya's number and the two started talking. The couple spoke and chatted for nearly two months, where Priya crafted an emotional story how she belonged to a separated family and was living with her father in Safdurjung, Delhi.
ALSO READ –
Priya told him that her mother wanted to marry her off because of social stigma, but she too wasn't averse because she want to get a good family life with a settled husband. The woman also spoke about her father, who was a retired man from a bank, and how they did not have much money to run their home. She even went to the extent of saying that her father's pension was not enough for them to survive as most of it would get used up for rent, food, etc. The girl herself wasn't working either despite being a graduate. 
Marriage
After three months of long distance communication, Robin and Priya decided to get married. Robin had informed the girl, that he would come down to India in September 2018, get married at a church and then go back to process her visa application from the UK. He had also informed her that it was not possible for any of his family members to attend the marriage in India due as his parents being old and sister had recently delivered a baby.
Priya had got Robin involved so emotionally within 2-3 months, that she made him agree to spend every single penny towards the marriage. Robin quotes,
Learning about her family's financial condition, I offered to spend entirely on our marriage. I sent her Rs 6 Lakhs for starting the preparations in Delhi.

Not just this, I also bought her home appliances such as new refrigerator, television, microwave, others — all booked and purchased by me online from UK. I have each receipt for the same. 
The two got married in September 2018 at a church in Delhi, stayed at a hotel for a few days and as agreed Robin flew back to the UK. Priya was clearly aware that Robin would be returning later in January to take her along.
Husband Is The Sole Provider
Even after marriage celebrations were over, Priya's demands did not stop. What started with asking for home appliances, later turned into demands for bigger things such as car. She did not stop here. Priya also started pressurising Robin to purchase her an apartment in Delhi, which is when Robin decided to put a stop. He says,
I told her it is not my responsibility to buy you a house and car in Delhi. To this she replied that if I did not fulfil her wishes, she would not give any respect to my parents. She told me that now I was her husband and it was my duty entirely to take care of my wife. 
Social Media Revelations 
By now Robin had started seeing her posts on social media site Instagram where she had uploaded a picture of hers with another boy, who happened to be her ex-boyfriend.
The picture was dated of a time when Robin and Priya had started interacting for marriage, which means Priya was already in a relationship with someone while chatting parallely with Robin. When he confronted his wife now, she said,
My mother did not want me to marry that boy because he was from a different religion and was addicted to drugs. 
When Robin asked her to delete the pictures with that man, she instead told him that, as a husband, he was insecure. He said,
When I insisted, she started getting violent and started calling me mad. She also complained to my sister, who politely asked her to manage because it was our personal affair.
Adding further, Robin said his sister did question Priya's demands. He says,
My sister asked her how can you demand a house and money for your father? When Priya became more abusive, my sister blocked her number on whatsapp. 
Things started getting worse and she threatened to file a complaint against Robin in Delhi.
Cat Is Out Of The Bag
It is only now that Robin thought of reaching out to Priya's friends to understand her behaviour. He said,
I was shocked to learn that this wasn't the first time she had threatened a man with legal complaint. Her friends told me Priya was a serial complainant against men. 
Robin was informed that Priya had filed complaint against her ex-boyfriend for molestation in 2015, filed
rape on pretext of marriage
against previous boyfriend in 2016 (whose picture she had uploaded on Instagram). Robin also learnt that his wife had not even spared her college professor and had a complaint of harassment filed against him too, many years ago. Robin said,
She would settle the matter with money with these Men and later get her FIR quashed in High Court.
Once she realised her husband was reaching out to her friends, she yet again threatened him with legal defamation. This is when Robin finally hired a lawyer in Delhi.
Police, Women Cell Vs Husband
After all these events, Robin now wanted to file for divorce. However, the lawyers hired by Robin advised him to initially file a mere complaint against his wife, rather than filing a direct divorce.
In January 2019, husband filed a complaint against his wife alleging fraud, extortion and breach of trust with a South Delhi Police station. However, the police refused to file an FIR at this juncture citing this as matrimonial dispute.
Within three days of Robin's complaint, Priya filed her complaint with the women's cell in Delhi and the husband was summoned to report for investigation in May 2019.
Later in August 2019, Robin filed for divorce in court where the police was made to accept that there was extortion by wife, however they did not consider her act as criminal in nature, being a family matter.
In September 2019, Priya rebounded with cases against Robin and his family — who she had never met until now — and slapped
IPC sections 498A,
406 and 34 against husband, his parents, sister-in-law as well as her husband (all who were based out of UK). Despite no mention of dowry allegations in Priya's complaints, the police still went ahead and registered charges under Section 498A.
In December 2019, Robin was once again asked to report in person for investigation by the police this time. He landed in India in January 2020 and gave his statement. According to Robin (who had come all the way from UK), police only asked him vague questions such as,
Why did your mother not accompany you?
Next day both Robin and Priya were called together, where the woman started accusing him of things which were not even a part of her FIR. She made wild allegations which had never taken place.
However, Robin shockingly says that his wife's version to the police was completely different than her version to the Women's cell. He quotes,
Priya came with a list of receipts showing expenditure towards marriage by her. Not just this, s

he also claimed how she and her family spent Rs 65 Lakhs on our marriage.

Despite these allegations, she has not filed a single receipt in court till date. 
Robin says how he faced ridiculing behaviour from the women's cell. Despite showing them abusive chats between him and his wife, Robin was told,
You have to live with her. It is not our problem, you had to think before marriage.
Lawyer Fees
Being an NRI could paint the vision of some lawyers very rosy. Not just the wife, but lawyers can equally extort a huge sum from you on pretext of saving you from arrest under 498A. Robin says,
My lawyers kept scaring me that police can come to UK anytime and arrest me. Later, I found out that this was not true as I was an OCI Card holder.

They kept asking money from me suggesting how they had to make payments to police further and till date made me cough up Rs 30 Lakhs in total, whereas my case is still at stage 1.

I was not even informed about the FIR until I was served notice in December 2019. 
I have now changed my lawyers, in the hope the next one won't be the same.
Husband's Father Suddenly Dies Due To False Cases 
When Robin's mother got a call stating how her daughter-in-law had complained against them in Women's Cell, both the parents fell ill. The complaint was made in January 2019 and Robin's healthy father got a cardiac arrest in May 2019. Subsequently he passed away.
Current Status
Next court date was scheduled for March 2020, however, due to COVID19, the same has been postponed to July 2020. With regards to his wife's FIR, Robin is still waiting for the police to file chargesheet or a closure report.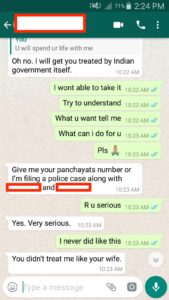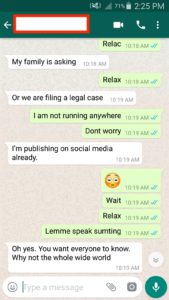 ALSO READ –
http://voiceformenindia.com/his-story/nri-husbands-trapped-in-false-cases/
Join our Facebook Group or follow us on social media by clicking on the icons below
Donate to Voice For Men India
Blogging about Equal Rights for Men or writing about Gender Biased Laws is often looked upon as controversial, as many 'perceive' it Anti-Women. Due to this grey area - where we demand Equality in the true sense for all genders - most brands distance themselves from advertising on a portal like ours.
We, therefore, look forward to your support as donors who understand our work and are willing to partner in this endeavour to spread this cause. Do support our work to counter one sided gender biased narratives in the media.
To make an instant donation, click on the "Donate Now" button above. For information regarding donation via Bank Transfer, click here.